Council on Community-Based Partnerships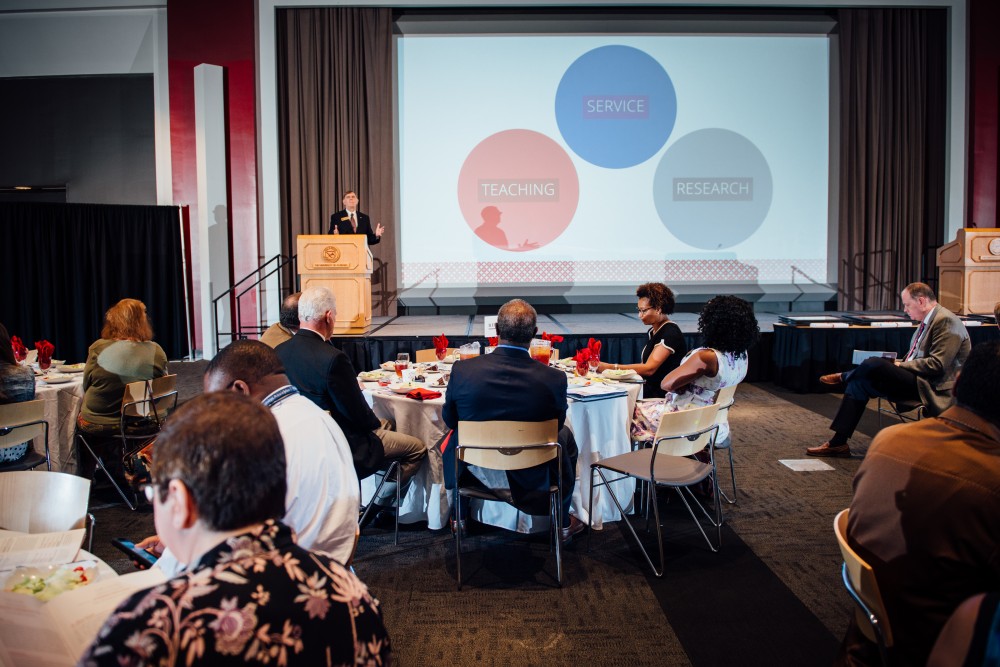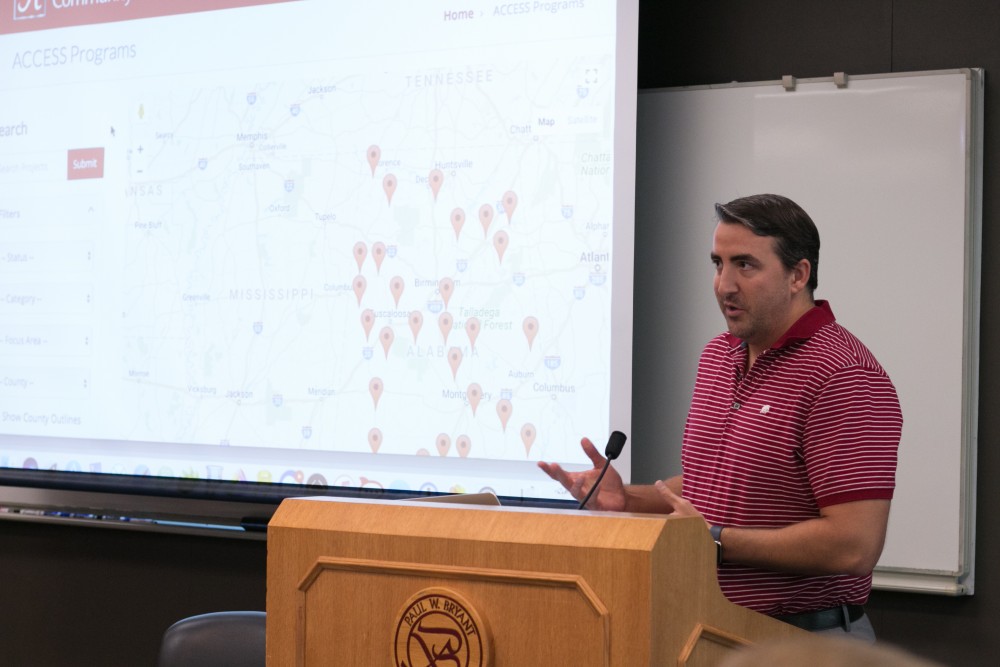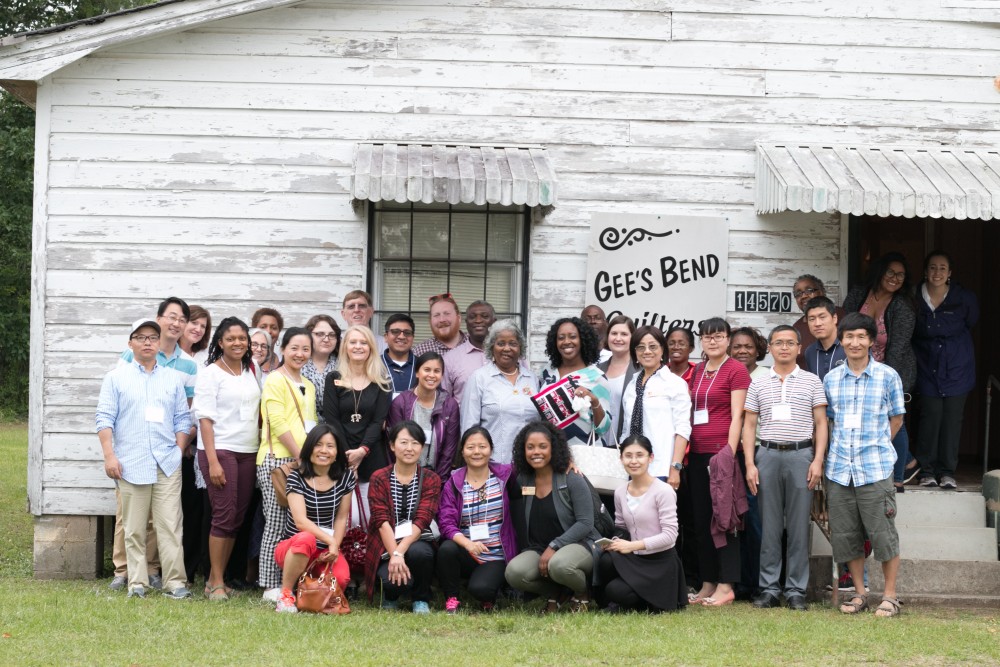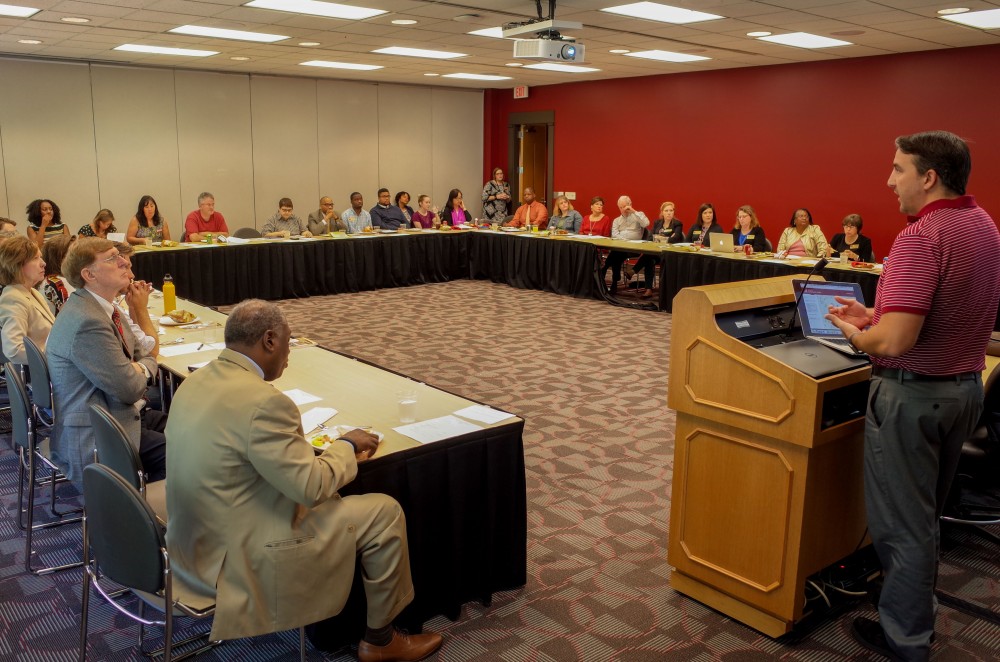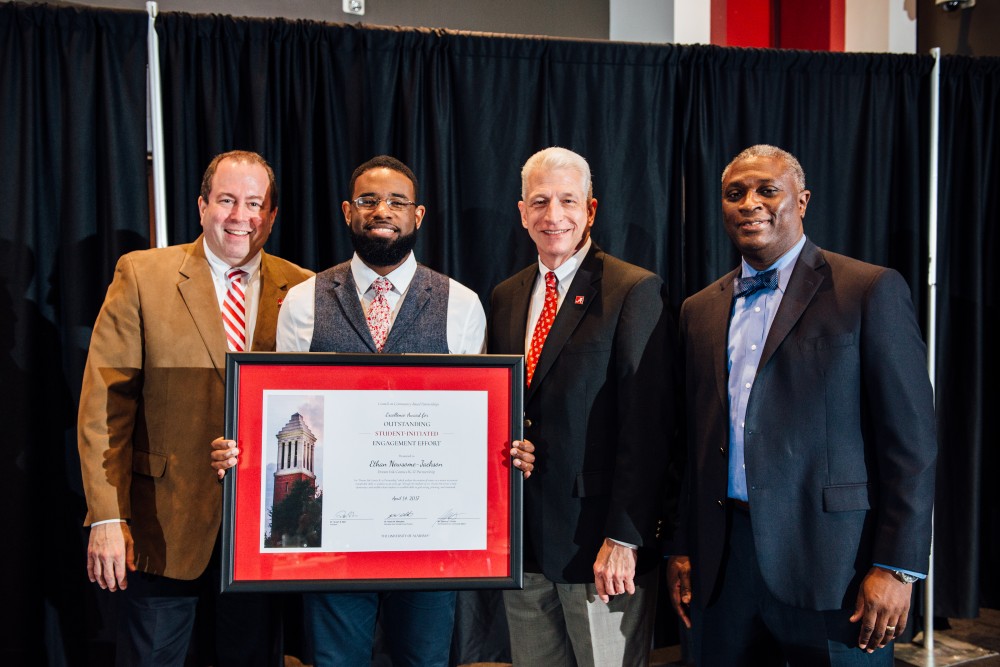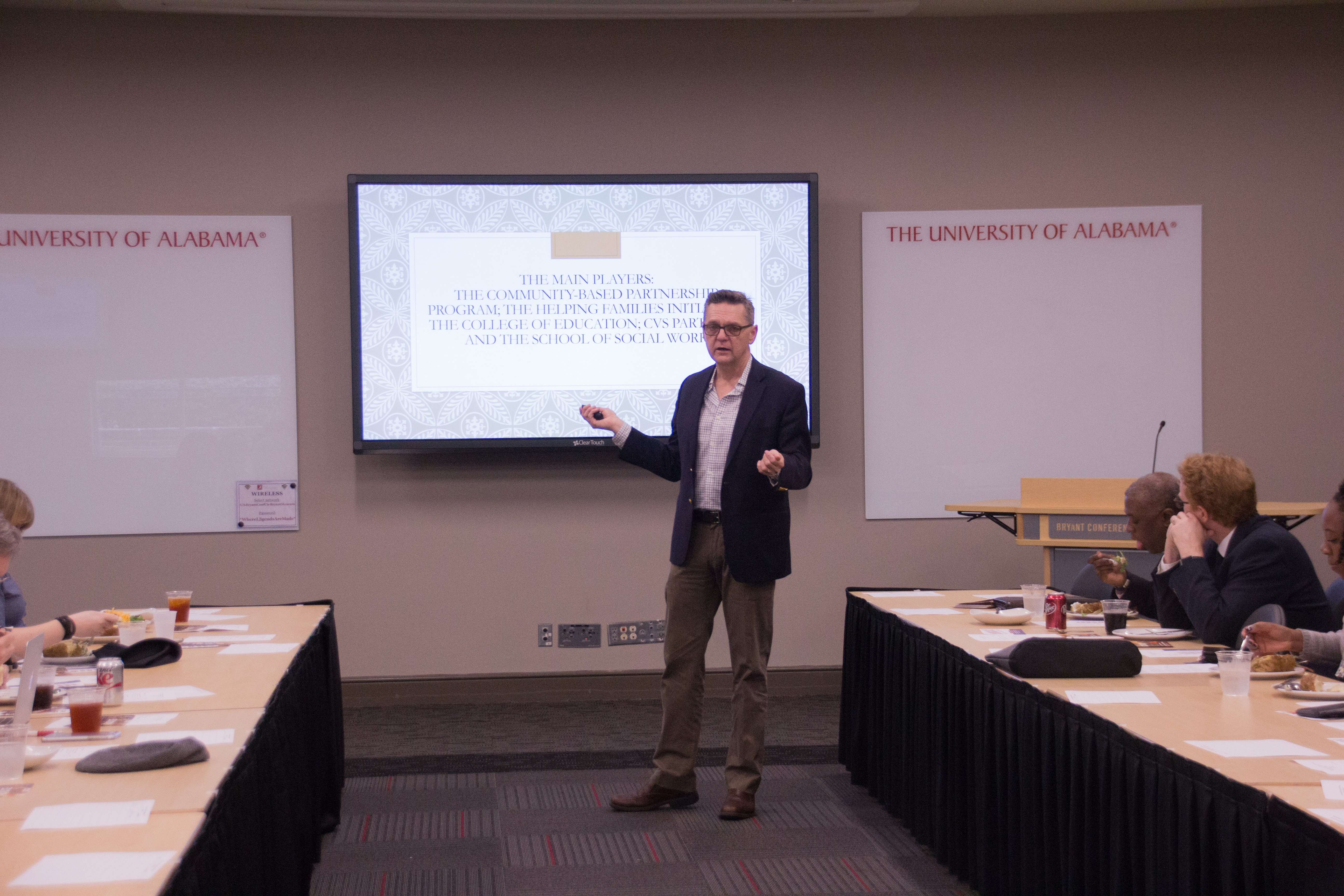 About Us
The Council exists to connect faculty, staff, students and community partners in research-based projects designed to solve critical problems identified collaboratively by community members and the University. All academic disciplines are represented on a Council made up of campus and community members. 
Council Initiatives
The Council's various committees oversee project funding, conduct an awards program, publish a research journal, propose methods to integrate teaching and research, and seek outside funding all with the goal of fulfilling the Division of Community Affairs' motto: "Engaging Communities and Changing Lives."
Council Meetings
Wednesday, October 25, 2017
11:30 a.m.–1:00 p.m.
Bryant Conference Center, Rast B

Thursday, February 15, 2018
11:30 a.m.–1:00 p.m.
Bryant Conference Center, Rast B

Thursday, March 22, 2018
11:30 a.m.–1:00 p.m.
Hotel Capstone Ballroom
Council Members & Meeting Notes
Council Executive Committee
Chair of the Executive Committee
Dr. Peter Hlebowitsh, Dean, College of Education
Chair of the Proposal and Seed Funding Committee
Dr. Martha Crowther, Professor, Department of Psychology
Chair of the Faculty Teaching and Research Support Committee
Dr. Rebecca Allen, Professor of Psychology, Alabama Research Institute on Aging
Chair of the Academic Conference and Presentation Committee
Dr. Jen Nickelson, Human Environmental Sciences

Chair of the Excellence in Community Engagement Recognition Committee
Dr. George Daniels, College of Communication and Information Sciences.

Chair of the Community Partnership Support Committee
Amanda Lightsey Executive Director, Tuscaloosa One Place
Co-Chairs of the Student Involvement and Support Committee
Chas Shipman, Undergraduate Student in the Department of Computer Science
Tera "CeeCee" Johnson, Graduate Student, Clinical Mental Health Counseling
Natalie Adams New College, nadams@as.ua.edu
Carol Agomo Community Affairs, cnagomo@ua.edu
Tania Alameda-Lawson School of Social Work, talamedalawson@ua.edu
David Albright School of Social Work, dlalbright@sw.ua.edu
Stacy Alley Musical Theatre and Dance, salley@as.ua.edu
Marcus Ashford Mechanical Engineering, marcus.ashford@eng.ua.edu
Ginger Bishop Institutional Effectiveness, vabishop@ua.edu
Sheila Black Psychology, sblack@psych.as.ua.edu
Stephen F. Black Center for Ethics and Social Responsibility, sblack10@ua.edu
Paige Bolden Crossroads Community Engagement Center, pdbolden@ua.edu
Marco Bonizzoni Chemistry, mbonizzoni@as.ua.edu
Laurie Bonnici School of Library and Information Studies, lbonnici@slis.ua.edu
Karyn Bowen Community Affairs, kbowen@ua.edu
Karen Boykin Chemistry, knoykin@as.ua.edu
B. Scott Bridges School of Music, sbridges@music.ua.edu
Jackie Brodsky Wayne State University and SLIS, brods001@crimson.ua.edu
Megan Carlton University Libraries, jmcarlton1@ua.edu
Karen Canada-Starks School of Social Work, kcanada@sw.ua.edu
Jennifer L. Caputo New College and School of Music, jlcaputo@ua.edu
Vicky Carter Doctoral Student, vicky.carter72@gmail.com
Naomi Choi Political Science, nchoi@ua.edu
Chandra Clark Journalism and Creative Media, chandra.clark@ua.edu
Shani Collins Social Work, shanikcollins@aol.com
Dee Cook Community Affairs, ddcook@ua.edu
Douglas Craddock Community Affairs, cradd002@sa.ua.edu
Martha R. Crowther Psychology, mrcrowther@ua.edu
George Daniels College of Communication and Information Sciences, gdaniels@ua.edu
Pamela Dorr HERO, Greensboro, pameladorr1@yahoo.com
Rita Doughty Social Work/Nursing, rrdoughty@sw.ua.edu
Isabelle Drewelow Modern Languages and Classics, idrewelow@bama.ua.edu
Ryan Earley Biological Sciences, rlearley@as.ua.edu
Craig Edelbrock Continuing Studies, cedelbrock@ccs.ua.edu
William A. Evans Journalism and Creative Media, wevans@ua.edu
Mirit Eyal-Cohen Law Studies, meyalcohen@law.ua.edu
Daniel J. Fonseca Industrial Engineering, dfonseca@eng.ua.edu
David M. Ford Management and Marketing, dford@cba.ua.edu
Pamela Payne Foster Community and Rural Medicine, ppayne-foster@cchs.ua.edu
Faythe R. Freese School of Music, faythefreese@earthlink.net
Kenneth Fridley Engineering, kfridley@eng.ua.edu
Philip Gable Psychology, pgable@as.ua.edu
Safiya George College of Nursing, sfgeorge@ua.edu
Kimberly Gibson School of Social Work, kbgibson2@ua.edu
Daniel Goebbert Chemistry, dgoebbert@as.ua.edu
Jeff Gray Computer Science, gray@cs.ua.edu
Jennifer Greer Associate Provost Academic Affairs, jdgreer@ua.edu
Karl Hamner Nursing/Social Work, khamner@bama.ua.edu
Samantha Hansen Geological Sciences, shansen@geo.ua.edu
David Hardy Education, dhardy@bamaed.ua.edu
William Hart Psychology, wphart@as.ua.edu
Beverly G. Hawk CCBP, beverly.hawk@ua.edu
Teri Henley Advertising and Public Relations, henley@apr.ua.edu
John C. Higginbotham Community and Rural Medicine, jhiggin@cchs.ua.edu
Peter Hlebowitsh Dean, College of Education, phlebowitsch@bama.ua.edu
Rick A. Houser Educational Studies in Psychology, rhouser@bamaed.ua.edu
Michael Innis-Jiminez American Studies, mdinnisjiminez@bama.ua.edu
Matthew A. Jarrett Psychology, majarrett@as.ua.edu
Rebecca Kelly Kinesiology, rkelly@ua.edu
Mary (Sabrena) Jackson School of Social Work, msjackson5@ua.edu
Pauline D. Johnson Civil and Environmental, Engineering paulinej@eng.ua.edu
Philip W. Johnson Civil and Environmental Engineering, pjohnson@eng.ua.edu
Tera "CeeCee" Johnson Undergraduate student, tejohnson2@crimson.ua.edu
Mary Jolley Community Volunteer, majolley@bellsouth.net
James King Culverhouse College of Commerce, jking@cba.ua.edu
Billy Kirkpatrick Executive Director, West Ala. AIDS Outreach, billy.waao@gmail.com
Lorne Kuffel Institutional Research and Assessment, lkuffel@ua.edu
Kimberly Lackey Biological Sciences, lacke003@bama.ua.edu
Frankie Laanan Educational Leadership, Policy, and Technology Studies, laanan@ua.edu
Cheryl Leonard Office of the Vice President for Research, cleonard@fa.ua.edu
Anne Levy Arts and Sciences - Theatre and Dance, aglevy1@ua.edu  
Yuehan Lu Geological Sciences, yuehan.lu@ua.edu
Felecia Lucky Black Belt Community Foundation, fjones@blackbeltfound.org
Lou Marino Culverhouse College of Commerce, lmarino@cba.ua.edu
Jim McLean CCBP, jmclean@ua.edu
Lane McLelland Crossroads Community Center, lane.mclelland@ua.edu
Kathryn Merritt Honors College, klmerritt@ua.edu
Claudia Mewes Physics and Astronomy, cmews@mint.ua.edu
Andrew Minear School of Music, atminear@ua.edu
Nisa Miranda Center for Economic Development, miranda@aitc.ua.edu
Cynthia E. Moore Community and Rural Medicine, cmoore@cchs.ua.edu
Jacqueline V. Morgan Honors Colllege, jacqueline.morgan@ua.edu
Rob Morgan Culverhouse College of Commerce, rmorgan@cba.ua.edu
Edward Mullins CCBP, emullins@bama.ua.edu
Rekha Nath Philosophy, rnath@ua.edu
Mark D. Nelson Dean, C&IS, mnelson@ua.edu
Jane Newman College of Education, jnewman2@bamaed.ua.edu
Sharon E. Nichols Curriculum and Instruction, snichols@bama.ua.edu
Erin O'Rourke Modern Languages and Classics, eorourke@bama.ua.edu
Jeffrey G. Parker Psychology, j.g.parker@bama.ua.edu
Angelia Paschal Human Environmental Sciences, apaschal@ches.ua.edu
Mary Patterson AERN, mepatterson1@cba.ua.edu
Heather Pleasants Institutional Effectiveness, heather.pleasants@ua.edu
Nicole Prewitt Center for Community-Based Partnerships, nbprewitt@ua.edu
Samory Pruitt Vice President of Community Affairs, samory.pruitt@ua.edu
Margaret A. Purcell University of Alabama System, mpurcell@UASystem.ua.edu
Laura Reed Biology, lreed1@bama.ua.edu
Michelle Robinson English, mrobinson@as.ua.edu
Josh Sahib Gorgas Library, jsahib@ua.edu
Jenny Shaw History, jenny.shaw@ua.edu
Jennifer Shoaff Race and Gender Studies, simmo045@as.ua.edu
Roger Sidje Associate Dean, College of Arts & Sciences, roger.b.sidje@ua.edu
Merinda Simmons Religious Studies, simmo045@ua.edu
Cassandra E. Simon School of Social Work, csimon@bama.ua.edu
Senator Bobby D. Singleton Alabama Legislature, bsingle164@yahoo.com
Cassander Smith English, clsmith17@bama.ua.edu
Patricia Sobecky Associate Provost for Academic Affairs, psobecky@ua.edu
Ellen G. Spears New College and American Studies, egspears@as.ua.edu
Karen Spector Education, kspector@bamaed.ua.edu
Christopher H. Spencer CCBP, christopher.spencer@ua.edu
Christina Staudhammer Biological Sciences, cstaudhammer@ua.edu
William Suclupe Veteran and Military Affairs, wdsuclupe@crimson.ua.edu
Cynthia Sunal Education, cvsunal@bamaed.ua.edu
Tommie S. Syx C&BA, tsyx@cba.ua.edu
Joanne J. Terrell School of Social Work, jterrell@sw.ua.edu
Patrick Toale Physics & Astronomy, patoale@bama.ua.edu
Glenn Tootle Engineering, gatootle@eng.ua.edu
Dean Townsley Physics & Astronomy, dean.m.townsley@ua.edu
Kellie Wells English, kwells@bama.ua.edu
John Ross Wheat Community and Rural Medicine, jwheat@cchs.ua.edu
Kevin A. Whitaker Provost, kwhitaker@eng.ua.edu
Javonda Williams School of Social Work, jwilliams11@sw.ua.edu
Megan Williams Student, meghanw806@gmail.ua.edu
Thomas L. Wolfe Arts and Sciences, twolfe@as.ua.edu
Fan Yang Doctoral Student, stillwaterlly@gmail.com
Meeting Notes At A Glance
2017–2018 Meeting Notes & Overview
Wednesday, September 6, 2017 | 11:30 a.m.–1:00 p.m.
Bryant Conference Center, Birmingham Room
Meeting Overview
---
2016–2017 Meeting Notes & Overview
Wednesday, September 28, 2016 | 11:30 a.m.–1:00 p.m.
Bryant Conference Center, Rast Room
Meeting Overview
Wednesday, October 26, 2016 | 11:30 a.m.–1:00 p.m.
Bryant Conference Center, Birmingham Room
Meeting Overview
Thursday, February 16, 2017 | 11:30 a.m.–1:00 p.m.
Bryant Conference Center, Birmingham Room
Meeting Overview
Thursday, April 6, 2017 | 11:30 a.m.–1:00 p.m.
Bryant Conference Center, Birmingham Room
Meeting Overview