Council on Community-Based Partnerships Holds Second Meeting of Fall Semester; Next Meeting Set for February 2017
TUSCALOOSA, Ala. — The Council on Community-Based Partnerships held its second luncheon meeting of the fall semester Wednesday, Oct. 26 in the Bryant Conference Center Birmingham Room on campus.
In his opening remarks, education dean Dr. Peter Hlebowitsch, council executive committee chair, spoke of the importance of research, teaching and service, noting that many on campus are involved in research and service simultaneously. He urged using University resources to make a far-reaching and positive difference, noting "we are not The University of Tuscaloosa, but The University of Alabama."
Dr. Susan Carvalho, associate provost and dean of the Graduate School, discussed the UA graduate education strategic plan. The University of Alabama Graduate School is committed to increasing both the number and quality of graduate students in order to develop the next generation of scholars, as well as to further develop the University's scholarship activity, she said. This goal is in line with the campus-wide vision to increase the number of tenure-track faculty positions from 900 to 1,200. Carvalho believes that the council can help her meet some of the Graduate School's "grand challenges," including a strong push for interdisciplinary engagement research. She also mentioned the opportunities made possible by the (Bill and Melinda) Gates Foundation through its support of creative learning, innovation, global and classical perspectives, authentic experiential learning and development of social consciousness.
Carvalho shared the current statistics and goals in the area of graduate studies at UA, noting that at present graduate students constitute 14 percent of the student population. The goal is to increase that figure to 23 percent, which would grow this area from approximately 5,000 to 8,000.
What will it take to increase graduate enrollment almost 10 percent? In addition to creating additional graduate programs and increasing enrollment in existing ones, Carvalho believes that it's the idea of what students would do and why they would do it. She noted that the Graduate School can help teach these learners to have a better understanding of how their efforts affect communities, and why that matters. She also spoke to the importance of the University having activities in place that allow them opportunities to speak outside of their jargon world — to talk to real people — about what they do.
Dr. Samory T. Pruitt, vice president for Community Affairs, gave an update on the Engagement Scholarship Consortium (ESC) Conference, noting that the ESC Board met Sunday evening and Monday prior to the beginning of the conference to discuss the ESC 20/20 Strategic Plan. The  plan, which includes a goal of growing the ESC from the current 38 member institutions to 100 by the year 2020, was approved unanimously. Additional components of the strategic plan include exploring the possibility of hosting state and regional conferences in addition to the larger national conference, which could mean additional conference hosting opportunities in Alabama. An item for exploration is finding a way to acquire funds for and implement multi-state engaged scholarship grants.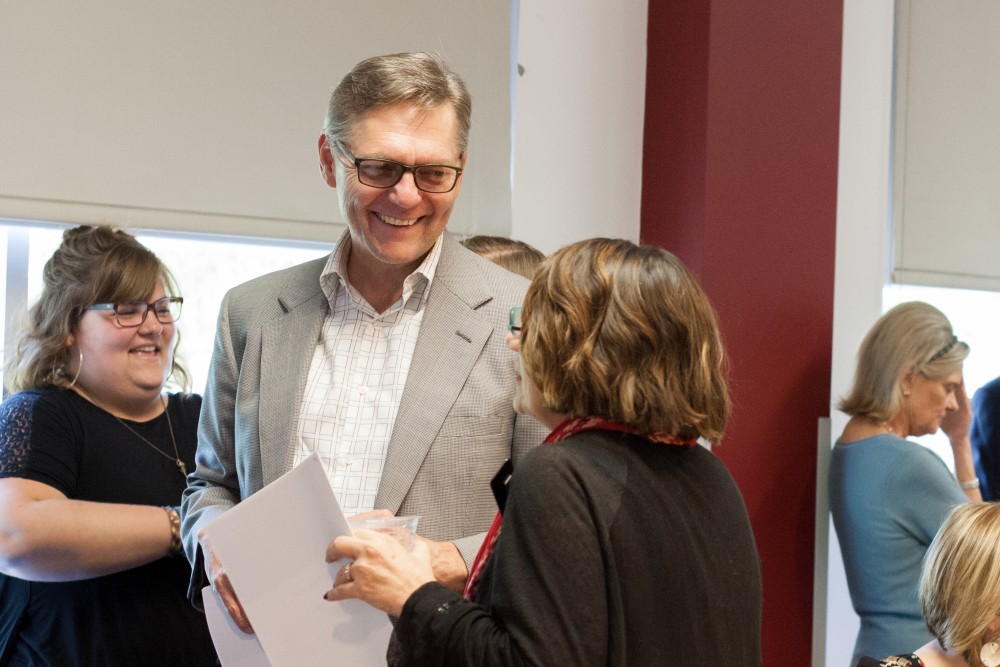 The meeting continued with no committee report items that needed to be shared with the group. It was announced that the seed funding and award calls for the Center for Community-Based Partnerships (CCBP) Awards opened Saturday, October 1.
Dr. Jim McLean, CCBP executive director, introduced Dr. Holly Morgan, the new director of Community Education, bringing CCBP to full staffing capacity. Morgan joins the CCBP from the UA College of Education. She has previously worked with the Alabama Math Science and Technology Initiative (AMSTI) and other educational groups.
Morgan updated the Council on the Parent Teacher Leadership Academy (PTLA). She reported that PTLA currently consists of four school systems, including 50 teachers attending the Teacher Leadership Academy (TLA) and 78 parents attending the Parent Leadership Academy (PLA), which includes elementary, parent and Pre-K groups. The PLA includes six sessions throughout the academic year, while there are four TLA sessions for teachers. The focus this year is on uniting parents and teachers around their schools' improvement plans. (Note: The final sessions of the year were held Nov. 17 and Dec. 1.)
Dr. Tonyia Tidline, CCBP director of Student and Community Engagement, reported that she is working to add students to the primary engagement organization under her leadership, Scholars for Community Outreach, Partnerships and Engagement (SCOPE), as well as to increase their interest in and production of research. She shared an informational handout and reported on the group's recent and remaining activity schedule for the semester. She said the Student Showcase will take place Wednesday, March 22, from 9 a.m. – 3 p.m. at the Ferguson Student Center. The theme will be "Brought to You by Students, for Students." Plans include placing an emphasis on works in progress in hopes of inspiring students with ideas they can use to work with faculty. Dean Carvalho will be the keynote speaker for the event, with Billy Kirkpatrick from West Alabama AIDS Outreach also speaking.
Reporting on engagement scholarship in action were representatives of the Alabama TOP Program and the Dallas and Marengo Counties Veterans Needs Assessment Project.
Dr. Tania Alameda-Lawson, assistant professor in the School of Social Work, and Dr. Michael Lawson, clinical assistant professor in the Department of Educational Studies in Psychology, Research, Methodology and Counseling, with Dr. Andrew K. Richards, assistant professor of Kinesiology and UA student Victoria Shiver, discussed the Alabama TOP Program. Their research explores two fundamental problems of education: 1) the rapidly growing student populations in the U.S. that are underserved by schools and 2) the phenomenon that less than 15 percent of variance in children's academic achievement relates to their schoolwork. The challenge educators face is how to address these non-school factors so that classroom engagement and learning can occur for all students.
Working through an interdisciplinary effort to integrate best practices, the program follows a framework that includes: 1) positive engagement with student peer groups, 2) families, 3) helping children see that school is a positive place for them and 4) academic engagement.
Program leaders hope to synchronize these four pillars through intervention, utilizing the involvement of faculty members, students and community members working together in teams. The primary objective is to train families to provide programs and support to other parents in the community through door-do-door outreach, as well as by convening parents to identify barriers and challenges so as to identify potential solutions. The program will provide technical and financial support for the parent-run program development. Primary partners for the project are Tuscaloosa One Place, Holt Elementary, the UA College of Education, the UA Department of Kinesiology and the UA School of Social Work.
Dr. David Albright, associate professor and Hill Crest Foundation Endowed Chair in Mental Health, reported on the Dallas and Marengo Counties Veterans Needs Assessment Program. Funded through the CCBP Council Awards, this program assessed gaps and opportunities within Dallas and Marengo counties for approximately 4,000 veterans. Albright reported that additional funding has been received and the program is now being extended to include Wilcox County. There are two phases to the program: 1) interviews and 2) focus groups of providers offering services to veterans in the tri-county area. (A report documenting Phase 1 findings was to be generated by December 2016.)
The next Council on Community-Based Partnerships meeting is scheduled for Thursday, Feb. 16, 2017, at 11:30 a.m. in the Capital Hall training room.
The Annual CCBP Awards Luncheon will take place Friday, April 14, 2017, with poster presentations at 10 a.m. and the luncheon at 11:30 a.m. in the Bryant Conference Center, Sellers Auditorium.
The Council exists to connect faculty, staff, students and community partners in research-based projects designed to solve critical problems identified collaboratively by community members and the University. All academic disciplines, as well as a number of students and community members, are represented on the Council. The Council conducts an awards program, oversees project funding, proposes methods to integrate teaching and research and seeks outside funding, all with the goal of fulfilling the Division of Community Affairs' motto: "Engaging Communities and Changing Lives."
---
The Division of Community Affairs was created in 2004 and is recognized nationally and internationally for its leadership in community engagement. The division provided the leadership for the recent reaffirmation of the University's Carnegie curricular and community engagement classification. The division publishes the Journal of Community Engaged Scholarship, one of the leading refereed journals in the field.