24th Annual MLK Celebration to Feature Well-Known Alabama Singing Groups, Pulitzer Prize-Winning Speaker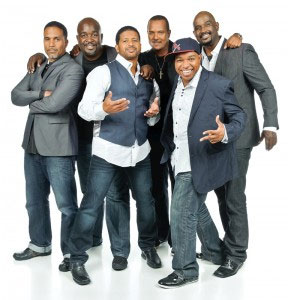 TUSCALOOSA, Ala. "" The singing ensemble Take 6 and the Aeolians of Oakwood University will highlight the 24th annual Martin Luther King, Jr. Realizing the Dream concert at 7:30 p.m. Saturday, Jan. 19, in the Concert Hall at The University of Alabama's Moody Music Building. Tickets for the event are $15 and may be reserved by calling 205/348-7111.
The concert is part of a weekend of events organized by West Alabama's Martin Luther King Realizing the Dream Committee, including a banquet featuring Cynthia Tucker, the Pulitzer Prize-winning journalist formerly with the Atlanta Journal-Constitution. Tucker is a native of Monroeville, Ala., and a graduate of Auburn University. The Pulitzer Prize winning former editorial page editor for the Atlanta Journal-Constitution is currently the Charlayne Hunter-Gault Distinguished Writer-in-Residence in the Grady College of Journalism and Mass Communication at the University of Georgia.
Among the nation's most recognized vocal ensembles, Take 6, which is celebrating its 25th anniversary, has received 10 Grammy Awards, 10 Dove Awards and a Soul Train Award. Take 6 features Claude McKnight, Mark Kibble, Joel Kibble, Dave Thomas, Alvin Chea and Khristian Dentley. The group was founded at Oakwood University in Huntsville in 1980 and took its current name in 1988. Take 6's newest recording, "One," in 2012, is notable for the group's return to its spiritual heritage.
The Aeolians of Oakwood University is a vocal ensemble founded in 1946 by Dr. Eva B. Dykes. The group has traveled around the world, including a 2012 performance at the Moscow International Performing Arts Center under the patronage of Michael McFaul, U.S. ambassador to Russia. The group's current director is Dr. Jason Max Ferdinand.
In addition to the concert, the Realizing the Dream Committee will recognize three West Alabamians at a banquet at 6:30 p.m. Friday, Jan. 18, at the Hotel Capstone. Tickets are $25 each and are available by phoning 205/348-7111. Tucker will be the speaker.
Lubna Alansari, a UA undergraduate from Saudi Arabia, will receive the Horizon Award for her work in sponsoring workshops for students in the Alabama Black Belt as well as the student on The University of Alabama campus that focused understanding and working with various cultures around the world.
Dr. Paula Sue Burnham, a former administrator at Shelton State Community College, will receive the Mountaintop Award for her role as a student in supporting the enrollment in 1956 of Autherine Lucy Foster, the first African-American student to be admitted to the University of Alabama as well as for her work in helping women further their education to enter the workforce.
Michael Culver, a transition patient advocate for the Tuscaloosa V.A. Medical Center, will receive the Call to Conscience Award for his work in helping diverse groups of veterans re-enter civilian life.
A Unity Breakfast will be offered at 7 a.m. Monday, Jan. 20, in the Hay College Center at Stillman College, and a Unity March will be held at noon Monday, Jan. 20, starting at Martin Luther King, Jr. Elementary School and proceeding to City Hall. Finally, a mass rally will be held at 6 p.m. at the First African Baptist Church, 2621 Stillman Blvd.
This year's MLK theatrical performance will be Theatre Tuscaloosa's production of "Ain't Misbehavin'." Harlem's 1930s Cotton Club lives on in this musical revue that pays tribute to the jive swing of Thomas "Fats" Waller. Performances run February 8""17 in the Bean-Brown Theatre on Shelton State's Martin Campus. Tickets are $22 for adults, $18 for seniors, and $14 for students and children. Discounted rates are available in advance for groups of 10 or more. Tickets and more information are available at www.theatretusc.com or by calling (205) 391-2277, according to Adam M. Miller, managing director of Theatre Tuscaloosa.
The Martin Luther King, Jr. Realizing the Dream program exists to raise consciousness about injustice and to promote human equality, peace, and social justice by creating educational and cultural opportunities for growth, empowerment and social change so that every person may experience the bounty of life's abundant possibilities. The program is a collaborative effort of The University of Alabama, Stillman College and Shelton State Community College.