The Council exists to connect faculty, staff, students and community partners in research-based projects designed to solve critical problems identified collaboratively by community members and the University. All academic disciplines are represented on a Council made up of campus and community members. 
The Council's various committees oversee project funding, conduct an awards program, propose methods to integrate teaching and research, and seek outside funding all with the goal of fulfilling the Division of Community Affairs' motto: "Engaging Communities and Changing Lives."
The Council on Community-Based Partnerships will announce the 2023–2024 meeting schedule soon.
Council Members & Meeting Notes
Chair of the Executive Committee Dr. Susan Carvalho, Associate Provost and Dean of the Graduate School
Chair of the Proposal and Seed Funding Committee Dr. Carol Donovan, Professor, Literacy Education and Director, Belser Parton Literacy Center
Chair of the Faculty Teaching and Research Support Committee (Community Engagement Graduate Fellowships) Dr. Sharlene Newman, Executive Director for the Alabama Life Research Institute
Chair of the Academic Conference and Presentation Committee Dr. Andrew Goodliffe, Graduate School/Geological Sciences
Chair of the Excellence in Community Engagement Recognition Committee Dr. George Daniels, College of Communication and Information Sciences.
Chair of the Community Partnership Support Committee Amanda Lightsey, Executive Director, Tuscaloosa One Place
Chair of the Student Involvement and Support Committee Jake Peterson, PhD Student, Kinesiology
Natalie Adams New College
Tania Alameda-Lawson School of Social Work
David Albright School of Social Work
Stacy Alley Musical Theatre and Dance
Marcus Ashford Mechanical Engineering
Alex Ates Theatre and Dance
Megan Bailey Honors College
Sheila Black Psychology
Marco Bonizzoni Chemistry
Laurie Bonnici School of Library and Information Studies
Karyn Bowen Community Affairs
Karen Boykin Chemistry
Dianne Bragg College of Communication & Information Sciences
B. Scott Bridges School of Music
Jackie Brodsky Wayne State University and SLIS
Toya T. Burton Whatley Health Service, Inc.
Michael Callihan Capstone College of Nursing
Karen Canada-Starks School of Social Work
Jennifer L. Caputo New College and School of Music
Vicky Carter Five Horizons Health Center
Naomi Choi Political Science
Ashley Clark Center for Service & Leadership
Chandra Clark Journalism and Creative Media
Shani Collins Social Work
Dee Cook Community Affairs
Teresa Cribelli Department of History
Martha R. Crowther Psychology
Meredith Cummings College of Communication & Information Sciences
George Daniels College of Communication and Information Sciences
Pamela Dorr HERO, Greensboro
Rita Doughty Social Work/Nursing
Isabelle Drewelow Modern Languages and Classics
Ryan Earley Biological Sciences
William A. Evans Journalism and Creative Media
Josh Eyer Capstone College of Nursing
Mirit Eyal-Cohen Law Studies
Daniel J. Fonseca Industrial Engineering
Rich Fording Political Science Department
Pamela Payne Foster Community and Rural Medicine
Faythe R. Freese School of Music
Kenneth Fridley Engineering
Philip Gable Psychology
Kimberly Gibson School of Social Work
Daniel Goebbert Chemistry
Jeff Gray Computer Science
Chapman Greer Culverhouse College of Business
Jennifer Greer Associate Provost Academic Affairs
Jonathon Halbesleben College of Continuing Studies
Karl Hamner Nursing/Social Work
Samantha Hansen Geological Sciences
David Hardy Education
Jackson Harris Cross Civic Engagement Center
William Hart Psychology
Marcia Hay-McCutcheon Communicative Disorders
Teri Henley Advertising and Public Relations
John C. Higginbotham Community and Rural Medicine
Jerran Hill Blackburn Institute
Peter Hlebowitsh Dean, College of Education
Quoc Hoang Culverhouse College of Business
Tracey Hodges College of Education
Holly Horan Anthropology
Rick A. Houser Educational Studies in Psychology
Michael Innis-Jiminez American Studies
Matthew A. Jarrett Psychology
Karen Johnson Social Work
Rebecca Kelly Kinesiology
Mary (Sabrena) Jackson School of Social Work
Pauline D. Johnson Civil and Environmental Engineering
Philip W. Johnson Civil and Environmental Engineering
Mary Jolley Community Volunteer
Diane Kennedy-Jackson Division of Community Affairs
James King Culverhouse College of Commerce
Billy Kirkpatrick Executive Director, West Ala. AIDS Outreach
Lorne Kuffel Institutional Research and Assessment
Kimberly Lackey Biological Sciences
Frankie Laanan Educational Leadership, Policy, and Technology Studies
Cheryl Leonard Office of the Vice President for Research
Anne Levy Arts and Sciences – Theatre and Dance 
Yuehan Lu Geological Sciences
Felecia Lucky Black Belt Community Foundation
Lou Marino Culverhouse College of Commerce
Jim McLean Center for Community-Based Partnerships
Lane McLelland Crossroads Community Center
Kathryn Merritt Honors College
Claudia Mewes Physics and Astronomy
Andrew Minear School of Music
John Miller New College
Nisa Miranda Center for Economic Development
Cynthia E. Moore Community and Rural Medicine
Jacqueline V. Morgan Honors Colllege
Rob Morgan Culverhouse College of Commerce
George Mugoya College of Education
Tanya Mullen Education Evaluation Office
Edward Mullins Center for Community-Based Partnerships
Rekha Nath Philosophy
Mark D. Nelson Dean, C&IS
Debra Nelson-Gardell Social Work
Jane Newman College of Education
Jen Nickelson College of Human Environmental Sciences
Michael Nichols Center for Community-Based Partnerships
Sharon E. Nichols Curriculum and Instruction
Hyunjin Noh Social Work
Jackie Northrup Women & Gender Resource Center
Stefanie O'Neil Alabama Water Institute
Erin O'Rourke Modern Languages and Classics
Jeffrey G. Parker Psychology
Angelia Paschal Human Environmental Sciences
Mary Patterson AERN
Cynthia Peacock College of Communication & Information Sciences
Drew Pearl Center for Community-Based Partnerships
Heather Pleasants Institutional Effectiveness
Steven M. Polunsky Alabama Transportation Policy Research Center
Robert Powers Center for Service & Leadership
Nicole Prewitt Center for Community-Based Partnerships
Samory Pruitt Vice President of Community Affairs
Margaret A. Purcell University of Alabama System
Laura Reed Biology
Sierra Rodgers-Farris College of Education
Levi Ross College of Human Environmental Sciences
Nicole Ruggiano School of Social Work
Jean Rykacyewski West Alabama Food Bank
Josh Sahib Gorgas Library
Whitney Sewell Division of Community Affairs
Lamea "Elle" Shaaban-Magaña Women & Gender Resource Center
Jenny Shaw History
Jennifer Shoaff Race and Gender Studies
Roger Sidje Associate Dean, College of Arts & Sciences
Merinda Simmons Religious Studies
Cassandra E. Simon School of Social Work
Senator Bobby D. Singleton Alabama Legislature
Cassander Smith English
Patricia Sobecky Associate Provost for Academic Affairs
Ellen G. Spears New College and American Studies
Karen Spector Education
Chris Spencer Black Belt Community Foundation
Christina Staudhammer Biological Sciences
Adam Sterritt Division of Student Life
William Suclupe Veteran and Military Affairs
Cynthia Sunal Education
Daniela Susnara Center for Community-Based Partnerships
Joanne J. Terrell School of Social Work
Courtney Chapman Thomas Center for Service & Leadership
Patrick Toale Physics & Astronomy
Glenn Tootle Engineering
Dean Townsley Physics & Astronomy
Kellie Wells English
John Ross Wheat Community and Rural Medicine
Cedric Wherry Five Horizons
Kevin A. Whitaker Provost
Javonda Williams School of Social Work
Megan Williams Student
Liza Wilson Curriculum & Instruction
Zoë Winston Center for Service & Leadership
Matthew Wisla College of Communication and Information Sciences
Thomas L. Wolfe Arts and Sciences
Pamela Young  College of Arts & Sciences
Andrea Ziegler Center for Community-Based Partnerships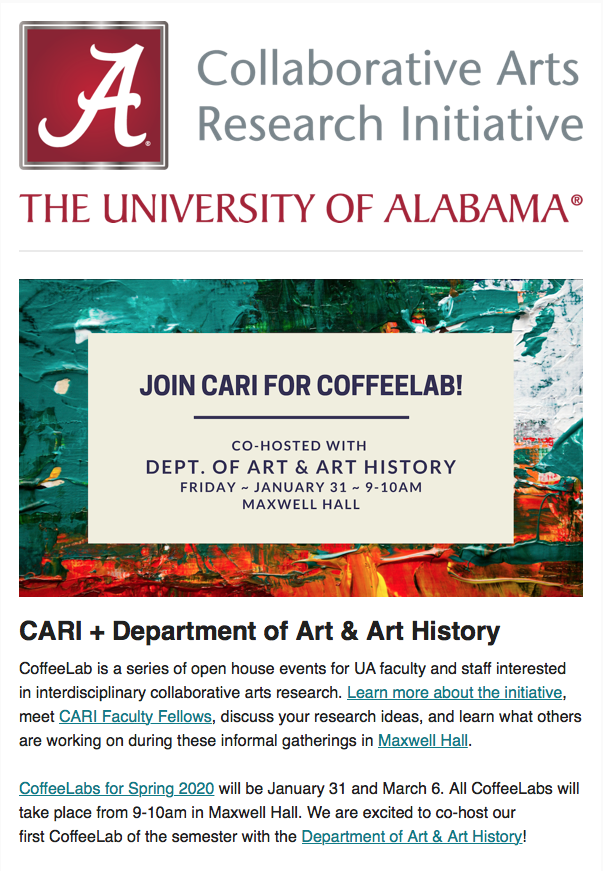 Join CARI for CoffeeLab, a series of open house events for UA faculty and staff interested in interdisciplinary collaborative arts research. Learn more about the initiative, meet CARI Faculty Fellows, discuss your research ideas and learn what others are working on during these informal gatherings in Maxwell Hall. This CoffeeLab will be co-hosted with the Department of Art & Art History.
2020 Southern Section of the American Society of Plant Biologists
March 14–16, 2020
www.ss–aspb.org
The meeting will take place in Birmingham on March 14-16, 2020 and feature an outstanding lineup of speakers for the Kriton Hatzios Symposium "Evolution of Signaling Mechanisms in Plants".
• Papers covering all topics in plant biology are encouraged
•Student competition at the graduate and undergraduate levels
• Travel grants to support student attendance
Questions?
Dr. Mustafa Morsy
SS-ASPB Secretary/Treasure
mmorsy@uwa.edu
Dr. Shahid Mukhtar
Local Coordinator
smukhtar@uab.edu

GAP-YEAR FELLOWSHIP PROGRAM OPPORTUNITY
A key feature of the UA-Pickens County Partnership is a yearlong, paid fellowship program open to recent University of Alabama graduates from all majors and disciplines. The fellowship program provides an opportunity to serve in a health-related capacity in Pickens County, providing a year of service while expanding experience and education.
Fellows' time will be spent in community engagement and leadership development activities, including a seminar series on health, and public policy and social determinants of health. Fellows will also serve as liaisons between University faculty and Pickens County community leaders while participating in faculty projects that align with their interests. Fellows facilitate programming efforts to promote health throughout the county, gaining valuable insight and experience as they work with medically underserved communities in rural Alabama.