Barnes YMCA Campers Celebrate New Skills, Achievements at Swim to the Top Luncheon
[envira-gallery id="6350″]
Photos by Fuyan Zhang
CCBP Student Assistant
Special to CCBP
By Lucinda Coulter
Bright blue beach balls and T-shirts emblazoned with sea-turtle logos greeted 120 summer campers Thursday, June 30 as they filed into the Barnes YMCA gymnasium. A lunch of hot, boxed pizzas and praise for their hard work awaited them.
Children ages 4–14 and their instructors were gathered to celebrate the end of a four-week enrichment program, Swim to the Top, sponsored by the University of Alabama's Division of Community Affairs.
Earlier that morning, the campers finished swim lessons, math and reading, and golf and other fitness activities. The initiative is offered to children of families enrolled at the Benjamin Barnes Branch YMCA in west Tuscaloosa. Now in its third year, Swim to the Top is a partnership created by the University, Tuscaloosa city and county schools, Tuscaloosa County Parks and Recreation Authority, and the Barnes Y.
At the closing ceremony, instructors praised the young audience seated at large cloth-covered tables and reviewed skills the children had learned in the program.
"I've seen you guys blossom like flowers," Swim to the Top director Dr. Rosianna Gray of UA's Center for Community-Based Partnerships told the campers. She thanked partners for their contributions and enthusiasm. "We've learned right along with the children," she said.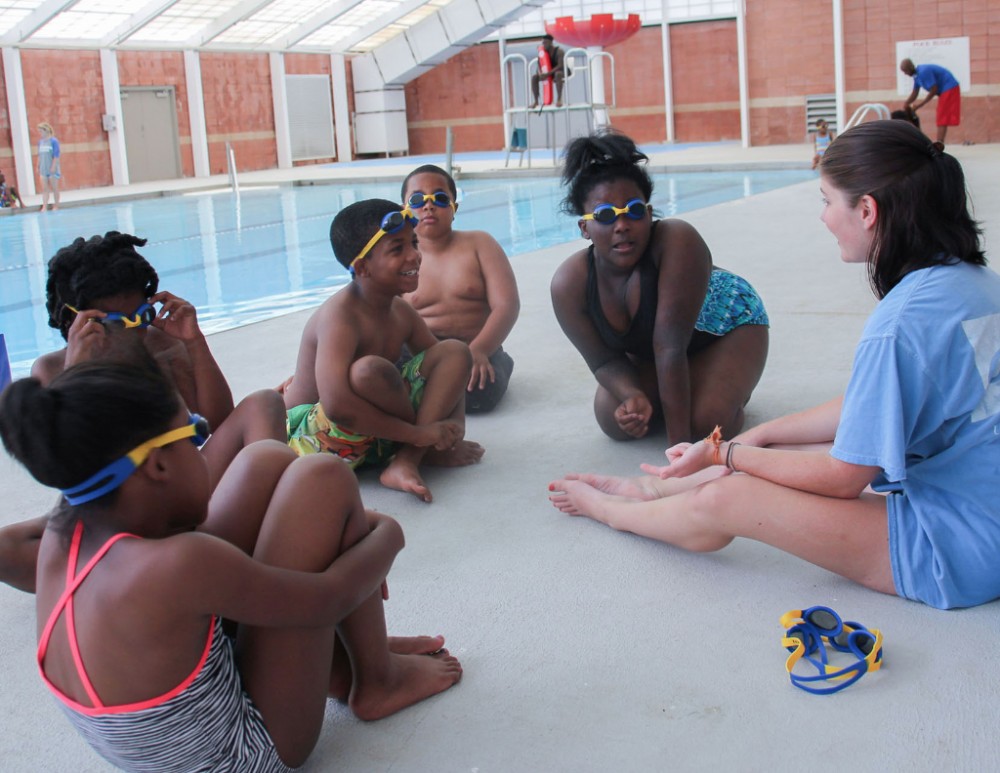 Dr. Samory T. Pruitt, Community Affairs vice president, described Swim to the Top as "an excellent example" of campus-community cooperation. "It shows what we can do when we pool — no pun intended — our human and physical resources."
Instructors emphasized fun, cooperation and orderly conduct as they taught water safety, good health practices and other activities. For swim lessons, camp counselors accompanied children to the A.L. Freeman pool and park across the street from Benjamin Barnes.
Kaleum Robinson, 6, said that he hopes to repeat swim lessons next summer. He was proud of his accomplishments. "I floated on my stomach and my back," he said, standing up straight near the pool after swim lessons as his buddies gathered closely round him.
At the luncheon, lead swim instructor Jenna Starck lauded 4–6 year-old campers for listening to instruction, 7–9 year-olds for emerging leadership skills and 10–14 year-olds for their willingness to learn.
"We saw such great improvement in you," said Starck, a doctoral student in sports pedagogy at UA. "We hope to see you all next year."
She said that she and the team of nine swim instructors — all UA students majoring in kinesiology or sports pedagogy — were happy to see children's attitudes change from one of fear to excitement.
"Kids have gone from crying and being afraid to climb in the pool on the first day to, now, showing you their tricks and going under water," Starck said. Campers were taught water safety tips such as extending flotation devices to swimmers who are struggling, and entering the water only if lifeguards are present.
Mark Harrison, PARA aquatic director, supervises the lifeguards for swim lessons. He attributed the program's success to partner collaboration: "It's been very rewarding," he said.
Douglas Craddock agreed with Starck and Harrison. A UA doctoral candidate in higher education administration, Craddock has worked in the program since its start three years ago. This year he assisted with academic enrichment and led the fitness team. He was especially pleased to see that a number of kids in last year's program returned for another year.
"The work we're doing is making a difference," said Craddock, seated on gym bleachers and supervising campers running an obstacle course. "They are maturing and their cooperation has improved."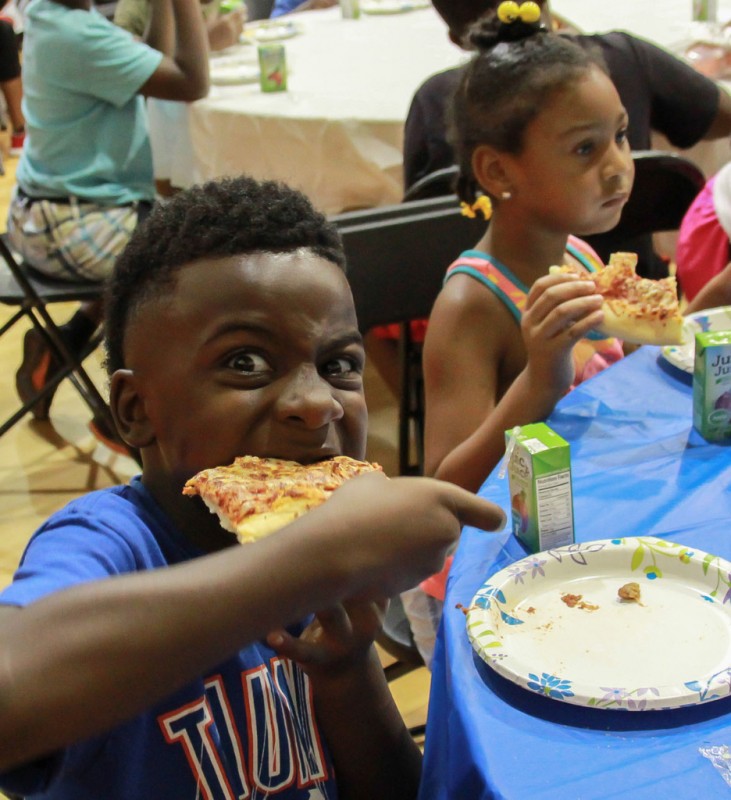 As he spoke, kids in the 7–9 year-old group played volleyball and dodge ball and hula-hooped in sync in various parts of the gym. "We try to incorporate sports they're not accustomed to," Craddock said. "Exposure to small things can lead to exposure to bigger things in the future."
Teaching the children the importance of exercise for cardiovascular health and good nutrition are key parts of the fitness segment, according to the instructors.
Campers played golf on Thursdays with the assistance of members from Tuscaloosa's First Tee nonprofit. Lessons in putting, chipping, pitching and full swings were taught in the gymnasium using modified clubs and tennis balls in lieu of golf balls. Thursday morning before the program's close, about 50 children played snag baseball (a form of baseball using golf clubs to develop proper swings) on the Barnes field behind the gym. PARA golf coach Andy Smelley and 11 instructors organized the game while Barnes youth counselors supervised players. "Golf is one of the many ways to broaden their horizons," Smelley said.
Scholastic endeavors helped kids stay cool indoors. Two days before the program's end, Mishon Flanigan coordinated a team of children to build bridges and towers with foam cups. Flanigan, a second-grade teacher at Crestmont Elementary School, and Julia Sanders, who teaches at Martin Luther King Jr. Elementary School, introduced the children to math and science activities that also strengthened their skills in collaboration and planning.
As some children stood on chairs to place, delicately, the pinnacle cup on top, other team members held their breath in anticipation. The Children's Resource Center was filled with delighted shrieks or disappointed moans as foam towers stood or came crashing down.
"These kids came in every day eager to learn," Flanigan said. "Their eagerness was inspiring, and that gives us a way to bring academics to the table. Hands-on projects work."
Former UA kinesiology graduate student Zachary Wahl-Alexander started Swim to the Top. The program has specific implications for African-American children. Swimming pool drowning rates among blacks aged 5–19 years are 5.5 times higher than those among whites in the same age group, according to the Center for Disease Control and Prevention. Nearly 70 percent of African-American children are unable to swim, according to a 2012 survey by the USA Swimming Foundation.
Benjamin Barnes Executive Director LaKeda Smith thanked the more than 35 instructors, volunteers and partners who helped in the four-week outreach. "I'm glad to know you are comfortable swimming now," Smith told the youth. "We are so thankful for the program's growth and look forward to it continuing next year."
Before a din of excited voices rose as volunteers doled out beach balls and T-shirts at the June 30 closing program, Smith ended her remarks with "Have a blessed day," which seemed to be every day for kids in Swim to the Top.
---
Lucinda Coulter serves on the Benjamin Barnes YMCA Branch Advisory Council as recording secretary and on the YMCA of Tuscaloosa County Board of Directors. She is a former UA and Stillman College journalism faculty member.