Click here to download nomination forms.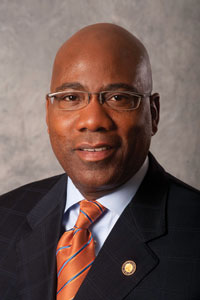 TUSCALOOSA "" The Center for Community-Based Partnerships (CCBP) will present awards for the best faculty-, student- and community-initiated projects during ceremonies Friday, April 22, at the Hotel Capstone on the campus of The University of Alabama.
The keynote speaker for the event will be the president of Morgan State University, Dr. David Wilson, a native of Marengo County and former vice president for University Outreach at Auburn University.
The program begins at 10 a.m. with poster presentations showing the variety and effectiveness of community-partnered projects during previous years as well as some that will be up for awards this year. The luncheon and awards presentation will follow.
"This will be our fifth annual awards program," said Dr. Samory T. Pruitt, vice president for Community Affairs, who oversees outreach work at CCBP, which includes the areas of educational development, community development, and community research and communication.
"We are pleased to welcome Dr. Wilson back to Alabama. He was a leader in community engagement at Auburn University and at the University of Wisconsin-Extension before becoming the 10th full-term president at Morgan State," Pruitt said.
A widely published scholar, Dr. Wilson holds the doctorate in administration, planning and social policy from Harvard University. One of 10 siblings living on a sharecropper farm outside the small town of McKinley in Marengo County, Wilson became the first person in his family to attend college.
Janet Griffith, assistant provost for communications, chairs the awards committee and program. "Nomination forms are available at www.ccbp.ua.edu or by visiting the CCBP or Community Affairs offices on campus," she said.
Nominations should be delivered to Griffith's office, 254 Rose Administration, by 5 p.m., Wednesday, April 6.
To propose a poster, e-mail Tommy Syx, a member of the awards committee, at tsyx@cba.ua.edu describing your poster. Posters may be original or presented earlier at completive events. The deadline for proposing a poster is Friday, April 1, with notification by Wednesday, April 6.
There is no charge for the program or luncheon, but registration is required. To register, send an e-mail to community.affairs@ua.edu, indicating your desire to attend. As attendance is limited to 200, early registration is recommended. If space is available, your registration will be confirmed by return e-mail.
The Center for Community-Based Partnerships is an initiative of the Office of Community Affairs. Its purpose is to provide leadership for campus and community projects that bring lasting benefits to both. Among the examples are the Parent Leadership Academy, a partnership between city and county schools and three divisions of the University; Black Belt 100 Lenses, a community identity, development and leadership partnership between CCBP and the Black Belt Community Foundation; and the Journal of Community Engagement and Scholarship, a scholarly journal that publishes leading community engagement research. For more information, see www.ccbp.ua.edu.