[envira-gallery id="7013″]
By Kirsten J. Barnes

CCBP Graduate Assistant
Nearly 200 graduates, family members, school representatives and program associates gathered to honor the 50 parents and 43 teachers who were members of the 2016-2017 Parent Teacher Leadership Academy on Thursday, April 20, 2017, at Hotel Capstone on the campus of The University of Alabama.
"This graduating class is more than an academy of knowers; they are and will continue to be, an academy of doers," said CCBP Community Education Director Dr. Holly Morgan, director of PTLA in remarks that drew enthusiastic applause. Participants came from the following four school systems: Alabaster City Schools, Lamar County Schools, Tuscaloosa City Schools and Tuscaloosa County Schools.
"When I reflect upon this past year and our mission, a huge smile spreads across my face," Morgan said. "I thought about each session, each eager face, each e-mail or phone call, each visit to a school during an implemented project, and each view of the Facebook page…. Thank you, parents and teachers, for allowing me and our group of facilitators to be a part of your world and for the collaboration and community formed by your relationships."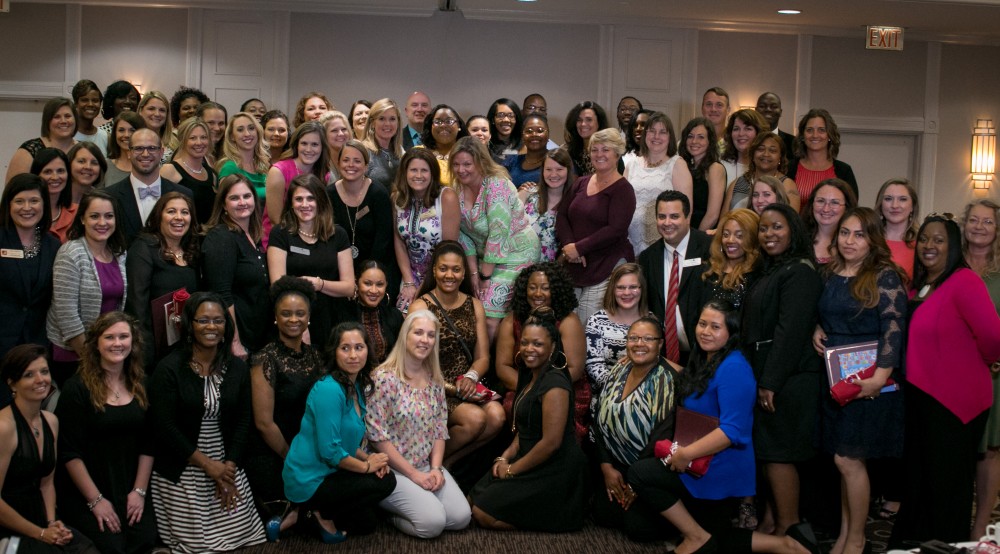 The evening was the culmination of an entire school-year of training sessions designed to help groups create and implement 24 school improvement programs, while at the same time forming relationships that will promote student achievement.
The Academy is a joint initiative of the local school systems, The University of Alabama's Center for Community-Based Partnerships, and the faculty of UA's College of Education and College of Human Environmental Sciences.
"All of these sessions gave us the opportunity to hold an open dialogue and connect and share and learn from each other," said Janice Smith, Elementary Parent Leadership Academy facilitator.
The event combined participants from the Parent Leadership Academy, Teacher Leadership Academy, Pre-K Leadership Academy and Hispanic Parent Leadership Academy. During the year, members representing each school worked together to create and implement a project that supported the individual school's improvement plans. Posters, representing each project, were on display outside the ballroom.
"We should be proud of what these projects are going to do for these young little lives. These kids are now excited," said Matthews Elementary parent Daniel Morales. "We are pushing all of these different ideas at these different schools." His team created "Bow Ties and Bows" and "Hats and Heels," which will become annual father-daughter and mother-son events at the school.
Adriane Sheffield, a teacher at University Place Elementary and a doctoral candidate in UA's Educational Psychology program, helped her school create PAW Patrol (Partners Always Welcome), which encourages males to volunteer at the school.
"PTLA is not just about developing teacher leaders and developing parent leaders. I can truly say that after this experience I know how to be a partner leader," said Sheffield, who has more than 13 years of teaching experience. "We became a team and we are now partner leaders at University Place. Now we know how to listen to each other and work together." She said her team learned how to "engage our community a little stronger, because it really is about partnering."
Kim Pate, of the Pre-K Parent Leadership Academy, reported on her team's successful "Betsy Bulldog" project, which utilized Buhl Elementary's bulldog mascot and Facebook messages in a successful effort to increase parental involvement in their children's school work. Maria Resendiz, of Walker Elementary PTLA, described how "Ramtastic Readers" helped improve reading scores through a school-wide accelerated reading project.
Each school received a plaque on which the names of the school's graduates were engraved, and graduates also received a certificate and a T-shirt recognizing their participation. In all, the schools pursued 24 projects during the year on topics ranging from art galleries to cultural learning, from promoting parental involvement in homework to improving math skills.
"We call this graduation because we pass out certificates, but a better word I think is commencement, because commencement means a beginning ­— a new start," said Dr. Samory T. Pruitt, vice president of UA's Division of Community Affairs. "There is an expectation that this is not the end for this effort. We expect and we can pretty much count on this group to go back and do the things in schools and communities that will help families and help children be successful."
Pruitt said the Academy began with elementary parents in an effort to build strong bonds between parents and teachers early in a student's educational journey. However, next year the program will expand to include parents and teachers from middle schools, and expand the number of school districts from four to seven.
2016–2017 Graduating Teacher Class
Tuscaloosa County Schools — Lynn Corkren, Laura Siciliano, Krystal Bruce, Jalicia McCaskill, Hillary Stephens, Rebecca Wheat, Carol Fuller, Kathryn Maness, Ann Campbell, Rusty Gray, Emily Glasgow, Brandy Hicks, Danielle Fulghum, Brittney Pearson, Carmen Davis and Johnna Drummond.
Tuscaloosa City Schools — Summer Christman, April Ball, Twana Ivory, LaKeisha Billups, Brittney Pruitt, Jacklyn Constant–King, Debra Matherson, Brittany Harris, Nakami Townsell, Elizabeth Elledge, Ryan Rust, Adriane Sheffield, Tonya Young, Michelle Thompson, Jameka Windham, Shannon Colburn, Lisa Ann Franks and Alyson Lamb.
Alabaster City Schools — Kimberly Davis, Brittney Roberson, Mandy Wesson, Darbe Hooten, Catherine Scheller, Kirstin Hall and Matt Wilson.
Lamar County Schools — Julie Riley and Courtney Shaw.
2016–2017 Graduating Parent Class
Tuscaloosa County Schools — Susan Winters, Rachael Boblitt, Maria Del Rocio Sesena Aquino, Martha Lugo Maldonado, Danny Morales, Janet Lambert, Jill Hobbs, Maria Resendiz, Dylan Franklin, Natasha Wilson, Kim Pate, Mandy Munoz, Crystal Leight, Janelle Strickland, Phyllis Robinson, Tamaria Madison, Kathryn J. Phillips, Connie Betancur and Sandra Martinez-Franco.
Tuscaloosa City Schools — Chas Hardy, Antwon Prince-Sealy, Queen Brown, Mary Samuels, Epifanio Martinez, Tungie Moore, Mark Young, Samara Early, Nikki Evans, Stephannie Nixon, Jaela Avery, Brooklyn Thom, Sabrina Crummie, Francis Smith, Lurena Smith, Bethany Hulburt–Torres, Leslie Dixon and Kimaya Williams.
Alabaster City Schools — Alex Lightsey, Keri Southern, Nicole Hope, Tiffany Stone, Lori Lambert, Jennifer Weltzin, Misty DeRamus, Christy Byars, Amy Thames, Elvia Casillas and Mirella Ruelas.
Lamar County Schools — Aleigha Colvin and Beth Smith.
---
PTLA is a joint initiative of the Tuscaloosa City and County School Systems, the University of Alabama's Center for Community-Based Partnerships, and the faculty in the University of Alabama's College of Education and College of Human Environmental Sciences. It utilizes research–based practices to provide professional development to parent and teacher leaders who use their knowledge to support student achievement through strong family-school partnerships.
The mission of the Center for Community-Based Partnerships is to connect faculty, staff, students and community partners in research-based projects designed to solve critical problems identified collaboratively by community members and the University.