By Kirsten J. Barnes
Center for Community-Based Partnerships
(Editor's note: NOSC 2012 at The University of Alabama will feature 234 engagement research presentations; yet many still ask "what is engaged scholarship?" Work by two engineering professors at The University of Alabama provides insights into the field, while also highlighting aspects of a sister discipline, service-learning.)
Husband and wife engineering professors Drs. Philip and Pauline Johnson concluded that their University of Alabama engineering students were naive when it came to understanding global engineering. Few had traveled outside the United States; some had not even been outside the Southeast. Those who had traveled abroad had mostly gone to tourist spots.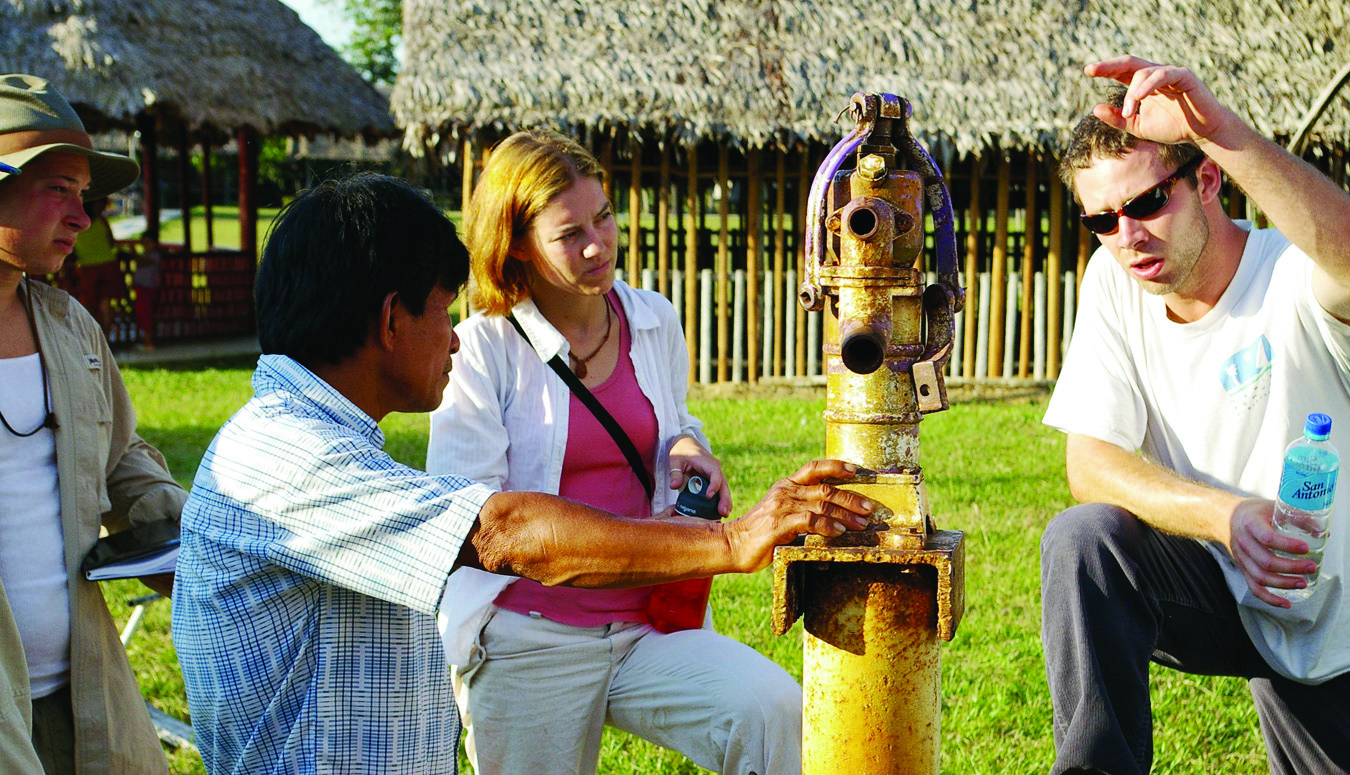 Having visited 99 countries, many of them in the third world, they were determined to do something about their students' insularity.
"There are a lot of places in the world that are much, much, different from the United States," said Dr. Philip, who has taught in UA's civil, construction, and environmental engineering department for 23 years. "As an educator who routinely talks to students about sustainable engineering projects, I know that unless they go to a third-world country they don't fully understand what that means."
The couple are co-sponsors of UA's Engineers Without Boarders and have helped develop the International Engineering Service-Learning Program at UA. Together they create learning experiences based on modern engineering practices through partnerships with UA's Center for Ethics and Social Responsibility and Center for Community-Based Partnerships. In all, the couple has accompanied more than 50 students on international trips to Peru, Cambodia and Vietnam.
Dr. Philip is a petroleum and civil engineering specialist, while Dr. Pauline's expertise is in water and wastewater treatment.
"We started in 2005. I think we've had seven trips abroad with the students," said Dr. Pauline, who is in her 18th year on the UA faculty. "Engineers Without Borders likes for you to go back to the same community to build on what you've done and check on the systems you've already created."
In addition to partnering with UA groups and non-profits in the destination country, students collaborate with universities in the host country. In Peru they worked with students and faculty from the University of Iquitos, which provided field equipment and took part in field testing, surveys, group discussions, shopping for supplies and social outings.
These experiences build invaluable soft-skills (problem solving, communication) while introducing them to the inevitable global challenges of their career path, according to the Johnsons.
In an article they published along with Noam Shaney of Peru in the Journal of Community Engagement and Scholarship (JCES) in 2008, they asserted that service-learning opportunities developo leadership, teaming, management, communication and cross-cultural skills. In addition, the students grow personally as they learn flexibility, adaptability, maturity, independence and the ability to analyze, adjust to and appreciate local culture and context. The students also gain a global perspective, an appreciation of the societal implication of their work, and the satisfaction of working with a client in taking an international community project from conception and planning to fruition.
Their purpose in traveling widely with their students, Dr. Philip said, was "to do something for the students to help them experience the world. When you work with people on projects and incorporate the locals from the community, you really get a different perspective and feel for the community."
Because these trips are in conjunction with the student organization Engineers Without Boarders, the students set the agenda and decide which country to visit and which projects to take on once they arrive.
Many of the students they get are the very best students in the College of Engineering, and are already motivated when they join Engineers Without Borders, which provides outlets for this motivation.
These trips have career implications for many students. For example, one student joined the Peace Corps after returning from a trip. Another student had her immediate sights set on medical school but instead pursued a master's at Oxford University before starting medical training, where she will focus on diseases such as malaria and HIV/AIDS.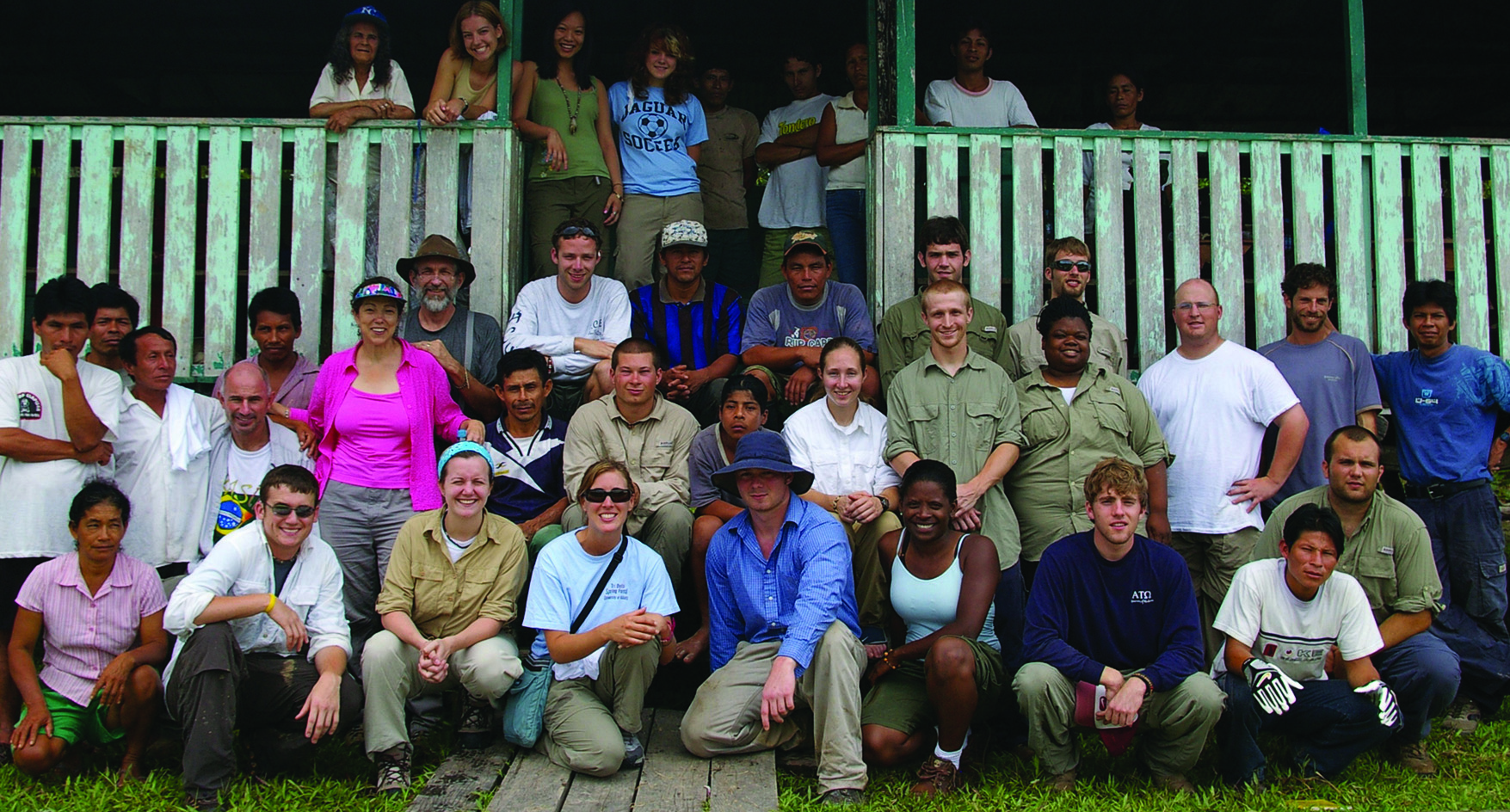 The Johnsons say most of the students have the opportunity to travel with them on only one trip because of costs. However, Ynhi Thai is an exception. As an undergraduate, she traveled with them to Peru in 2006 and Cambodia in 2009. Born in Vietnam, Thai immigrated with her parents to the United States where they made Long Beach, Miss., their home.
"On the first trip we were basically surveying the area to see what the villagers needed," said Thai, who completed her master's degree in medical anthropology from Oxford University this month (August 2012), after earning her bachelor's in chemical engineering from UA in 2010.
During her trip to Cambodia, Thai participated in a project to build a water treatment plant for the 20,000 people in the province. "Our first job was to test the water filters to make sure they were working properly and that the people knew how to take care of them."
Although her international background gave her some idea of what to expect in the area, it was still an enlightening adventure. A developing country "is really eye-opening," she said. "The trip encouraged me to initiate a project in Cambodia."
When the group returns from a foreign project, the Johnsons encourage them to develop their own ideas, which helps them become decisive leaders, traits essential to a successful engineering career where failure to prioritize can sink a budding career.
Having discovered that in real-world Amazonian settings that expensive equipment is not the best way to go, Thai and a UA professor submitted a proposal to the Bill and Linda Gates Foundation to purchase a water treatment tester for field use. They knew there was a need for an inexpensive, portable water testing kit that didn't require power, said Thai. "It's important when testing water to be able to get good results right away." Their grant was funded for $100,000.
Not all of the Johnsons' work is international. They and their students have taken on water and recreational projects in nearby Hale and Greene counties and have helped with storm-damage repairs in several communities near the University.
But as their JCES article points out, international settings seem to create the greatest opportunities for learning. "Experience abroad forces students to deal constructively with cultural differences and situations they would not otherwise face," Dr. Philip said, adding "there is no comparison between working in an environment where getting supplies is relatively easy and in primitive environments, where a one-way trip to the hardware store is twelve hours from the village you're working in."
The Johnsons' published research concludes that overseas projects facilitate valuable across a broad learning spectrum, but especially in organizational and communication skills; learning without the aid of formal instruction; experiencing other cultures; personal growth; and expanding views of the developing world.
In addition to their article in JCES, the Johnsons have also published "Safe Water Evaluations in the Peruvian Amazon" (with Andrew Magee, Rebecca Macdonald, and Beth Todd) and "Illuminating Villages and Minds in Rural Peru" (with Hannah Betty and Todd), both in the International Journal for Service Learning in Engineering.
With the ability to work in environments and work across language and cultural barriers, the Johnsons' students gain intangible skills and knowledge about themselves as people and professionals. They develop confidence, Dr. Philip said, "because the obstacles put in front of them seemed overwhelming, but they managed to put it together pretty well "¦ [and] they return home believing they can accomplish anything."