[envira-gallery id="6877″]
Photos by Fuyan Zhang
By Taylor Armer
CCBP Student Assistant
Local educators and community partners discussed ways to ensure the overall health and safety of children in and out of the classroom at the Parent Leadership Academy's fifth session of the school year, Thursday, February 9 at the The University of Alabama's Bryant Conference Center.
In each of three separate sessions — Pre-Kindergarten Parent Leadership Academy (PKPLA), Elementary Parent Leadership Academy (EPLA) and Hispanic Parent Leadership Academy (HPLA) — members heard two presentations from their agenda's specific lecturers. They were the following:
PKPLA met with Caliste Chong, the West Alabama Early Care and Education Learning Collaborative (ECELC) project coordinator at the Alabama Partnership for Children, and Dr. Brian Gannon, assistant professor of pediatrics at UA's College of Community Health Sciences.
EPLA met with counselors Miranda Little and Mary Thompson from Rock Quarry Elementary and Rock Quarry Middle schools, respectively, and Brandon Chalmers, the adult/family education program director at Tuscaloosa's One Place.
HPLA met with Derek Osborn, executive director of Parents Resource Institute for Drug Education (PRIDE), as well as Dr. Elizabeth Hancock, coordinator of Instructional Technology with Tuscaloosa City Schools (TCS), and Chris Jenks, director.
"Each speaker was chosen for the resources and expertise that they can provide for the parent leaders of each academy," said Dr. Holly Morgan, director of community education at the Center for Community-Based Partnerships, an initiative of the UA Division of Community Affairs.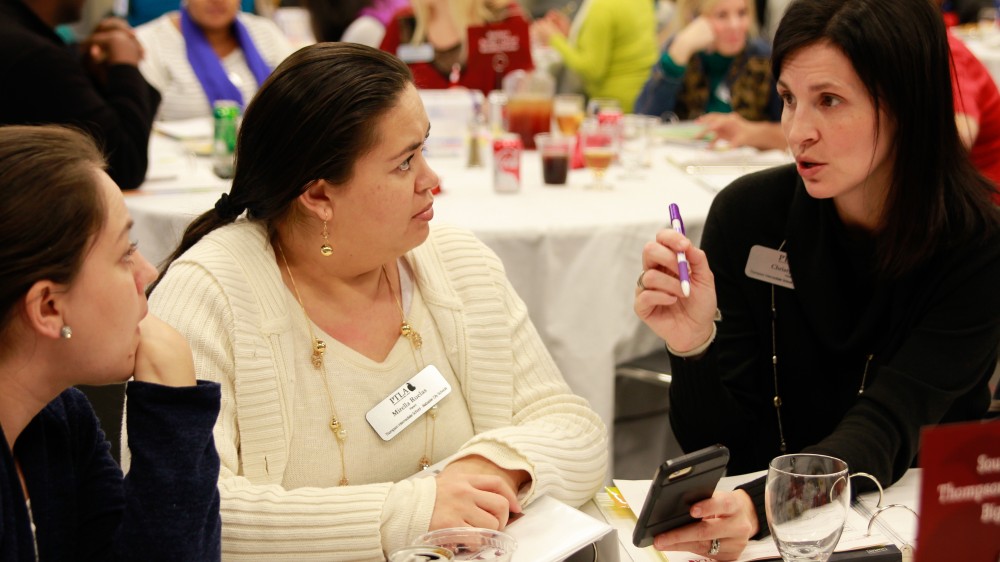 Nutrition and health was central to the PKPLA's agenda. Caliste Chong's presentation, "Early Childhood Nutrition: Alabama Partnership for Children," provided tips for parents on how to create, maintain and sustain a healthy lifestyle for their preschoolers starting with an overhaul of the snack pantry.
Instead of Little Debbie cakes or honeybuns, Chong recommended that parents have "fruits like bananas or grapes, vegetables and other types of healthy snacks readily available."
Chong, who earned her bachelor's and master's degrees in human development and family studies from the University, suggested that parents engage in "family style dining," where members of the household eat and interact at the table.
"There are a lot of teachable moments if you eat together," she said. "Let the kids help set the table and let them help clean the table, and even serve themselves at times. They learn about portions, serving sizes and even measurements. They also use their hands to work on fine motor skills."
Dr. Brian Gannon followed Chong's presentation on nutrition with one titled "Healthy Starts for Preschool: Communicating with School Nurses and your Pediatrician" in which he outlined instances when pre-school children should be excluded from school because of an illness and when it's safe for them to return, as well as other health-related issues.
If a child experiences a high, consistent fever or repetitive vomiting, then he or she may have an infection and should be kept home, said Gannon, adding that any child with infections such as strep throat, chicken pox and bloody diarrhea should stay home.
After reviewing the history of health and safety in U.S. schools, counselors Miranda Little and Mary Thompson of the Rock Quarry campus described how TCS responds to current issues such as suicide and bullying in a presentation titled "Health and Safety: More than Just Apples and Running in the Hallway."
Little, a former social studies teacher at both Tuscaloosa and Rock Quarry Middle schools, detailed the TCS protocol for a student who has been self-identified as a suicidal risk. Counselors and trained personnel at the school isolate the student, place him or her in the immediate presence of an adult, investigate the claim thoroughly and contact the child's parent or guardian.
"Suicide is the second leading cause of death among youths age 10 and up," she said. "Even if the child blurts it out casually, or even when we don't think they mean it, we must take the situation seriously."
Little said that after the child is dismissed (not suspended) from school, a health practitioner must evaluate the child before he or she is allowed to re-enter the building. The child must also meet with a counselor and present a letter that details a plan of action for the child.
"Then, we fill out a safety plan with that student," she said. "We identify steps that we can take with them in school to make them feel safe and we make sure they have someone to whom they can talk. "
TCS counselors and trained personnel have also undergone extensive investigative procedures for bullying, one of the nation's most pervasive social issues. Although Thompson, who received her master's degree in counselor education from the University of Mississippi, said bullying or harassment indicates an "imbalance of power," she admitted that it has been hard to identify in some cases.
Thompson said counselors, social workers and teachers who have training for what to do in those situations talk about how to recognize bullying and harassment. "One thing people don't really understand is that bullying or harassment to this extent is a repetitive, ongoing change of power, which involves so many different layers," she said.
The EPLA session ended with a presentation by Brandon Chalmers, Adult/Family Education Program director at Tuscaloosa's One Place, titled "Parental Involvement: Supporting Success for the 'Whole Child.'" At Tuscaloosa's One Place, Chalmers supervises a team that coordinates programs to connect families with vital resources, become economically stable and self-sufficient and equip parents with the skills and knowledge needed as caregivers and providers for their children.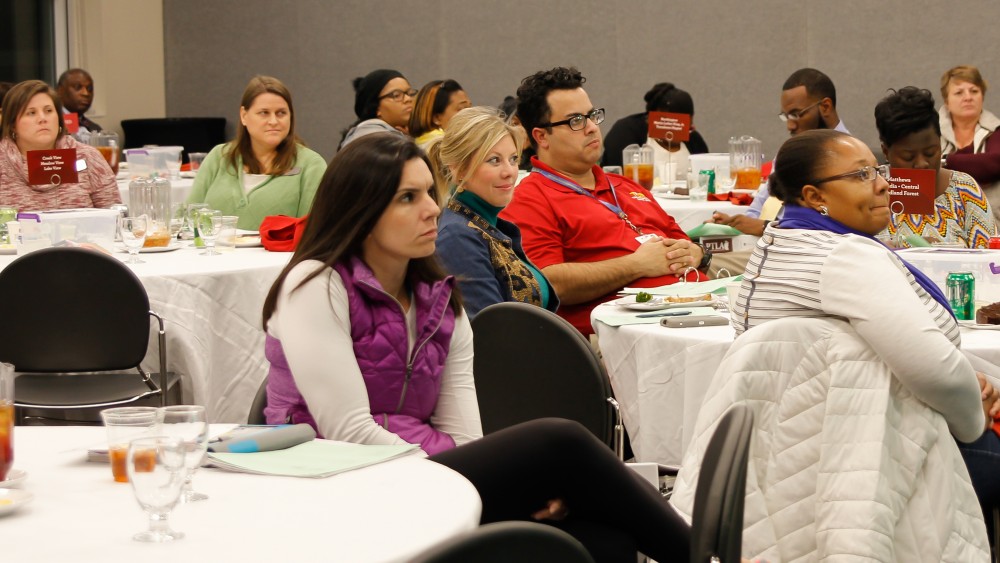 His presentation focused on health, fatherhood initiatives and parental involvement as significant contributors necessary to the success of the "whole" child.
PRIDE executive director Osborn discussed reducing and preventing substance abuse, emphasizing the importance of setting up a "belief for students" to be empowered and knowledgeable about substance abuse, which is essential to prevention. If parents suspect a problem, he said, it is important to reach out for support.
Ending the HPLA session, Jenks and Hancock explained the relationship between digital skill and citizenship. Their presentation was titled "Digital Citizenship and Learning: A Parent's Guide to Helping Kids Navigate Instructional Technology."
Jenks emphasized the four Cs that prepare students for college and career: communication, collaboration, creating new things (or taking something old and making it new), and critically thinking about decisions they will make.
"Each of those skills can be enhanced and supported by technology," Jenks said. Acquiring these skills requires the opportunity to learn at school and to practice at home, he added.
Those opportunities include the initiative that has provided sixth grade students in any Tuscaloosa City school the chance to become informed, purposeful digital citizens using Google Chromebook devices at school and at home.
Both Jenks and Hancock agreed that parental oversight on students' personal technological devices would ensure that students "make those good choices necessary in becoming good digital citizens."
"In the same way that you would want to know your child's phone password," Jenks said, "you would want to protect them on the Internet by setting boundaries."
After each academy's session ended, parent leaders reconvened in their respective school groups to work further on their PTLA project action plans that will be presented at the next meeting Thursday, March 9.
---
PTLA is a joint initiative of the Tuscaloosa City and County School Systems, the University of Alabama's Center for Community-Based Partnerships, and the faculty in the University of Alabama's College of Education and College of Human Environmental Sciences. It utilizes research–based practices to provide professional development to parent and teacher leaders who use their knowledge to support student achievement through strong family-school partnerships.