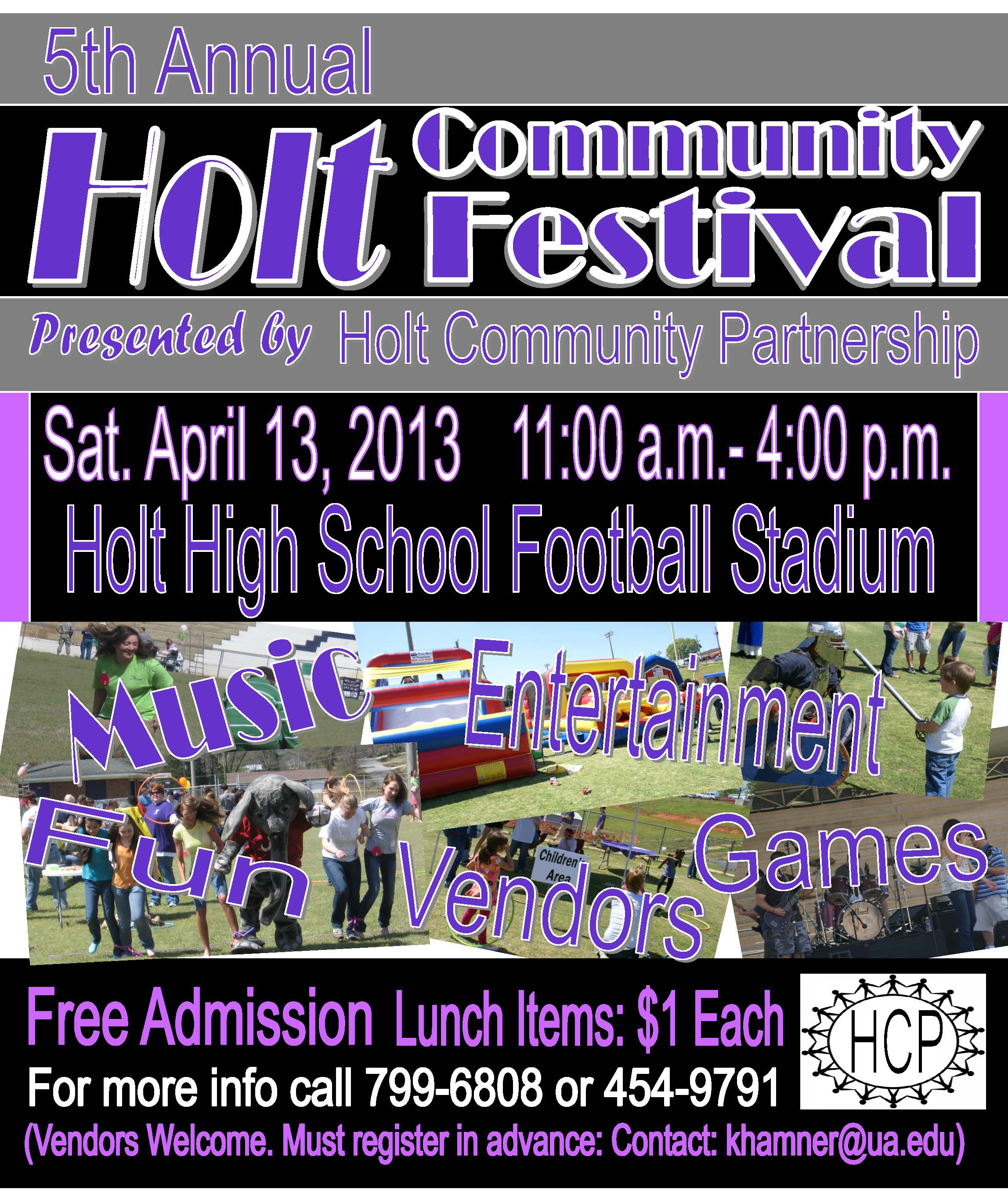 By Kirsten J. Barnes
CCBP Graduate Assistant
The Holt Community Festival will be held from 11 a.m. until 4 p.m. Saturday, April 13 at the Holt High School football stadium.
"It's a chance to celebrate with Holt and show the positive side of Holt," said Dr. Karl Hamner, co-chair of the festival and assistant dean of scholarly affairs for nursing and social work at The University of Alabama. "It's a very vibrant place."
Now in its fifth year, the festival is presented by the Holt Community Partnership, collaboration between UA and Holt High School. Additionally, the Partnership includes area citizens and organizations committed to improving and reviving the Holt community by working together to provide education, social and health services.
"It started as a educational partnership between UA and the high school that grew into a partnership of organizations that are invested in Holt," Hamner said.
Hamner said the event also has taken on new meaning since the tornado devastated the area in April of 2011. Holt was one of the hardest hit areas.
"They are our neighbors and the area has been long neglected," Hamner said, explaining that the festival is a way to draw attention to Holt and the needs of the community. "A lot of our students are involved in helping grow the community."
Partners include the Tuscaloosa County Board of Education, Alabama Consortium for Education Renewal, the UA College of Education, the Capstone College of Nursing, the UA School of Social Work, Tuscaloosa's One Place, Nucor Steel, the Tuscaloosa County Sheriff's Department, Holt High School faculty members, and members of the Holt Community.
"It's going to be fun," Hamner said. "They'll be music and various activities. Various organizations will have booths and there will be children's activities."
This year's festival will feature music and entertainment, food, vendors and games. People should just come out to have fun, Hamner said. Admission is free. However, lunch items will be sold for $1 each.
Vendors are welcome, but each must preregister by contacting khamner@ua.edu.
For more information, call (205) 799-6808 or (205) 454-9791.