HomeFirst Hosts Greene County Coaches' Retreat
September 9th, 2022
in News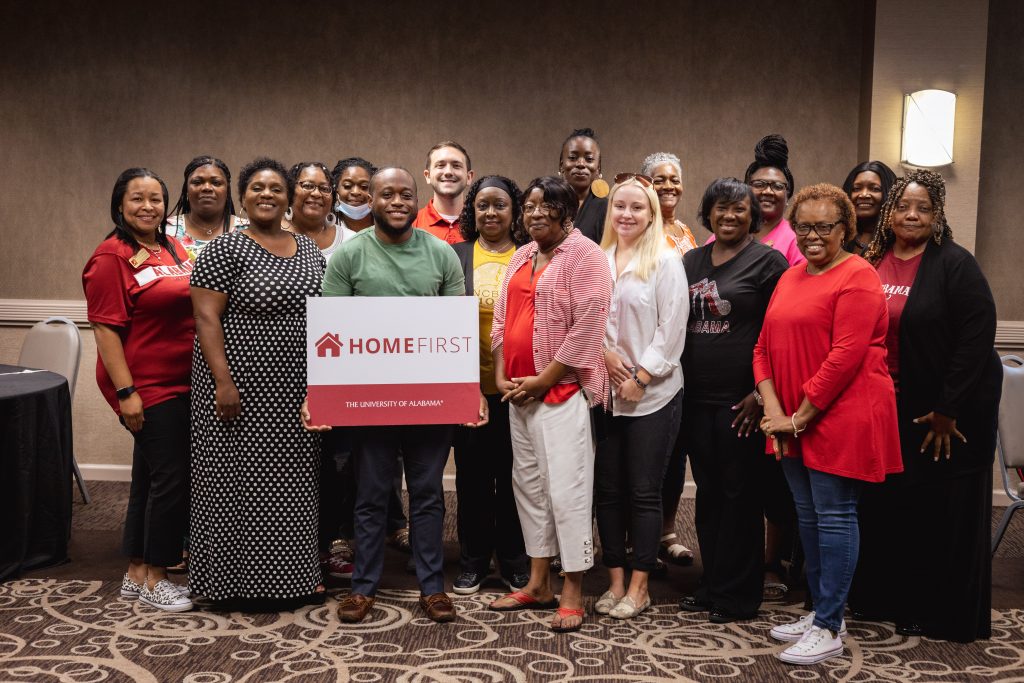 Elisabetta Zengaro
Communications Specialist, Division of Community Affairs
At The University of Alabama, one need look no further than the Paul W. Bryant Museum to see how coaching builds success, so it was only appropriate that the HomeFirst Greene County Coaches' Retreat end with a tour of the museum on Friday, July 22.
Held at the Capstone Hotel in Tuscaloosa July 21–22, the HomeFirst Greene County Coaches' Retreat provided an overview of HomeFirst and opportunities for volunteers to practice their coaching skills and learn how to build rapport with participants. The sessions included mock interviews, coaching activities, presentations and panel discussions designed to help coaches build rapport with future homeowners. At the end of the retreat, volunteers learned how they can extend UA's coaching legacy as financial coaches who support and assist individuals' and families' goals of homeownership.
Housed in UA's Center for Community-Based Partnerships (CCBP), HomeFirst is a financial wellness initiative that serves individuals and families on their path toward first-time homeownership or foreclosure prevention.
"I believe that homeownership is the capstone of the American dream, and as such it's only appropriate that [HomeFirst] be located here at the Capstone of education in the state of Alabama," said Dr. Jim McLean, associate vice president for Community Affairs and executive director of CCBP, before Friday's luncheon. "But we really appreciate your participation and the leadership that you're showing in this program. I was telling someone earlier I wish I would have had a coach to help me through the first time [that I bought a house]."
Melissa Knox, a former participant in HomeFirst, described the importance of coach-participant relationships in helping first-time homebuyers.
"I can't say enough about the program," Knox said. "We didn't have a clue, and the process that they took us through made it so much easier and so much smoother for us. I can't thank the HomeFirst program enough, and the coaching is the key."
Josie Cox, student retention coordinator at Shelton State Community College, shared the importance of HomeFirst coaches in overcoming challenges facing rural communities, such as Greene County, during Friday's luncheon.
"There are limited resources and barriers that rural communities face," Cox said. "I think that what you're doing here by giving people an avenue to homeownership and giving them that opportunity to advance and get equity and also building that capital and also being able to pass that down for generations to come is definitely a step in the right direction as far as building family wealth."
Marie Butler, program coordinator for HomeFirst in Greene County, works with the coaches in Greene County and highlighted the goal of the partnership.
"Ms. [Anita] Lewis is from Greene County, and she brought her concerns that there wasn't a housing program in the area that would provide housing finance awareness, so people in Greene County could afford safe and decent housing," Butler said. "This program will allow the residents of Greene County to be able to have a home in Greene County. I know she doesn't have to worry about that anymore."
"Living in Eutaw all my life, I realized that the housing situation was something that needed to be worked on. … Since 2005, that's what I've been working on, trying to get more housing into Greene County," said Anita Lewis, executive director at the Housing Authority of Greene County. "I think what's going to happen from this retreat [is] it makes us thirsty for more, and I think it's going to make the volunteer coaches more engaged."