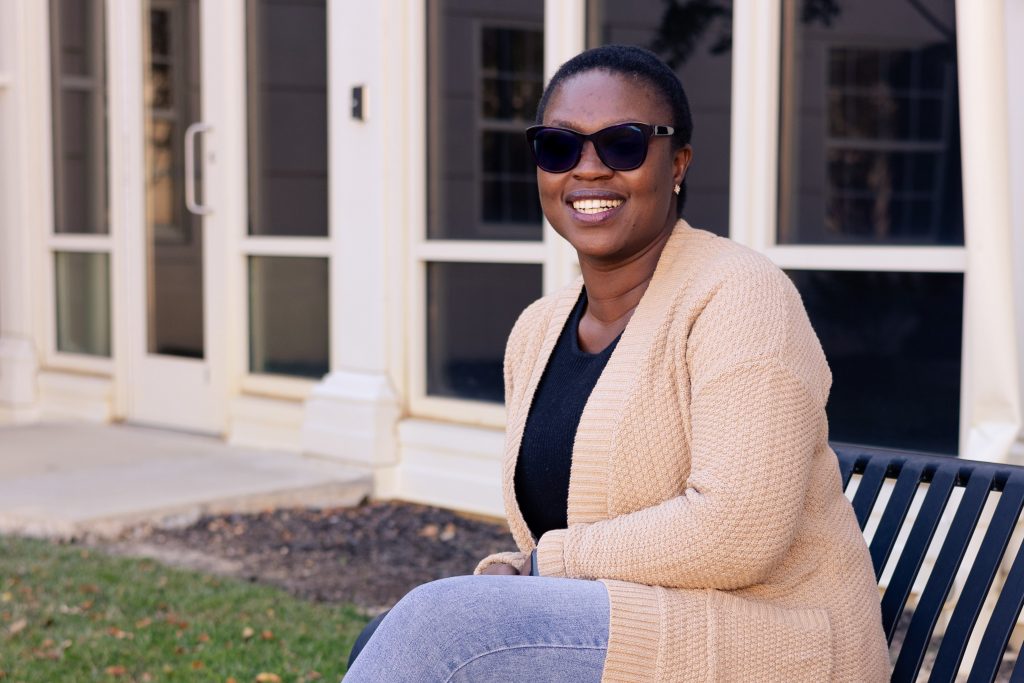 Your Name: Kefentse Princess Kubanga
Home Country: Botswana
Year You Arrived in Tuscaloosa: August 2019
What brought you to Tuscaloosa? I came here to do my PhD in Social Work.
What was your first impression of Tuscaloosa? Since it was my first time in the U.S., and Tuscaloosa being my first town, I thought it was not the same as the cities I usually saw in American movies. It was smaller!
What were the hardest parts of adjusting to living here? The cultural experience was so different — the individualistic culture was quite an adjustment. I could not speak to my neighbors. The hot and humid weather, which eventually changed to very cold, was difficult in the beginning. Life without a car or public transport was the hardest. I had to depend on friends to take me grocery shopping, or any place where I needed to access services because I could not afford to pay for Uber every time.  
What were some things you liked best when you arrived? People were nice and friendly. The churches and families come together to help international students to settle by giving them furniture, bedding, cutlery and other things to ease their transition into the U.S. life away from home. The campus was breathtakingly green, well-kept, and beautiful.  The restaurants were a walking distance from campus — a few are actually on campus. I liked the river walk where I could go and take in the beauty of nature while I exercised.
What are some things you have come to like about Tuscaloosa over time? It's a very quiet town, has very affordable accommodations as compared to other cities. It is safe and secure, and friendly to international residents. I can sleep at night without worrying about people breaking into my house. It is a cultural hub of different countries and rich in diversity, which is a great place to learn about other world cultures. The football culture is a marvel to watch as the home games events transform the city and contribute to the economy of the city.
What can Tuscaloosa do to make this community better for international residents? Have restaurants that sell African food because we have to travel to Birmingham and Atlanta to access our cuisines.
What statement would you like to share with other people who have recently come to Tuscaloosa, or with people in the Tuscaloosa community at large? Be involved and find community. Taking part in community activities helps to enrich your learning as well as your overall experience whilst here. Find opportunities to share your rich culture with the world.