For Immediate Release
Contact: Christopher H. Spencer,
205-348-7374, chspencer01@ua.edu
By Jessie Gable
CCBP Intern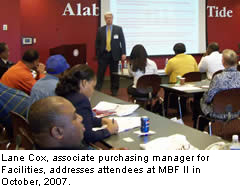 TUSCALOOSA, Ala. "" To encourage more partnerships with minority contractors and vendors, the UA's Community Affairs and Financial Affairs offices have teamed up to host the third Minority Business Forum on Tuesday, May 6, at Bryant-Denny Stadium.
Like the first two, held in March and October 2007, this forum is themed "How to do Business with The University of Alabama." The forums offer minority owned and operated businesses lessons and tactics for getting more general business, construction and vending contracts, managing risks, and improving networking and communication with the University.
"Response has been great and we expect another large crowd," said forum coordinator Christopher H. Spencer, associate director for Community Development at the Center for Community-Based Partnerships.
Dr. Lynda Gilbert, vice president for Financial Affairs, and Dr. Samory T. Pruitt, vice president for Community Affairs, will welcome attendees and introduce the program.
There will be two panel discussions, one on finance led by local bankers, and the main event, "How to Do Business with the University," featuring UA officials who work directly with contractors. They are Tim Leopard, assistant vice president for Construction; Trip Farmer, director of Contract Administration; Judy Voss, associate director for Purchasing; Vicki Santani, contract administrator; Lane Cox, associate purchasing manager for Facilities; Jeanine Brooks, Action Card director; and Robin Coleman, Action Card specialist.
Among the main speakers will be Bob Pugh, UA director of Risk Management, and Teresa Wilson, public information officer with the Small Business Administration district office in Birmingham.
At the luncheon local minority businessmen will talk about their experiences doing business with the University. They are Robert Thomas of Thomas Cleaners; Mehul Vashi of Quiznos; and Willie Darden of Darden Contracting and Remodeling.
"Attendees will learn, among other things, how to work through red tape that at first can be discouraging," Spencer said, "but with experience can be worked through resulting in success for the local business man or woman."
But the value of the forums goes beyond the technical information attendees will receive, Spencer said. "From evaluations of the first two forums, we learned that networking with others in your same situation and breakout sessions about specific types of contracts were also well received."
"It's not difficult to do business with the University, but you do need to understand the process," said Spencer, "and that's why we are offering these forums."
Since the two forums, Spencer said, minority businesses have won bids to build sidewalks and other structures related to new dormitory construction and other goods and services.
Maurice Muhammad of Warren Asphalt Construction of Tuscaloosa attended the early forums and said that dealing with large institutions can be overwhelming to small-scale contractors. After attending the forum, Muhammad said he had a better understanding of how to place winning bids. A byproduct of the forum, he said, is that he picked up some tips for marketing his business better.
"These forums began turning the theoretical ideas into the actual process," Muhammad said. Warren Asphalt Construction has won several bids with the University related to parking lots, parking decks, hauling and trucking services.
Charles Hicks of Omega Co. in Birmingham has long been associated with the University of Alabama. Before joining Omega he worked as a recruiter for the College of Engineering. Hicks made contacts at the forums and established a relationship with Tim Leopard, assistant vice president for construction.