The National Outreach Scholarship Conference at The University of Alabama, from September 30 through October 3, 2012, was full of historic firsts:
UA was the first non-land grant university to host the conference.
A record 613 persons from 39 states, as well as Canada, Egypt and Nigeria, attended.
Presenters and co-presenters came from 84 colleges and universities and 47 community organizations.
Community partners in attendance were from a record 14 states.
The numbers of students and smaller organizations participating this year were especially pleasing to planners. From the beginning, Dr. Samory T. Pruitt, UA vice president for community affairs, called for a conference different from those of the past, which have been attended primarily by faculty, administrators and large foundations.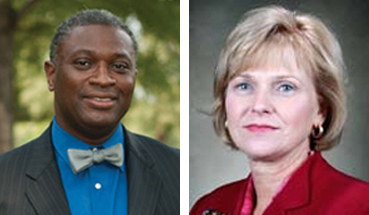 "The conference was years in the making," Pruitt said, "with detailed planning and implementation a part of our daily business lives for many months, but the results were tremendous. Thanks to a dynamic program and superior marketing efforts, we surpassed every goal we set for the conference "" from student and community partner participation to making sure every participant experienced all the things that make The University of Alabama such a welcoming, vibrant community of scholars."
Janet Griffith, assistant provost for communications and chair of the conference planning committee, added, "Increasing participation among diverse groups [students, community partners, international scholars] was one of the conference's greatest successes."
Pruitt gave much credit for the conference's success to the planning committee's three-track system and registration incentives. "Our three-track system "" faculty/staff, students, and community partners "" along with student registration incentives, special rates for community organizations, and assistance with travel and lodging, resulted in a different kind of conference, where students, community partners and young scholars joined veteran scholars and administrators in what was not only the largest but youngest and most diverse NOSC in its 13-year history," Pruitt said.
The UA conference was the final under the NOSC logo. The conference henceforth will be the Engagement Scholarship Consortium (ESC) to better reflect the organization's international scope.
Membership continues to grow. Three new members were added in the weeks leading up to the conference for a total of 22, with several applications pending. As 2012 wound down, ESC members, among the most prominent state universities in the nation, consisted of:
The University of Alabama
American University of Nigeria
Auburn University
Colorado State University
East Carolina University
University of Georgia
University of Idaho
Kansas State University
University of Michigan-Flint
Michigan State University
University of Minnesota
University of Missouri
Montana State University
North Carolina State University
The Ohio State University
Oklahoma State University
Oregon State University
Pennsylvania State University
Purdue University
Texas Tech University
University of Wisconsin-Extension
During the conference, Pruitt was elected vice president of the ESC Board of Directors. "His election to this position on the board further underscores the University's leadership in engaged scholarship," said Griffith.
After the conference, UA President Judy Bonner, deans and vice presidents met to discuss building on the momentum from the conference as UA raises its profile as an engaged institution. By enhancing existing programs and creating new ones, the group agreed that UA is poised to pursue benchmarks such as the national C. Peter Magrath University Community Engagement Award.
"We will also have the opportunity in 2013 to apply for reaffirmation of our Carnegie status as an engaged institution and that will provide us opportunities to review our progress and plan for the future," Griffith said.
"While the conference itself may be over," Pruitt said, "the commitment and enthusiasm for engaged scholarship on our campus is stronger than ever."