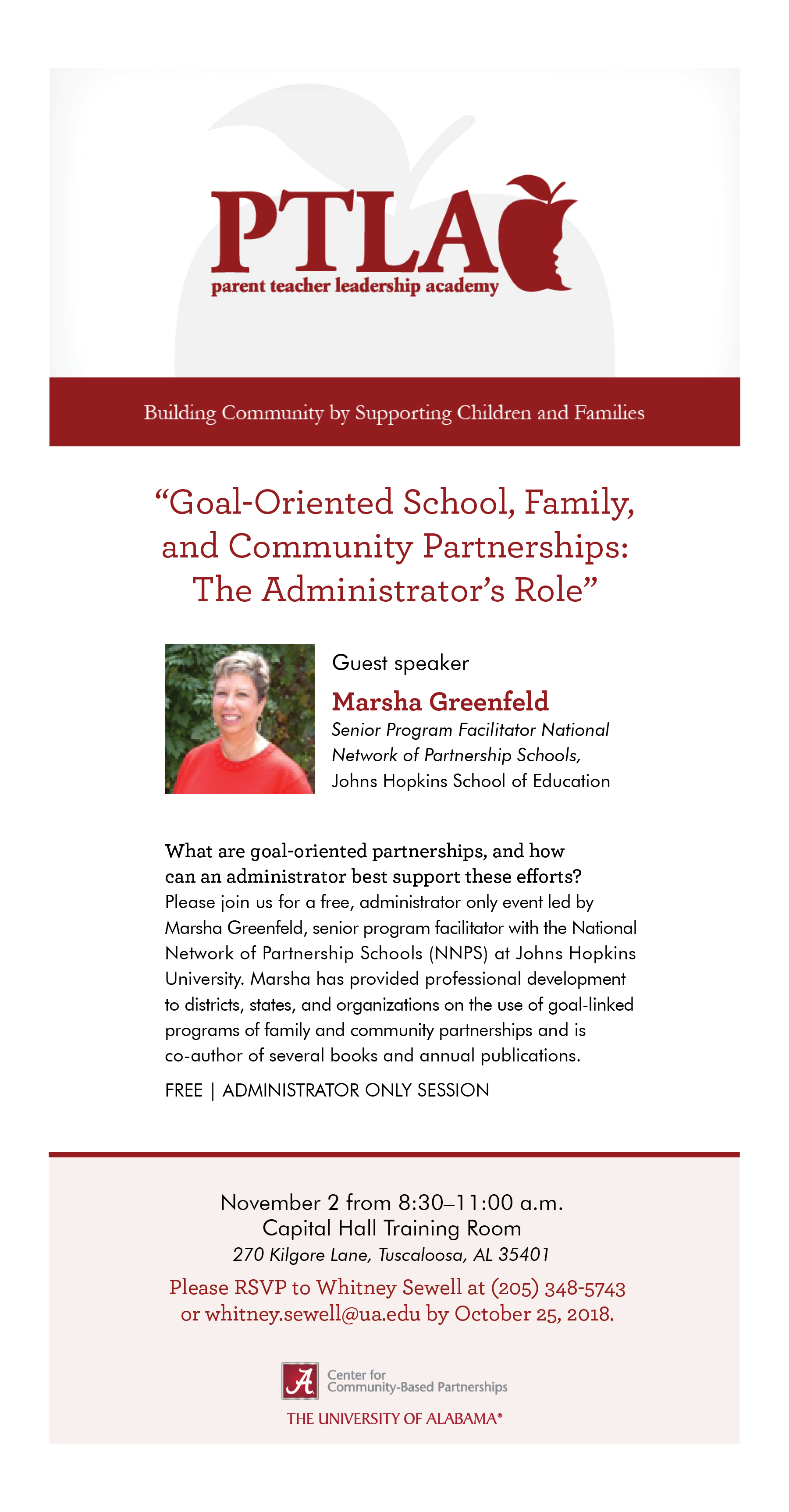 By Yiben Liu
CCBP Graduate Assistant
The University of Alabama's Parent Leadership Academy and the Teacher Leadership Academy held a joint session at the Bryant Conference Center Thursday, Nov. 1. This was the first joint meeting of the Academy year where parents and teachers began the work of planning their school's PTLA Partnership Projects. Each school's project is collaboratively planned between parents and teachers and is based on an identified need from the school's improvement plan.
Dr. Holly Morgan, CCBP community education and PTLA program director, welcomed attendees, thanking them for their effort and commitment to the students who will benefit from the program. Morgan also reviewed the first PTLA session, "Parents and Teachers as Leaders," and reminded teams that their commitment was to initially grow themselves as leaders before building capacity in others.
The title of the second session of the PTLA Academy year was "Goal-Oriented School, Family, and Community Partnerships." This session emphasized the elements needed for strong partnerships based on the current research available. Marsha Greenfeld, senior program facilitator of the National Network of Partnership Schools (NNPS) at Johns Hopkins University, was the guest speaker. She conducted a motivating workshop session titled: "You Matter and What You Do Matters: Partnerships Help Make the Difference!"
She stressed the significance and importance of building strong and enduring partnerships among schools, families and communities to ensure students' success. "We have to make sure that everybody has a piece in it," Greenfeld said. She also introduced the NNPS leadership model and discussed the qualities of leadership. Research shows partnerships are important because they enhance student learning and strengthen schools, she said.
The final portion of the evening was devoted to project planning for all school teams. Parents and teachers reviewed school improvement plans, discussed goals, and began the process of developing project descriptions and project action plans. Project proposals will be delivered at the final session of the Academy on March 7, 2019.
PTLA is a leadership program that provides selected parents and teachers with opportunities to develop their knowledge and abilities as leaders within their school communities. School principals select the participating parents.