By Taylor Armor
CCBP Graduate Assistant
[envira-gallery id="6998″]
University of Alabama graduate and undergraduate students shared their community-engaged scholarship efforts at the Scholars for Community Outreach, Partnership and Engagement (SCOPE) Showcase, Friday, April 14 at the Bryant Conference Center.
 The SCOPE presentations were the opening act for the 11th Annual Council on Community-Based Partnerships Excellence in Community Engagement Awards Luncheon. Moderated by Tera Johnson, SCOPE's vice president, the showcase began with a student panel in which Charles Shipman II, Kathryn Taylor and Douglas Craddock Jr. spoke enthusiastically about their varied experiences with community-engagement scholarship. Panelists fielded questions from distinguished guests such as the Vice President for Community Affairs Dr. Samory Pruitt, Executive Director of the Center for Community-Based Partnerships (CCBP) Dr. James E. McLean and Director of Crossroads Community Center Lane McLelland.
Each panelist agreed that building and sustaining relationships with community members was the most effective pathway to success in engaged scholarship. Craddock, a doctoral candidate in higher education, said that ensuring the sustainability of programs helps to improve trust between researchers and community partners.
Craddock, a Birmingham native, said,
"We ask ourselves 'what's next? Where do we go from here? By addressing those questions in the research and outreach, we let [the community] know that we are here for them, not for our own agenda but for their betterment."
Craddock's perspective stems from his involvement with sustained projects like CCBP's Swim to the Top, a four-week enrichment program now in its third year that not only teaches at-risk students how to swim but also incorporates reading and math skills, physical fitness and nutrition information.
"Moving our third student Showcase to the same day as the Community Engagement Awards program proved to be beneficial to both Showcase and awards program participants," said McLean, SCOPE adviser. "The venue was far more elegant for the Showcase and drew a larger audience to hear the student presentations and see their posters than would otherwise have been the case. This arrangement also enabled larger numbers of SCOPE students to attend the luncheon and more interaction among all groups." 
Panelists shared specific stories that have shaped their experiences as members of SCOPE and/or as student employees at CCBP. Taylor, who works as a language partner with the center's Global Café program, told a story about her Global Cafe experience. After sharing her vocabulary and spelling study method with the son of her Chinese language partner, the seven-year-old came boy brought back his perfect score to show to Taylor. Taylor, from Niantic, Connecticut, said such experiences help to make her efforts worthwhile.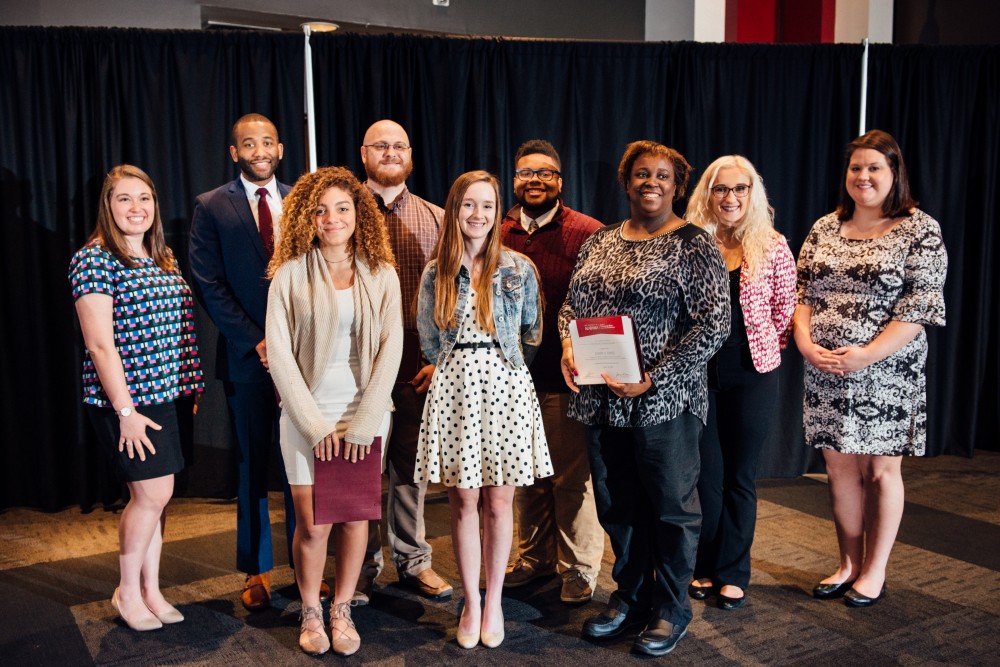 Whether students have limited traditional research experience like Taylor or an extensive background like Craddock, SCOPE provides  a welcoming environment for all UA student and other young scholars with an interest in community engagement research. Shipman, a third-year computer science major, has been a member of SCOPE since the fall semester and has witnessed much student growth in their interest in and understanding of research
"At SCOPE meetings, we learn about opportunities, projects and programs that students can get involved with, and I think that it helps ease their minds," said Shipman, a Montgomery, Ala. native. Often students get overwhelmed with coming up with their own ideas but in settings where ideas are shared, as is the case with SCOPE, this becomes less of a problem, he said.
SCOPE was the birthplace of many research ideas for scholars like Craddock, who gave his first project presentation at a SCOPE symposium. The travel award recipient said that purposefully involving students in community-engaged scholarship, whether as part of a class or part of an organization, could change their perception of this rapidly growing area of research.
"By showing them the work, you show why it's needed," he said. "You tell them that they're not doing this just on behalf of the University, or just for a grade. You show them that they're doing this for the betterment of other people," thereby adding a compassion component to their research.