June 25th, 2008 
By Matt Hawk Staff Writer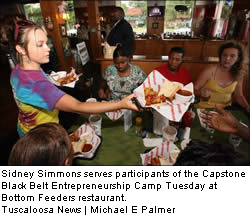 TUSCALOOSA | For many high school students in Alabama's poorer counties, attending college is not a dream. It's not even a consideration. 
A new program co-sponsored by the University of Alabama Office of Community Development and the Culverhouse College of Commerce and Business Administration aims to change that. 
Called Youth Entrepreneurship Week, the program puts 22 students selected from high schools throughout West Alabama and the Black Belt through a weeklong summer camp at the university designed to introduce participants to the possibilities that come with a college education. 
 "We have people who have been trained by their circumstances and their environment to think that's all there is," said David Ford, professor of management and marketing at UA. "[The program] is a way to expand their horizons." 
Called Youth Entrepreneurship Week, which began Monday and lasts through Friday, includes seminars on topics ranging from admission requirements and various ways of obtaining financial aid to business-specific topics like marketing, e-commerce, teamwork and leadership skills development. 
Participants are also treated to tours of the university and Tuscaloosa and given a chance to spend time with both faculty and local business owners. 
Of the 22 students participating, about half have expressed definite interest in college. Ford hopes the program will raise that number, but also said entrepreneurial skills are important to students who choose to forgo college. 
"If you don't want to move out of your small community or think college is not for you, you can still be an entrepreneur," Ford said. 
Brittany Jordan, a student at Robert C. Hatch High School in Uniontown, said her interests lie in secondary education and English. For her, the best part of the camp so far has been the exposure to college life. 
"I enjoy the college classroom settings," Jordan said. 
Gregory Singleton, head of student services for UA's department of engineering and a speaker at one of the camp's Tuesday seminars, said that kind of exposure can be invaluable to a prospective student. 
 "Many of [these students] may not have ever been on a college campus or … spent the night in a college environment," Singleton said. "They get to see a lot of things that a lot of students aren't exposed to." 
Ford said he hopes to expand the program, which is in its first year, to include speakers from a wider range of college majors, including arts and sciences and communications. 
The immediate challenge is finding funding to continue the camp. With the recent tightening of UA's educational budget, that could prove difficult. 
 "We're hoping to get enough attention to get a grant from the feds or the state," Ford said. 
Reach Matt Hawk at matt.hawk@tuscaloosanews.com or 205-722-0213.