Willie King, 1943-2009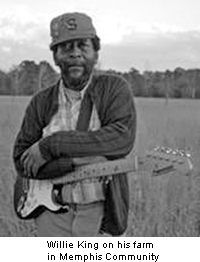 King was well known for appearing unannounced at small gatherings of blues devotees all over the state. The Tuscaloosa program of the Alabama Blues Project especially benefited from his appearances and is supporting a memorial fund to help with funeral costs and to keep his annual festival alive on his farm.
A number of University of Alabama faculty, staff and students knew King as a member of the Board of Directors of the Black Belt Community Foundation. Dr. Samory Pruitt, vice president for Community Affairs, is also a member of that board, and the Center for Community-Based Partnerships has been active in many BBCF projects.
The following is an excerpt of the March 10 New York Times obit on King:
Willie King, a renowned Alabama blues singer and guitarist, died Sunday near his home in the rural community known as Old Memphis, Ala. He was 65. He died suddenly of a heart attack, said Rick Asherson, his keyboard player for several years.
With a voice reminiscent at times of Howlin' Wolf and a style similar to John Lee Hooker's, Mr. King appeared at blues festivals here and abroad. He first came to prominence outside west Alabama with his critically acclaimed 2001 CD, "Freedom Creek," on the Rooster Blues record label. He brought an understanding of history and contemporary subject matter to songs like "Second Coming," which invoked John Brown and the Rev. Dr. Martin Luther King Jr.
King started the Freedom Creek Festival in 1997 on his farm on Freedom Creek in Pickens County, Ala., near the Mississippi line. Since then, it has attracted top blues musicians and bands. It is scheduled for May 29 and May 30. Asherson said there were hopes of keeping the festival going as a memorial.
Dr. Beverly Hawk, director of UA's Crossroads Community Center, wrote: ""¦ Crossroads and our community friends celebrate the life of a gifted Alabamian, legendary blues artist Willie King who passed away March 8, 2009. Willie King was a civic leader and motivator of youth. His kind and loving spirit offered encouragement and support to many community efforts. We at Crossroads remember the energy he contributed to the Black Belt 100 Lenses Project and the University of Alabama Community Culture Fest at McKenzie Court in Tuscaloosa."
 
"His community contributions created history every day of his life and the youth of our community will benefit from his energies for years to come. Thank You, Willie King."
The Alabama Blues Project has created the Willie King Memorial Fund for those who wish to help with funeral expenses and to create a historic marker celebrating Willie King's life and works. Send donations to:
The Willie King Memorial Fund
c/o West Alabama Bank
Box 406
Aliceville, AL 35442