May 2, 2008
Release on Receipt
Contact: Dr. Samory T. Pruitt, 205-348-8375, samory.pruitt@ua.edu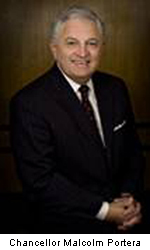 TUSCALOOOSA "" Chancellor Malcolm Portera will be the keynote speaker at the second annual awards luncheon of the Center for Community-Based Partnerships at noon at the Sheraton Four Points Hotel Ballroom on the campus on May 2, 2008.
Awards will recognize students, faculty, and community partners and distinguished special achievement in campus and community engagement. A call for nominations went out in March. Winners will be announced at the luncheon, which will also highlight major engagement
achievements over the past year.
"We are especially pleased that Dr. Portera will be our speaker as we honor excellence in engagement," said Dr. Samory T. Pruitt, UA vice president for Community Affairs. "Dr. Portera is a pioneer of campus/community collaboration in the Southeast."
Criteria for the winning projects include community need, academic objectives, documentation of actions to achieve and measure success, and evidence of sustained collaboration.
Among last year's awards, several of which were later featured at a national conference at the University of Wisconsin-Madison, were a student newspaper in West End Tuscaloosa, an after-school dance program, a program to broaden career perspectives, a community garden project, a school photo-documentation project, a children's healthcare project, and a city schools pre-K program.
Assistant Provost Janet Griffith chairs the awards committee. "Projects that extend the classroom, maximize scholarly output, and develop collaboration and capacity within communities "" rather than just providing one-time services "" will be recognized and receive small grants that will help achieve ongoing results," Griffith said.
Also at the luncheon, speakers will outline major benchmarks in campus/community engagement, including launching a new research journal and plans to seek Carnegie Engagement classification for the campus.
Dr. Portera is no stranger to campus/community collaboration. His involvement with community partners in industrial development helped bring $5 billion in capital investment to the Southeast. As chief executive officer of The University of Alabama System, the state's largest higher education enterprise, he oversees an enterprise of more than 49,000 students, 25,000 employees, and an economic impact surpassing $5 billion.
Dr. Portera received bachelor's and master's degrees from Mississippi State University and a Ph.D. in political science from The University of Alabama.
Prior to his current tenure as Chancellor of the UA System, Dr. Portera was the 16th president of Mississippi State University. His administrative career began in the 1970s when he worked in The University of Alabama's offices of academic affairs and research and was executive assistant to two presidents before becoming a vice president.
Dr. Portera has been instrumental in the creation of several research and instructional programs, including the Materials in Information Technology Program, which achieved National Science Foundation recognition as an engineering and materials research center.
In 2003 he was inducted into the Alabama Academy of Honor, comprised of 100 living Alabamians elected on the basis of service to the state.
Chancellor Portera and his wife Olivia are natives of West Point, Miss. They have two sons and two grandsons.
Community Affairs will send out invitations to the event this week. Members of the public who would like to attend should send an e-mail to bohannon@ua.edu or call 205-348-8376.
The Office of Community Affairs established the Center for Community-Based Partnerships in 2006 to coordinate and energize campus and community programs that integrate teaching, research and outreach.