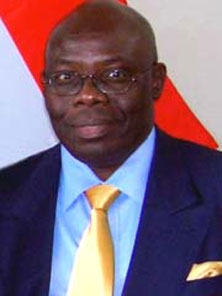 TUSCALOOSA "" An international expert on rebuilding after disasters, Dr. Adenrele Awotona, a University of Massachusetts professor who directs the Center for Rebuilding Sustainable Communities after Disasters, is in Tuscaloosa for two days (Wednesday and Thursday, June 29-30) to lead a workshop for area and university officials and citizens.
The College of Education and the Division of Community Affairs are co-sponsors of the workshop, which focuses on children and their families. The workshop covers such issues as assessment of impact, identifying children needs before, during and after disasters; developing a comprehensive post-tornado action plan; and future disaster risk reduction, said Dr. Rick Houser, professor and head of the Department of Education Studies in Psychology, Research Methodology and Counseling.
"The aim of the workshop is to ensure that the needs and priorities of children are integrated into official reconstruction policies," Houser said.
About 75 individuals representing cities, counties, schools, churches, foundations, businesses, neighborhood organizations, academic and service departments are on hand for the workshop.
Dr. Samuel Addy, director of UA's Center for Business and Economic Research, released a six-page study to participants that estimates the economic and fiscal impact of the April tornadoes. Addy's report is careful to point out that these are estimates and that all of the storm effects are temporary.
"¢ 6,000 unemployed, but after returns and other factors, reduces to 3,761 as a direct effect of the tornado.
"¢ Jobs temporarily lost range from about 5,600 to 13,200.
"¢ Total lost earnings, $219 million to $508 million
"¢ Taxes lost, $19 million to $44 million
"¢ Recovery activities (cleanup, assistance, rebuilding, etc.) will pump $2.6 billion into the state economy in 2011. These funds will come mostly from insurance and federal sources.
"¢ Another $2 to $3 billion in rebuilding will continue into 2012, resulting in about 37,000 to 74,000 jobs and $1 to $2+ billion in earnings for an average of about $32,000 per worker and $63 to $126 million in state income and sales taxes and $24 to $47 million in local sales tax receipts
All of this "will generate enough revenue to cover damage-induced losses to state finances as well as the state spending for cleanup," if assumptions hold, according to the report by Addy and Ahmad Ijaz, CBER director of economic forecasting.