New Research Journal to Debut this Fall at UA
April 18, 2008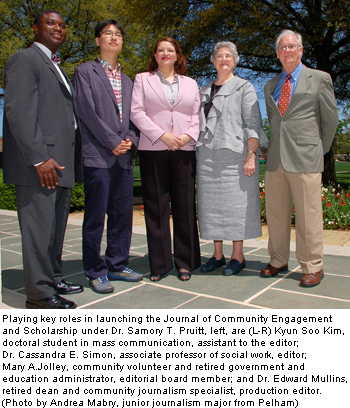 TUSCALOOSA, Ala. — A new journal with the mandate of bridging the traditional gaps between teaching, research and service on American campuses will be published at The University of Alabama beginning this fall.
Dr. Samory T. Pruitt, UA vice president for community affairs, said the inaugural editor of the new, quarterly Journal of Community Engagement and Scholarship will be Dr. Cassandra E. Simon, UA associate professor of social work. An internationally recruited editorial board and a local production staff will assist her.
Establishing the new journal was the primary goal this year of the Council of the Center for Community-Based Partnerships, Pruitt said. The Council is made up of community partners and faculty, administrators and students from many campus divisions.
"At recent conferences, reaction to the journal has been tremendous," Pruitt said. "In proposing a journal to unify the too-often disparate teaching/research/service forces in higher education, we have struck an enthusiastically responsive chord with academic, nonprofit, governmental, business and local communities."
Dr. Joe Benson, UA interim vice president for research and a principal adviser to the committee charged with developing JCES, said: "The scholarship of engagement is a new and rapidly evolving theory-based discipline, and The University of Alabama is pleased to be able to assist in providing a venue for the publication of outcomes of this exciting and important research area."
Pruitt said the University was very fortunate to have Simon "step forward to accept this important position in our mission to advance engagement scholarship."
On being named editor, Simon said, "It is an honor to be editor of a journal positioned as a leader in engagement scholarship. And, it is an even greater honor to be associated with so many outstanding scholars who are determined to make it a success. I look forward to publishing our first issue in fall 2008."
A recent announcement to the campus about the journal described it as "a mechanism through which faculty, staff and students of academic institutions and their community partners disseminate scholarly works from all academic disciplines with the goal of integrating teaching, research and community engagement."
"The engagement approach to scholarship occurs when universities and communities combine resources and talent and bring them to bear on critical problems they jointly identify. It is not the same as the older service model, which limited the roles of student and community members. In the engagement paradigm — inspired by the Kellogg Commission of 1999 ("Returning to our Roots: The Engaged University") — community representatives and students play key roles, alongside faculty, in choosing research topics, design, methods, objectives and in publishing the results," Simon said.
Another major difference in the engagement approach, she said, is that research, teaching and outreach activities are closely linked.
Simon joined the UA faculty in 2000 after receiving her doctorate from the University of Texas-Arlington. She has published in both social work and interdisciplinary journals with an emphasis on health care disparities and related issues.
While JCES will use standard peer-review practices, it will not be "your grandfather's research journal," said retired UA journalism professor Edward Mullins, who will be production editor of the journal.
"JCES will take advantage of new technology, community talent, student creativity and innovative graphics and presentation techniques rarely seen in academic publishing," Mullins said. "For example, a study of the learning, psychological and physical effects on inner-city and rural youth in projects involving the performing arts, engineering and journalism might supplement traditional text with photo galleries and audio and video coordinated with the text and posted to the journal's Web site."
Manuscripts and questions should be sent to Simon at jces@ua.edu. Deadline for fall 2008 submissions is July 31. For more information see www.jces.ua.edu.
The initial 14-member board includes scholars in a wide range of disciplines — rural medicine, environmental resources, leadership and change, minority health, renewable energy, child and family resources, nursing, ethics, forensic engineering and others.
The University of Alabama, a student-centered research university, is in the midst of a planned, steady enrollment growth with a goal of reaching 28,000 students by 2010. This growth, which is positively impacting the campus and the state's economy, is in keeping with UA's vision to be the university of choice for the best and brightest students. UA, the state's flagship university, is an academic community united in its commitment to enhancing the quality of life for all Alabamians.