April 23, 2008
By NiCarla J. Friend
CCBP Student Intern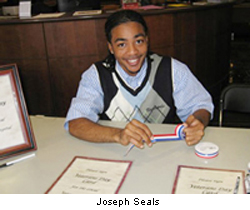 As spring semester 2008 winds down, many students, some for the first time all year, start thinking about what they'll do during the summer break, or if they are seniors, what comes after college.
Joseph Seals, a junior from Selma majoring in language arts, is the perfect example of a student who did not procrastinate about his future. He arrived on campus with a plan and immediately set about to build his experience portfolio.
For example during "National Veterans Awareness Week," last November, Seals set up a giant card display to encourage the campus to keep veterans in mind leading up to Veterans Day. Seals had been inspired to do something to for veterans after spending time at the Tuscaloosa VA Medical Center and carried out his project under the guidance of UA's Community Crossroads Community Center.
 "A lot of the soldiers at the hospital are lonely and away from home, so I wanted to get people to give them the attention they deserve," Seals explained. "People don't know what it's like for them." While spending time with the veterans, Seals noticed that many had no family visitors and felt forgotten or unappreciated.
He decided to do something. With backing from students and staff at UA's Crossroads Community Center, Seals created a giant Veterans Day card and set it up in the Ferguson Center for people to sign and show their support and appreciation for local veterans. Later, he presented the card to the veterans at the VA.
But the project won't end there, Seals said. He wants UA students to do something unique for veterans each year. Almost immediately on completion of the Veterans Day card, he and other students began discussing ideas for next year, "so the project does not become a cliché," he said.
Crossroads Community Center, which recently celebrated its third birthday, leads students and others in the University community in programs that promote awareness, knowledge and understanding of different cultures. Each year scores of students work with African and Native American Heritage, the Intercultural Student Council, Sustained Dialog and many other programs. Dr. Beverly Hawk is director and Brice Miller is the assistant director of the Center.
Seals began his quest for career-building activities early, attending UA's Multicultural Journalism Workshop as a rising senior in 2004.
As a student assistant at Crossroads, as well as residential adviser at Burke East, president of the Intercultural Student Council, a member of the Residential Assistant Selection Committee, a leader in the 2007 and 2008 Hip Hop Summits, as well as several other activities, Seals has little spare time on his hands.
 "UA is what you make of it," Seals said. "You have to get involved and try new things."
In doing so, Seals proves it's never too early to be doing something, somewhere for someone that benefits others and helps secure your own future in the world of work. His long-term plans are to become a junior college teacher.
(For more about Crossroads Community Center, go to http://crossroads.ua.edu/)