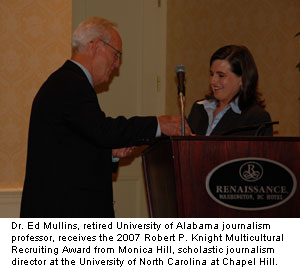 TUSCALOOSA, Ala. "" Dr. Ed Mullins, a retired University of Alabama journalism professor, is recipient of the 2007 Robert P. Knight Multicultural Recruiting Award for helping create a more diversified journalism workforce.
Mullins received the award from the Scholastic Journalism Division of the Association for Education in Journalism and Mass Communication in a Washington, D.C. meeting Saturday, Aug. 11, 2007.
Monica Hill, scholastic journalism director at the University of North Carolina at Chapel Hill, presented the award. Like Mullins, Hill is a former director of UA's Multicultural Journalism Workshop, which celebrates its 25th anniversary in 2008.
"It is gratifying to see our good work recognized by this award," Mullins said. "For the second time, our workshop and related activities are seen as among the nation's best."
In 1999, then journalism instructor and MJW director Marie Parsons also won the Knight Award in recognition of her work.
Mullins was dean of the UA College of Communication and Information Sciences when the workshop was founded in 1984. He has worked as a teacher for each of the 24 workshops and will serve as volunteer director for his fourth workshop in 2008.
In notifying Mullins about the award, Hill wrote, "This award is for your years of devotion to multicultural recruitment and for your leadership of others who have followed in your footsteps."
"Diversity in the journalism workforce is a critical issue for a democracy," Mullins said.
Plans are under way for a reunion of MJW alumni, teachers and directors as part of the 25th anniversary workshop. "This is an impressive group, people who have made their mark in a tough profession," Mullins said. "We look forward to having a large number of them back on campus."
Mullins, who retired this year, continues to be active in teaching at UA's Knight Fellows Teaching Newspaper Program in Anniston and on campus as MJW director and volunteer with the Center for Community-Based Partnerships.
"˜This is a wonderful recognition of the many years that Ed has put into developing and sustaining MJW," said Dr. Loy Singleton, dean of the College. "It is also a great distinction for this College."
The College of Communication and Information Sciences is among the largest and most prestigious communication colleges in the country, having graduated more than 12,000 students and ranking among the top institutions in the country in the number of doctorates awarded. Communication graduates have earned four of the six Pulitzer Prizes awarded to UA alumni.