By Edward Mullins
Director, Research and Communication
Center for Community-Based Partnerships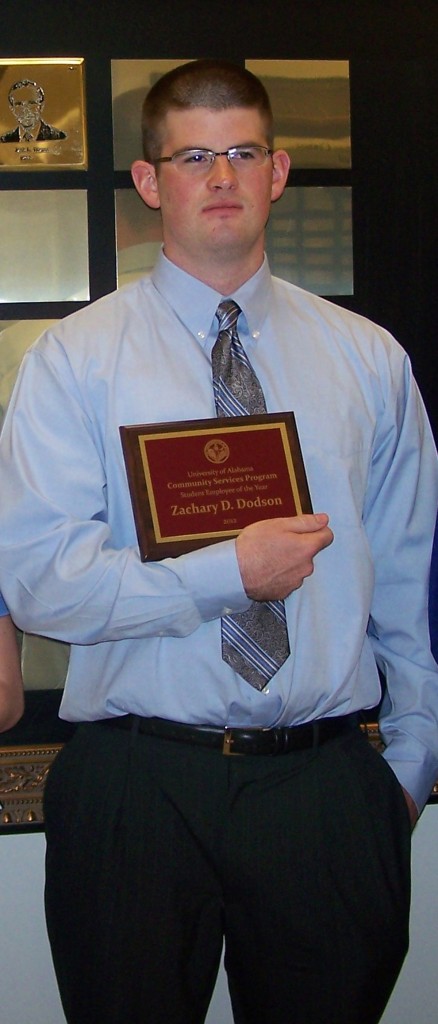 Zachary David Dodson, just 21, died suddenly this past Saturday, May 5, on the day he was scheduled to receive his college diploma. He spent two years here at the Center as a work-study student making us look good. This past summer he worked here without pay, volunteering to help the faculty and staff with whatever needed to be done.
No job was too small or too large for Zach to give it his best. Zach had just recently learned of his acceptance into UA's master's program in management and marketing. Although once a Gator fan, the native Floridian loved the University, the Crimson Tide, and his friends and colleagues all over campus. They also loved him, as was seen in the outpouring of grief that has followed his death.
His friendliness and positive attitude were as big as he was, all 6-3, 225 pounds of him. Anytime I needed something from the high shelves in our office, I didn't get a ladder; I just hollered for Zach.
Zach affected everyone with whom he came in contact so much that the directors here at the Center nominated him this semester for the federal work-study program's Student Employee of the Year. That he won this campus-wide honor surprised no one here at the Center.
We are all devastated, but his family and close friends are especially saddened at the irreplaceable loss. Recently, I had a big tree I wanted to plant in my back yard. It was too big for me to budge. I told Zach about it, knowing what would happen next: He offered to help plant it. We drove out and in a flash he had lifted the 18-foot-tall tree with massive root ball and dropped it into the hole. I tried to pay him for helping me. Of course he refused. That was Zach.
I'll never be able to look at that tree, a Japanese cherry, without thinking of Zach.
All of Zach's student colleagues were saddened by his death and spent the first few days writing thoughtful memories about him for Zach's family.
As you will see from the Tuscaloosa News obituary below, a memorial scholarship is being established in his name. Donations should be sent or delivered to Community Affairs, The University of Alabama, Box 870113, Tuscaloosa, AL 35487.
Reprinted from the Tuscaloosa News
TUSCALOOSA Zachary David Dodson, age 21, passed away suddenly May 5, 2012, in Tuscaloosa on the morning of his commencement ceremony at the University of Alabama.
Zach was born in Jacksonville, Fla. and graduated from Episcopal High School in 2008. Zach graduated from the University of Alabama Magna Cum laude with a BS in Commerce and Business Administration. At Alabama, he was on the Dean's List, President's List, a member of Phi Eta Sigma, and voted Student Employee of the Year in 2012 for the Center of Community Based Partnerships (CCBP). The loss of Zach will leave an indelible mark on our community.
He is survived by his adoring mother, Tara Stutts; grandmother, Sandy Stutts; great-grandmother, Juanita Pruett; numerous aunts, uncles, and cousins, and countless friends.
Services will be 2:00 p.m. Friday, May 11, 2012, at Neptune Baptist Church, 407 Third St., Neptune Beach, FL 32266. Interment will follow in Ponte Vedra Valley Cemetery. The family will receive friends during visitation and viewing Thursday from 6 to 8 p.m. at Neptune Baptist Church and Friday one hour prior to the service at the church.
A memorial scholarship fund has been established in Zachary David Dodson's name by the CCBP at the University of Alabama, http://ccbp.ua.edu, in care of Dr. Samory Pruitt.
Arrangements are under the direction of Hardage-Giddens Funeral Home, 1701 Beach Blvd., Jacksonville Beach, FL 32250.
Words of condolence may be shared at www.hardage-giddensbeacheschapel.com.
Published in Tuscaloosa News on May 10, 2012