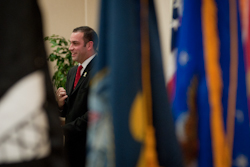 By Andrea Mabry
"With the right opportunities and the right support, you guys can change this country," Derek Blumke explained, during his keynote speech at the University of Alabama Campus Veterans Association reception on September 26. Blumke, the newly named national VA campus outreach coordinator, co-founded the Student Veterans Association while pursuing his undergraduate degree at the University of Michigan.
Blumke visited the UA campus soon after the Tuscaloosa VA Medical Center (TVAMC) was chosen as the new Veterans Integrated Service Network site for the College/University Outreach to Veterans Initiative. The program will "build resilience with student veterans on campus, facilitate adjustment to and success in academic life, and increase access to high-quality mental health resources" to veterans, according to Maia A. Lee, administrative officer of the Mental Health Service Line at TVAMC.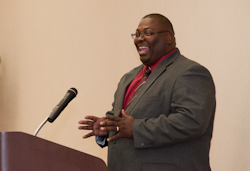 In order to give veterans the opportunities and support that Blumke finds so important, the UA Office of Community Affairs will partner with the VA Medical Center to develop and grow the Veteran-Student Academic Wellness Program. The new center will work with various outfits of UA to create a place that will comprehensively meet veterans' needs, including the Family Transition Center and Counseling Services.
The initial program will enroll 20-25 student veterans, and will expand outreach efforts each year thereafter. Currently, there are approximately 600 veterans and veterans' dependents enrolled at the University of Alabama, according to the project proposal.
Blumke presented the keynote address at the reception on Sept. 26 in order to stress to veterans the importance of creating a center like the Veteran-Student Academic Wellness Program.
His major goal, which is why he began the student organization and which is his focus at his new job at Veterans Affairs, is to make sure veterans are getting the programs they earned with their service to the country. There is a huge difference between having programs available to veterans and making sure they are receiving those benefits, Blumke stressed. He strives to assist with the creation of centers at universities and VA hospitals where student veterans can join a community during their transition back into civilian life.
Blumke began by telling about his eventual enrollment at the University of Michigan following his service in the United States Air Force. As a veteran, he felt dissociated from the campus in Ann Arbor, which set him on the path to create a better environment for veterans like himself.
A major reason for creating the Student Veterans Association was to help veterans realize their potential. "You have unique skill sets that you can use at home," Blumke said, "many of you can do a lot of incredible things but you don't know it."