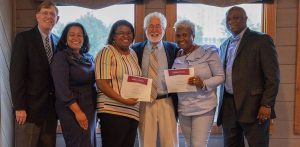 Standing with grant-writing specialist David Bauer (center) are, l-r, Dr. Jim McLean, Dr. Nicole Prewitt, Latrisa Pugh, Lynn Armour, and Dr. Samory Pruitt.
By Sophia Xiong
CCBP Graduate Assistant
The 2018–2019 Winning Grants and Sustaining Communities Program, sponsored by the Division of Community Affairs, graduated its third cohort on June 3. The graduates were recognized in a closing ceremony seminar held at Cypress Inn.
Workshops conductor David G. Bauer, internationally acclaimed grants expert and author, said, "I have enjoyed working with the University/community teams in that I know the money the teams receive from these grants will go to improving lives!"
Dr. Jim McLean, Center for Community-Based Partnerships executive director, congratulated The University of Alabama faculty, staff, graduate students, and Tuscaloosa area community members for their work and predicted many would receive the necessary funding to continue their projects.
"A unique aspect of this program," said McLean, "is that each team is led jointly by a UA faculty or staff member and a community member, and most community participants become strong advocates for the University."
"In my almost 50 years of experience in applying for and directing grants, I have been to many grant training workshops," McLean said. "I believe Dave Bauer is by far the best grant trainer, as his approach is based on matching the values of the funder with the values of the grantee."
In fact, according to reports received by McLean, grants and other funds raised from the first three cohorts total more than $50 million.
Dr. Samory Pruitt, Division of Community Affairs vice president, presented workshop completion certificates to the participants. "The return on investment in these workshops organized by Dr. McLean and conducted by Mr. Bauer is amazing," he said. "We look forward to seeing the results forthcoming from this group."
The following participants (followed by their project) received certificates of completion: Jacob Adams and Shannon McCue — Alabama Blues Project; Ashley Waid and Alison Hooper — YMCA on Wheels; Jermaine Mitchell (University of Montevallo), Holly Morgan, Daniella Susnara, Pat Petitt and Mark Harrison — Swim to the Top; Dr. Tracey Hodges, Andrew Maxey, Carol Donovan, Julianne Coleman and Amy Davis — Literacy Bus Project; Kimberly Stowers — Building an Industry for Technology and Human Resource Innovation; Jonnie R. Griffin, Danny Patterson, Slade Prisoc and Chas Shipman — Technology Training (TALA); Jane L. Newman, Nellie Christian, Junfei Lu, Andrew Maxey — Scale Up Summer Programs (Tuscaloosa City Schools); Nicole B. Prewitt, Annettte M. Harris, Lynn Armour, Latrisa Pugh — Saving Lives Academy; Kirsten J. Barnes — Child and Family Services Project; Jonathan Koh and Michael P. Andrews — Tuscaloosa Higher Education Consortium.
Also the following individuals not associated with a project received certificates: Terry Burkle, Larry Deavers, Nona Anchan, Rebecca Watford, Nathaniel Shannon, Emefa Butler, Sally Smith, Chris Spencer, Barja Wilson, Trendle Samuel, Tera Johnson, Rene Jones and Faron Hollinger.