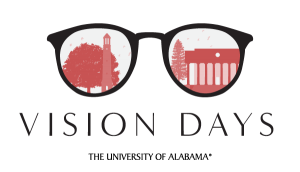 By Ashley Cunigan
CCBP Student Assistant
Vision Days, a program of the Center for Community-Based Partnerships (CCBP), expects 500 high school students to return to campus Feb. 20, 25 and 27.
Ninth grade students from both rural and urban high schools attended Vision Days in the fall. They not only learned about college majors but also about the requirements for admission and scholarship opportunities at The University of Alabama.
Harley Langford, a student at Berry High School who is interested in nursing, said the college tour was her favorite part of the program. "I liked the operating room and am interested in neurology. I'm a big Alabama fan and can see myself coming to UA."
In 2019, Vision Days expanded from its inaugural format into a cohort model, providing visiting freshmen the opportunity to attend again during their sophomore, junior and senior years. Each time the high school cohort visits campus, Vision Days will have a different focus. The spring session will be the first Vision Days cohort to return as 10th-grade students.
Tasha Brownlee, lead counselor at George W. Carver High School, brought her students to campus in the fall. "The students thoroughly enjoyed the program. Carver looks forward to this opportunity again next year," she said.
The focus of Vision Days this spring will be on student life. High school students will have the opportunity to visit residence halls, the Robert E. Witt Student Activity Center and a table fair. In addition, they will hear from a panel of undergraduate students about class schedules, clubs, internships, study abroad and life in Tuscaloosa.
Daniela M. Susnara, CCBP's program coordinator for community education, says, "We hope to provide high school students from rural and underrepresented communities an eye-opening experience here at Vision Days. We hope they feel welcomed and want to come back."
This is the third gathering of Vision Days students on campus. Representatives of the New Faculty Community Engagement Tour, sponsored annually by the Division of Community Affairs in partnership with the Office of Academic Affairs, the Graduate School, the Center for Community-Based Partnerships and the Council on Community-Based Partnerships, came up with the idea to reach more in-state students from traditionally underserved areas in 2018. The resulting Vision Days program has expanded to reach 1,000 students since it began.