[envira-gallery id="6571″]
Tuscaloosa, Ala. — The University of Alabama was well represented at the 2016 Engagement Scholarship Consortium (ESC) annual conference, held Oct. 11-12 in Omaha, Nebraska. UA was the first non-land-grant institution selected for membership in the ESC and regularly sends a large delegation to the annual conference. In addition to those presenting, many staff members and students were in attendance.
Dr. James McLean, executive director of UA's Center for Community-Based Partnerships (CCBP), and Dr. Samory T. Pruitt, UA vice president for the Division of Community Affairs and president of the executive committee of the ESC Board of Directors, presented their work at the conference.
"The Engagement Scholarship Conference provides a wonderful opportunity to share our engagement research experiences and learn from others," said McLean. "For example, Dr. Pruitt and I shared our experiences developing and implementing UA's Winning Grants and Sustainability Program. This program trained University/community teams to successfully acquire external funding through grants and sustain their programs through fundraising."
CCBP, an initiative of UA's Division of Community Affairs, designed and implemented the 15-month program, which enrolled 10 University/community teams that are partnering to solve community problems.
Also presenting in Omaha was UA doctoral student Vicky Carter, along with Drs. Cassandra Simon and Josephine Pryce, associate professors in UA's School of Social Work. The trio co-authored "Navigating Authentic Engaged Partnerships: A Workshop for Community Partners."
"The voices of community partners throughout the research process are vital in authentic community-engaged partnerships," said Carter prior to the conference. "Unfortunately, community partners are oftentimes not included in a substantial way, but rather limited in their involvement. This presentation will include an initial description of authentic community engagement with an emphasis on the elements of ideal engaged partnerships."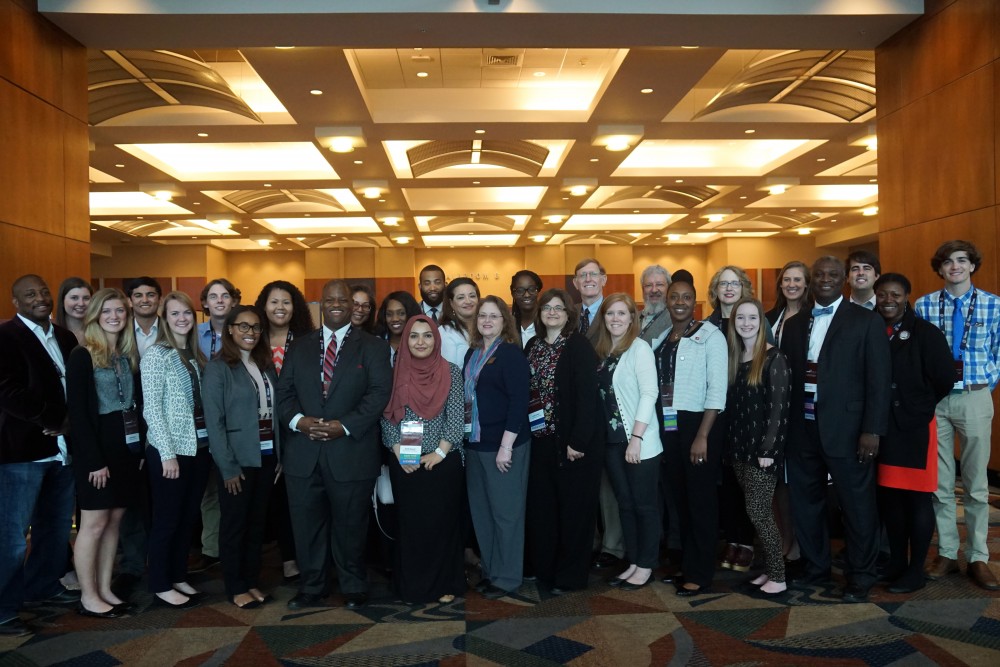 Carter went on to say that such partnerships include trust, respect, mutual benefit, good communication, resource sharing, democratic decision-making, commitment by all partners (university, students and community), and agreed-upon vision, mission, goals and evaluation.
"Community partners will be informed of the importance of participation in research due to their position as experts and cultural brokers in the community, their wealth of knowledge and resources, and knowledge of the dynamics of the community," Carter said. "Guiding principles of engaged research will be discussed, such as inclusion of partners from beginning to end of the project and inclusion in reporting and dissemination of the project results."
Dr. George Daniels, assistant dean in the College of Communication and Information Sciences, and UA doctoral candidate Douglas Craddock Jr. (Higher Education Administration), presented "My Brother's Keeper After the Obama Administration: Three Approaches for Engaged Scholarship." Their work, along with that of Dr. Austin Jackson, assistant professor in the Residential College in the Arts and Humanities at Michigan State University, and Joshua Bates, a program assistant at The Ohio State University's Kirwan Institute for the Study of Race and Ethnicity, answers the question: What happens when three research institutions answer the call to expand opportunities for men of color? Their workshop showcased three approaches to President Obama's My Brother's Keeper Initiative — one in rural West Alabama and the others in urban communities in Columbus, Ohio, and Detroit, Michigan.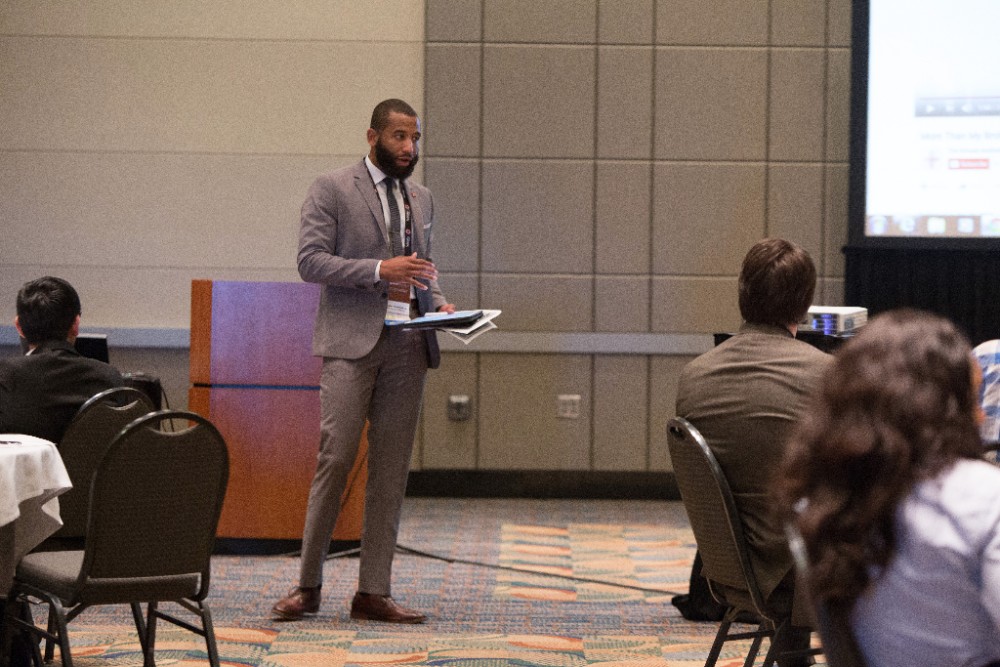 Daniels' and Craddock's work utilizes youth engagement sessions to bridge the gap and connect concerned, passionate individuals in the West Alabama area. Craddock went on to say that the investigators plan to build upon existing ideas, programs and services as they relate to young men and boys of color.
"The central focus will be to answer the call to action as it pertains to aiding and improving the status of our young men and boys of color," said Craddock. "By bringing together individuals who have a real passion and genuine desire for the betterment of our youth, we intend to create solution-focused dialogue and engage in action-oriented discourse."
The ESC is a non-profit educational organization comprised of 36 public and private higher education member institutions. The organization's goal is to build strong university-community partnerships, anchored in the rigor of engaged scholarship, that emphasize collaboration and that are designed to help build community capacity. This is accomplished through community-based partnerships and programs implemented by member institutions and community organizations working together. Academic leaders and students from these member institutions meet annually to share their research and to discuss issues, information and theories regarding campus-community partnerships.
In addition to those presenting at the conference, the 31-member University of Alabama delegation included Marcus Ashford, associate professor of mechanical engineering; Carol Agomo, director of Community and Administrative Affairs; Karyn Bowen, marketing coordinator for Community Affairs; Diane Kennedy-Jackson, publications coordinator for Community Affairs; Dr. Patricia Sobecky, associate provost for Academic Affairs; Dr. Tonyia Tidline, CCBP director of community engagement; and students Dominique Anderson, Brenna Barber, Cameryn Blackmore, Dillon Drew Connors, Aaron Cornelison, Thometta Cozart, Krystal Rena Dozier, Tera Johnson, Sarah Keller, Ashley Brook Loftis, Kyle Marowski, Sarah Saeed, Neil Shah, Elizabeth Tillotson, Mary Elizabeth West and Undraquetta Williams.
The institutions within the consortium are separated into five regions: East, North Central, South, West and International.
The 2016 conference is hosted by the North Central region, which includes Iowa State University, Kansas State University, Michigan State University, The Ohio State University, Purdue University, The University of Kansas, University of Michigan, University of Minnesota, University of Missouri, University of Nebraska at Omaha and University of Wisconsin.
The 2017 conference will be hosted in Birmingham by the South region, which includes Auburn University, East Carolina University, Fayetteville State University, North Carolina State University, The University of Alabama, University of Georgia, University of Louisville, University of North Carolina – Asheville, University of North Florida and The University of Tennessee – Knoxville.
Pruitt, in his role as president of the executive committee of the ESC Board of Directors, presented a strategic action plan to consortium leaders in Omaha.
"Our vision is to promote excellence in the leadership, scholarship and practice of engaged scholarship both locally and globally," Pruitt said. "Our current impact can be seen in the increasing number of successful and sustainable community/campus partnerships that address critical societal issues and improve the quality of life for individuals, families and communities through the scholarship of engagement."
"As we plan for the future of the ESC, we in the South region look forward to hosting this annual conference in 2017," he said.
---
The Division of Community Affairs was created in 2004 and is recognized nationally and internationally for its leadership in community engagement. The division provided the leadership for the recent reaffirmation of the University's Carnegie curricular and community engagement classification. The division also publishes the Journal of Community Engaged Scholarship, one of the leading refereed journals in the field.