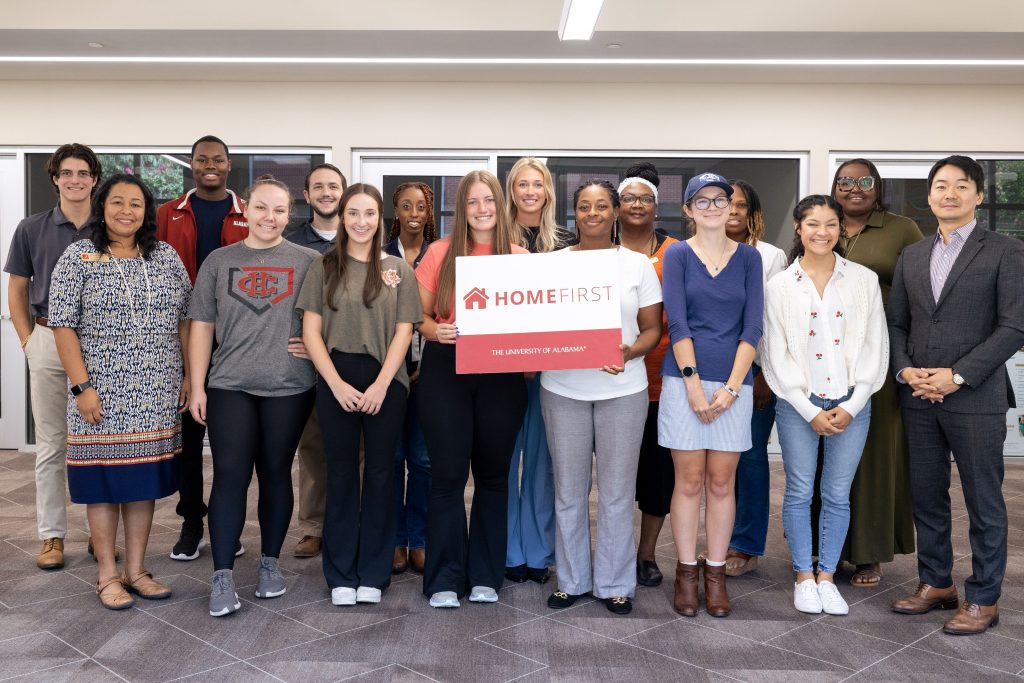 by Dr. Elisabetta Zengaro
Communications Specialist, Division of Community Affairs
Volunteers participating in The University of Alabama's HomeFirst Coaches' Retreat from Aug. 25–26 at Capital Hall learned interpersonal skills are just as important as financial literacy when guiding future homeowners.
Housed in UA's Center for Community-Based Partnerships, HomeFirst is a financial wellness initiative that serves individuals and families on their path toward first-time homeownership or foreclosure prevention. The retreat trained volunteer coaches to work with HomeFirst participants with presentations on financial literacy and establishing interpersonal skills with potential homeowners. The coaching participants put their skills to the test with activities on role-playing and active listening.
"I'm a social worker, social work student in the grad program, so [HomeFirst] kind of falls in line with what I plan to do," said Ayana Hendricks-Boyland, a graduate research assistant for Dr. Nicole Prewitt, director of Programs and Partnerships for Community Engagement. "I love that we are able to educate the community about finances."
"I did the peer financial coaching here [at UA], so I've done a similar thing before, and it's nice to get that opportunity again," said Kassia Jezak, a senior dual major in financial planning and marketing at UA. "You're not above them at all or bossing them around. It's a very equal relationship."
The retreat also highlighted a new partnership between HomeFirst and the UA College of Human Environmental Sciences (CHES). Dr. Kyoung Tae Kim, associate professor and graduate program coordinator for the Department of Consumer Sciences, said the partnership began in the summer of 2022. A goal of the collaboration is to send UA students in CHES and consumer sciences to HomeFirst coaching opportunities for more practical experience in financial planning.
"I bought my house this summer, but if I knew about this program before I purchased it, I would be participating as a participant," Kim said. "Even though I'm a financial planning professor who teaches insurance, taxes and so many financial planning things, purchasing a home in reality is a little bit different … so I'm so glad to see that this program is ready to help faculty, staff and students, and I'm so proud of being here as a small partner."
The partnership between CHES and HomeFirst has already gaged student interest. After hearing James Renshaw, program coordinator for Programs and Partnerships for Community Engagement, speak to their class in personal asset management, Faith Frost and Sophie Stallings, both seniors majoring in finance, decided to volunteer as HomeFirst coaches.
"I like that you don't feel like you're a professional, kind of like you're learning along with them," Frost said.
"I like how supportive and welcoming all the staff has been," Stallings added. "They've made it a really easy introduction."
While most participants were UA students, faculty and staff, members from outside the UA community also attended the retreat in efforts to become HomeFirst coaches in other areas
"I like that the retreat focuses on how to be a coach more so than just learning information," said Toya Carter, media specialist at Shelton State Community College.