By Kirsten J. Barnes, Center for Community-Based Partnerships
Before young scholars take part in the National Outreach Scholarship Conference, a select few participate in the Emerging Engagement Scholarship Workshop, a program that pairs doctoral graduate researchers or recent graduates with proven faculty members who will assist them in mapping out their research plans.
This year the workshop, held in conjunction with NOSC 2012 at The University of Alabama, is co-chaired by Dr. Lisa Townson of the University of New Hampshire and Dr. Becky Reamey of UA.
Townson has been a part of the workshop since its inception.
"It wasn't my idea, but a group of doctoral students who had been attending the conference for a few years said wouldn't it be great to have something like this geared toward emerging scholars as opposed to people who had been doing it for many years," said Townson, who at the time was a doctoral student herself.
That was more than five years ago. Now the workshop mentors 15-20 people each year, connecting them with each other and leaders in their field.
"The Emerging Engagement Scholars Program is an application process that starts in February," Reamey said, adding that applicants are required to submit a paper on their research interests. "We had over 40 people apply for the program."
The program is open to doctoral students and junior faculty members with an interest in engaged scholarship. The applicants come from all research institutions, not just NOSC member universities, and their research involves all subject areas.
"We open it up to everyone doing community engagement scholarship," Reamey said. "We recruited heavily not only from NOSC member institutions, but from outside those institutions as well."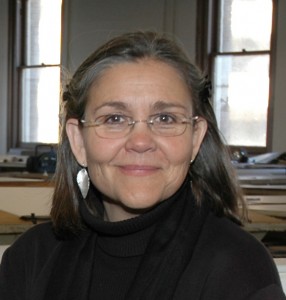 Those selected this year are Christel Beverly of Michigan State University, researching sports psychology; Jackie Brodsky of the University of Alabama, researching age-related physiological disabilities; Lisa Brown of the University of Georgia, researching civic engagement and private colleges and universities; Robert Coffey Jr., Michigan State, researching postsecondary education; Weston Eaton, Michigan State, investigating decision-making and social movements within the bio-economy; Carie Hertzberg, Johnson and Wales University, doing research related to at-risk college students; Demetricia Hodges, Georgia State University, studying educational leadership; Shelly Hoover-Plonk, East Carolina University, studying higher education; Tanja Karp of Texas Tech University, studying electrical and computer engineering; Bethan Kingsley of the University of Alberta, researching physical activity as it relates to low-income youth; Monica Kowel of New Mexico State University, service-learning; Abigail Julia Lynch of Michigan State, researching the link between fish conservation and management and human systems; Kellie Mayfield, Michigan State, human nutrition; Carrie Menendez of the University of Chicago, urban planning and policy; Quixada Moore-Vissing of the University of New Hampshire, education; Stacey Muse of the University of Denver, researching higher education; Jennifer Purcell of the University of Georgia, engagement as related to higher education; Dana Sanchez of Oregon State University researches studies fisheries and wildlife; Marc Schure of Ohio State, public health; and Nicole Thompson, University of Memphis, elementary education.
Brodsky, who is pursuing a doctorate in Communication and Information Sciences, had already attended two NOSC conferences. Yet, she decided to apply this year because she was farther along in her research than in previous years.
"I wanted to get more information about working with community partners," said Brodsky, who is working on her dissertation proposal concerning how age-related disabilities affect people's use of information technology.
Although she has engaged scholarship experience, she does not have experience working with a community partner as the lead investigator.
"I'd like to have the benefit of working with a community agency and incorporating their goals into my work," Brodsky said. "Just hearing about the research process from someone who has been through it will be helpful. I know that whomever they put me with will have experience in engaged scholarship as the principal investigator."
During the workshop, participants will be exposed to information concerning community engaged scholarship through background literature, facilitated discussion and presentations from national leaders and community partners.
These are the things Townson and her fellow doctoral students had in mind when they discussed the idea.
"We're building a community of junior faculty and advanced doctoral students who are really interested in producing scholarly work that engages communities," Townson said, adding that this community has created scholars who have gone on to become NOSC presenters and who have remained active with community partners while conducting new research, even collaborating with other scholars and mentors for later projects. "They have built their own community of people who are interested in community engagement."
In addition they will work with mentors during the conference and afterward. Although this year's mentors have not been finalized, Dr. Heather Pleasants, director of Community Education at the Center for Community-Based Partnerships, worked as a mentor last year, advising about five Emerging Scholars.
"Across the board, the people who participated in the experience said it was the best part of the conference, hands down," Pleasants said. "The opportunity to get feedback on a work in progress was an invaluable experience."
Pleasants said not only did the mentees have the opportunity to listen to presentations by leading scholars, but they also had the chance to ask questions and talk to them on a more personal basis for an extended period of time.
Although most Emerging Scholars sessions will be on the UA campus, the opening dinner will be in Birmingham, with Cheryl Morgan of the Auburn School of Architecture's Urban Studio as guest speaker.