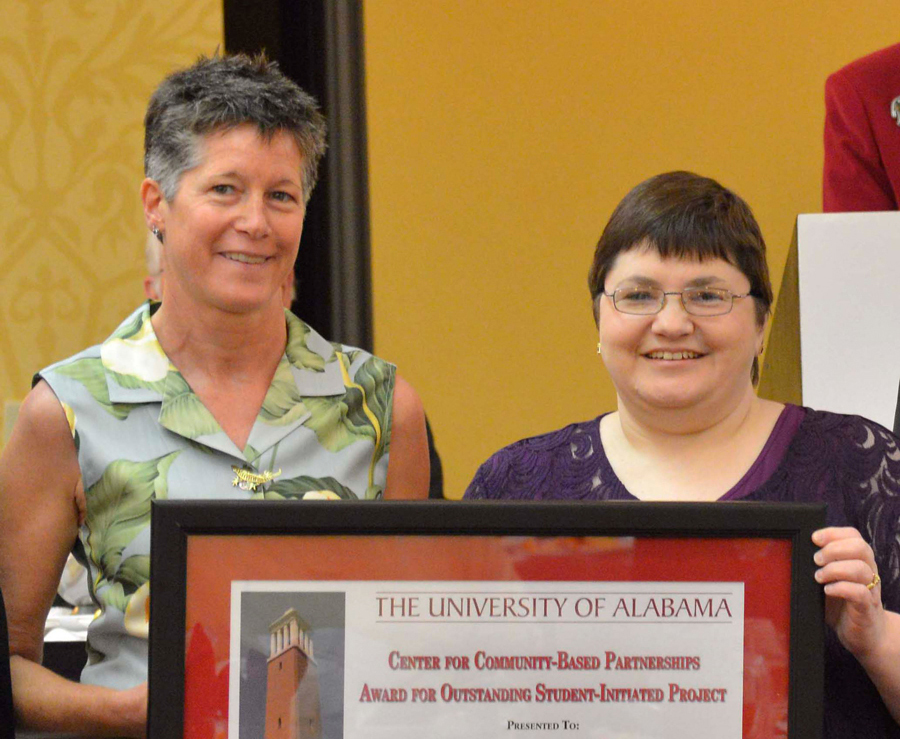 Jackie Brodsky's Acceptance Remarks
First, I'd like to thank Dr. Pruitt and the Center for Community-Based Partnerships for this recognition. I'm grateful to be part of a university that recognizes and encourages community-engaged research. I would also like to thank my director, Dr. Heidi Julien, for her continued support. I'm also grateful to my mentor, Dr. Laurie Bonnici, whose commitment to involving the community in increasing information technology fluency and implementing universal technology design has made all the work that I've done possible. As some of you know, my introduction to community-engaged research came when someone visited one of my classes and asked who would be interested in teaching computer classes at the senior center, under the direction of Dr. Bonnici. I raised my hand and said, "Sign me up!" And the rest, as they say, is history.
I'm grateful that I've been able to be there and see the faces of the people who benefit from our programs. I've seen the twinkle in the eye of an 84-year-old woman who learned how to open pictures of her grandchildren sent to her in email. I've heard an activities director at the senior center say that the seniors were so excited about the computer classes we taught there, they asked when they could sign up for the next one. I've sat down and interviewed students who have served as computer tutors at the senior center, and one told me that now she was considering working in the front of the library, with the people, instead of in the back, cataloging books, because she was no longer nervous about dealing with the public "" she realized she didn't need to know everything in order to help people. I've seen the smiles on the faces of ladies in a church who can finally participate in services with large-print hymns. I've seen ALFA [Accessible Libraries for All] Fellows come to an understanding of how people with disabilities interact with information and with technology. And I've seen them get excited about sharing this information with their colleagues and co-workers. I've seen students get excited about visiting agencies that serve people with disabilities, and then complete internships at these agencies, and even accept permanent positions with them, taking the knowledge they have gained here and sharing it with the community. The excitement is infectious. The knowledge is empowering. And I hope to carry that with me in my future faculty career and continue to share it with new generations of students. Thank you.