By Kristen J. Barnes
Center for Community-Based Partnerships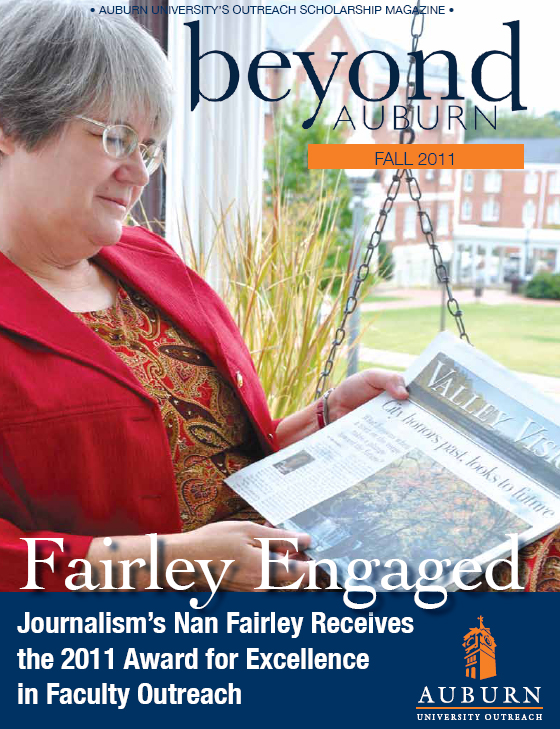 Nan Fairley believes the best way to learn is by doing. That's why she challenges every one of her journalism students at Auburn University to get out of their comfort zones and become actively involved with communities.
The West Point, Miss., native has taught at Auburn for 20 years, where her teaching strategy in community journalism has been an ever-evolving process, but the key is getting her students to do real-world stories.
For her ability to inspire the next generation of journalists and the service this work provides for communities, Fairley recently received the 2011 Auburn University Award for Excellence in Faculty Outreach, one of the highest honors the university gives to faculty.
The foundation for that award can be found in scores of Alabama small towns where her students have been able to connect with people and places through journalism assignments. Two recent examples can be seen at Front Porch Magazine and Valley Vision.
Fairley "" like her students "" learned how to practice good journalism by working as a journalist while earning her undergraduate degree at Mississippi University for Women. After working on newspapers in Mississippi, Florida and Alabama, she returned to school to earn a master's degree in journalism from The University of Alabama, where Dr. Ed Mullins, director of research and communication at CCBP, was her adviser.
"Her master's project dealt with the history and culture of her hometown," said Dr. Edward Mullins, former dean of the College of Communication and Information Sciences at UA. "Her family, Mississippi upbringing and small town background influenced her, all perfect training for what she is doing today at Auburn."
Fairley introduces her students to her world through classroom assignments that expand their minds and broaden their viewpoints. In the process, her students have turned engagement into community service, serving as mentors and taking up their own causes.
"Journalism can make a difference by shining a light on problems and connecting people to each other, and I hope we don't lose that," Fairley said. "Stories are powerful, and we need to know how to find the important ones and tell them."
Fairley has a way of getting people to work together, Mullins said. "She's not a pushy person by any means; she's just so willing to do her part that others see that and say, "˜I'm willing to help too,'" Mullins said. "She goes about her work in a very competent and joyous manner. So, it doesn't surprise me at all that she's gotten this recognition."
Students in her fall 2011 feature writing classes traveled to and wrote about Tuskegee and several towns along the Alabama and Georgia side of the Chattahoochee River.  Student stories were published in the Tuskegee News, the Montgomery Advertiser and in an online publication, Chattahoochee Heritage, http://www.chattahoocheeheritage.org.
"Some of the projects I've been involved with have helped students understand that what they do can make a difference," Fairley said.
In her Valley Vision project, students wrote about past, present and future of Valley, Ala. They produced a special publication that received national recognition at the 2010 Imagining America Conference in Seattle, Wash., and the National Outreach Scholarship Conference in Raleigh, N.C. Fairley is now at work on a manuscript she hopes to publish in the Journal of Community Engagement and Scholarship, which is published at UA.
Through their work students gain a better understanding of their surroundings and the true meaning of community journalism. "Good community journalism reflects every community's unique sense of place and deals with tough topics that affect real people. I do my part to help students understand that important role," Fairley said.
"I really benefited from working with Dr. Ed Mullins and certainly his connection to and appreciation of community journalism in Alabama has always been an inspiration to me," Fairley said. She said she uses her connections with surrounding communities to help her students shatter small-town stereotypes, helping them understand the differences in each community and the people who live there.