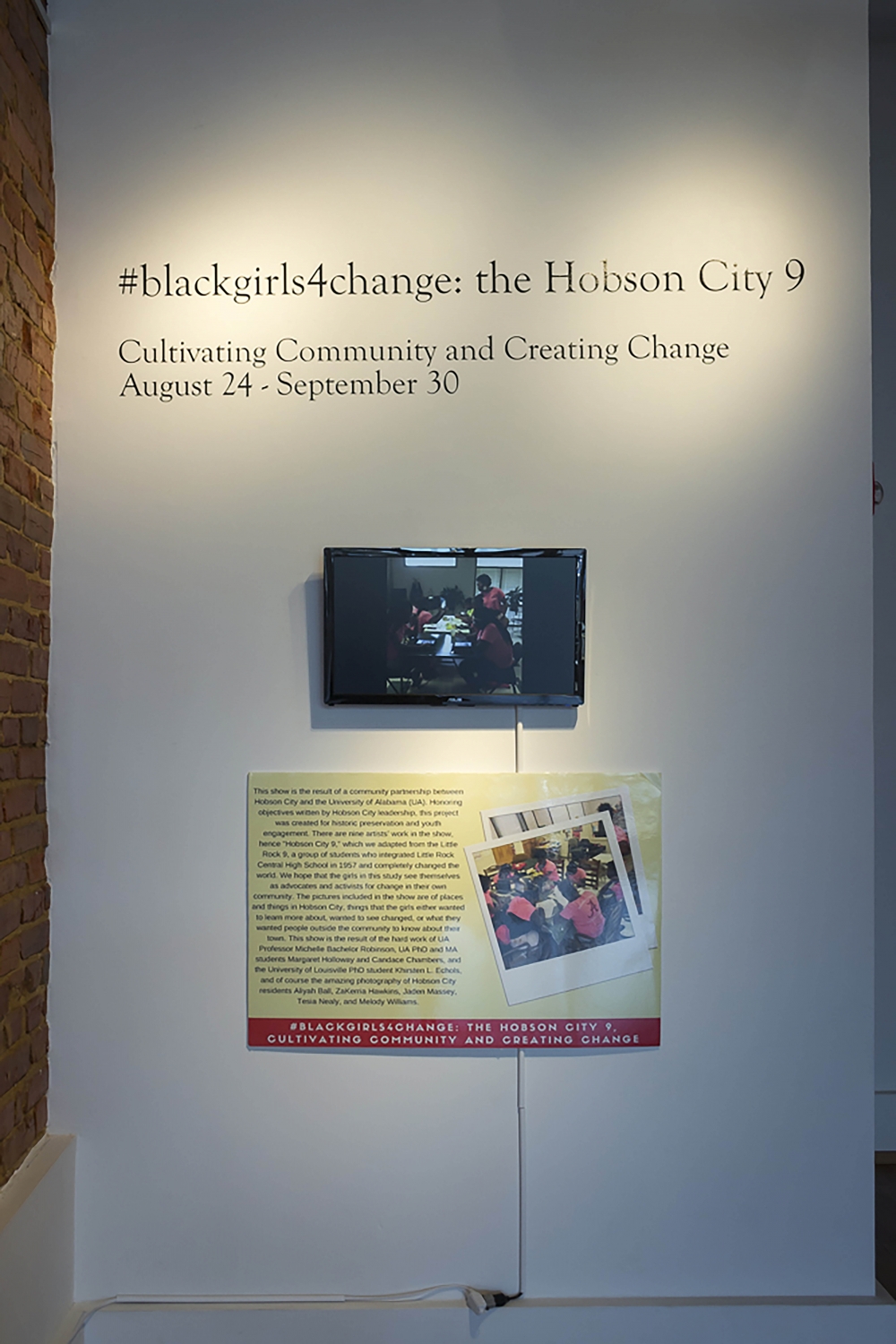 By Yiben Liu
CCPB Graduate Assistant
Hobson City is using a methodology known as photovoice to explore the town's historical preservation while allowing its youth to become engaged in the town's history and future. Hobson City is a predominantly African-American town of about 800 residents on the outskirts of Anniston in Calhoun County.
According to principal investigator Dr. Michelle Robinson, photovoice is a qualitative participatory action research methodology that combines photography with grassroots social action to facilitate community change and identify and raise awareness of community strengths. The vehicle for this methodology is photography, giving credence to the adage that "a picture is worth a thousand words."
Robinson, who was an assistant professor of English at The University of Alabama at the time, received a National Endowment for the Arts (NEA) grant to support the project through spring 2019. She got the idea for the research from Hobson City mayor Alberta McCrory in 2015 when the two met at an event in Florida honoring author Zora Neale Hurston.
Mayor McCrory identified multiple areas for research, of which the team selected three: reconstructing community history, achieving National Registry certification for Hobson City structures and sites and stimulating youth engagement. On two occasions fires destroyed town records, making reconstructing the town's history difficult.
Beginning in March 2016, Robinson and her team recruited five teen girls involved in local community activities. Three UA graduate students trained the teens and taught them some basic photographic skills such as lighting and angle. Participants used iPads to capture their own experiences within the community and what they learned about the town. They were asked to focus on questions such as "What image comes to mind when you think of Hobson City?", "What in Hobson City would you like to know more about?", and "What would you like to see changed in Hobson City?"
"We're hoping these young ladies come to see themselves as activists or advocates for change in their own communities," said Robinson.
In fall 2016, an exhibit titled "#blackgirls4change: The Hobson City 9, Cultivating Community and Creating Change" was displayed at the Paul R. Jones Gallery of Art in downtown Tuscaloosa from August 24–September 30. The 29 photographs were taken by the teens, three graduate students and Robinson. A statement articulating the idea of each picture was also on display, and a reception was held at the gallery on September 2.
Following the exhibit, the Robinson team was writing two research papers for peer-reviewed journals, and a second photo session, using 35-millimeter cameras and involving a more diverse group of students, was being planned.
"I like the fact that we are engaged in something that is meaningful beyond the ivory tower of academy. That is actually functioning in a community," said Dr. Robinson. "That means everything to me."
Robinson nominated Mayor McCrory for the Outstanding Community Partner-Initiated Engagement Effort award for 2016, and the funds from the award, given by the Council on Community-Based Partnerships at its annual Excellence in Community Engagement Awards luncheon that year, were used to stage the first photo exhibit.
"We would not have been able to get to that culminating experience without the support from CCBP (the Council)," said Robinson.
Robinson also expressed appreciation for the David G. Bauer Grant Acquisition and Sustainability Program in which she and Mayor McCrory participated. She credited her success in gaining the NEA funding to what she learned in this program. "It was pivotal to this process," she said. The program was sponsored by the UA Division of Community Affairs through its Center for Community-Based Partnerships.
---
The Council on Community-Based Partnerships exists to connect faculty, staff, students and community partners in research-based projects designed to solve critical problems identified collaboratively by community members and the University. All academic disciplines, as well as a number of students and community members, are represented on the Council. The Council conducts an awards program, oversees project funding, proposes methods to integrate teaching and research and seeks outside funding, all with the goal of fulfilling the Division of Community Affairs' motto: "Engaging Communities and Changing Lives."