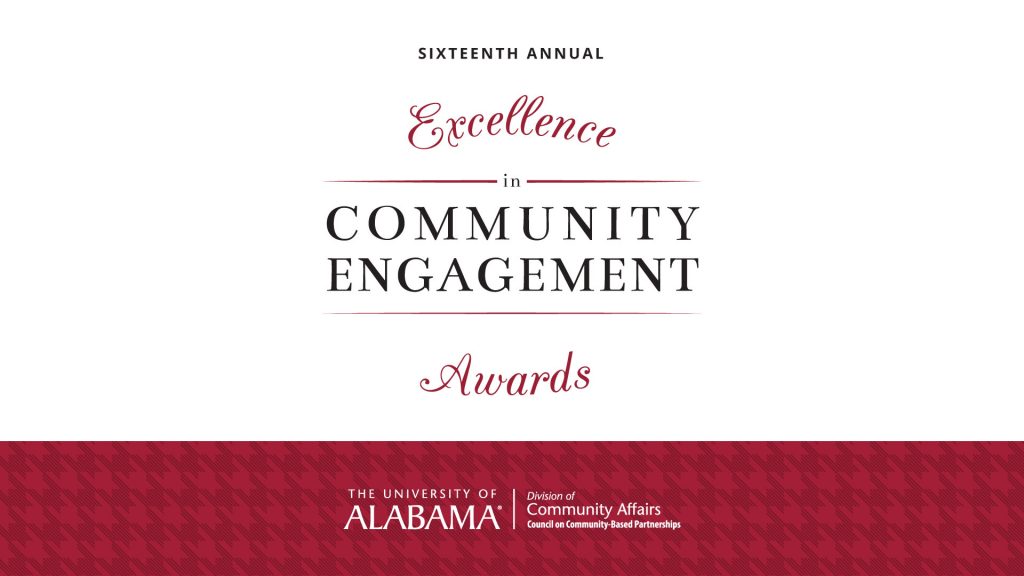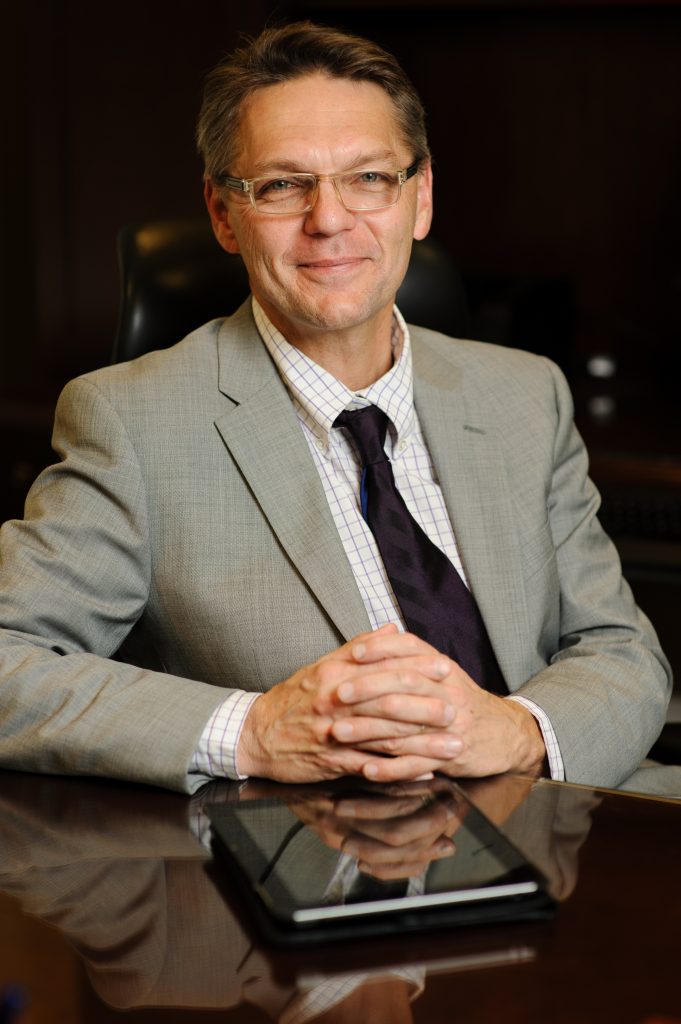 The Council on Community-Based Partnerships is a helping group. It is moved by a social consciousness borne not of political commitments but of a simple and powerful sense of trying to be helpful. Drawing from elements across the University and the wider community, the Council represents a promise to bring resources and insights to a
variety of challenges facing the public. It is hard work and the individuals at the center of it often go unrecognized.
The annual awards luncheon aims to bring deserved attention to the remarkable individual efforts that embody the endeavors of the Council on Community-Based Partnerships. It is simultaneously a celebration and a serious acknowledgment of the innovative and life-reaching work being conducted by and through this body. It is also an opportunity to fête our wonderful partners. And with each successive year, even as we acknowledge our successes, we hope and understand that the best work is yet to come.


Peter S. Hlebowitsh, PhD
Executive Committee Chair,
Council on Community-Based Partnerships
Dean, College of Education
The University of Alabama
Want to download an award photo?
Visit the gallery linked below to select photos for download.
Outstanding Special Achievement in Community Engagement Award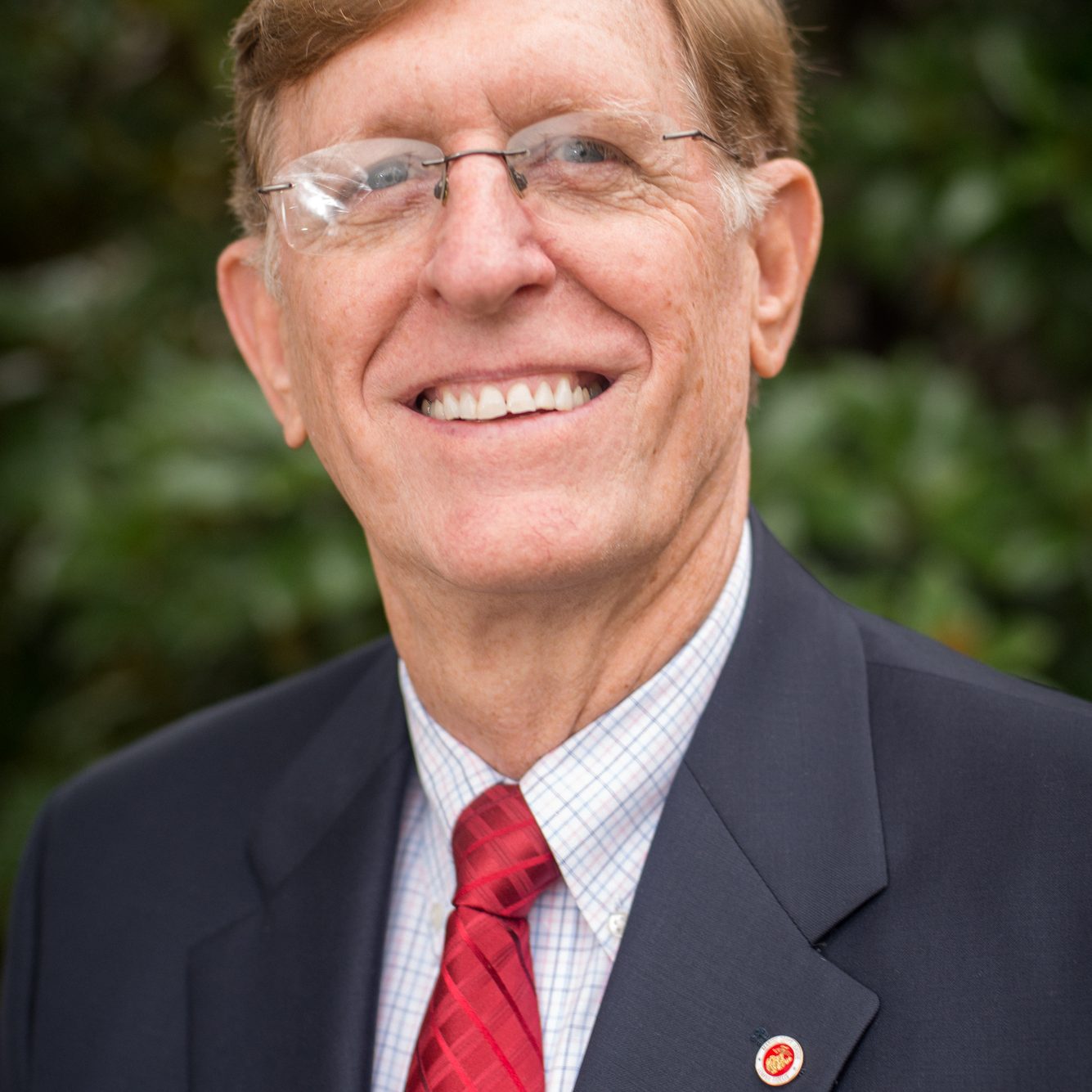 In recognition of a lifetime commitment to higher education leadership and research and for his unique contributions to the field of community-engaged scholarship.
Distinguished Teaching and Learning in Engaged Scholarship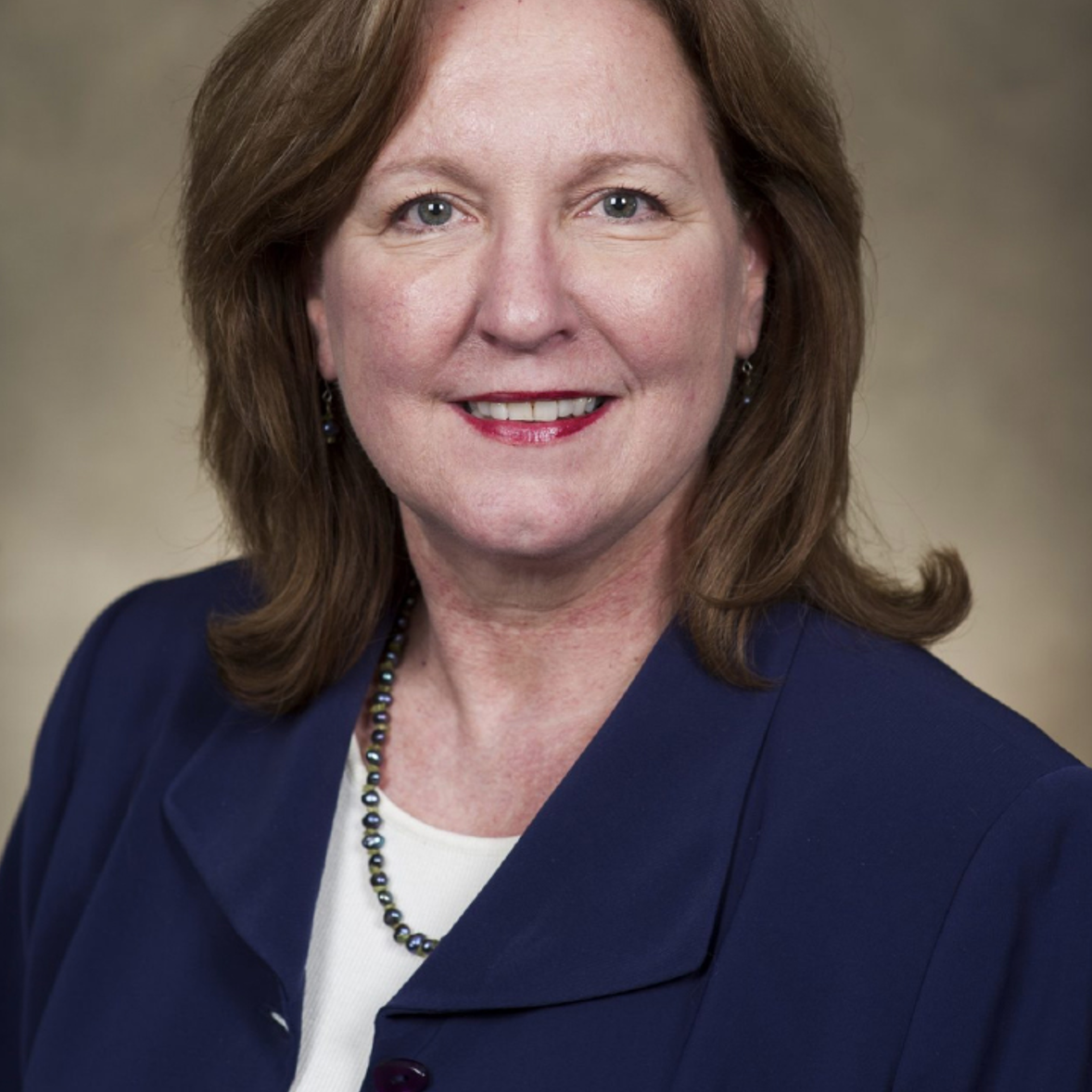 In recognition of her exemplary leadership and dedication to advancing community-engaged teaching and learning across campus and beyond, and for serving as an inspiration to students and colleagues alike.
zachary david dodson memorial endowed scholarship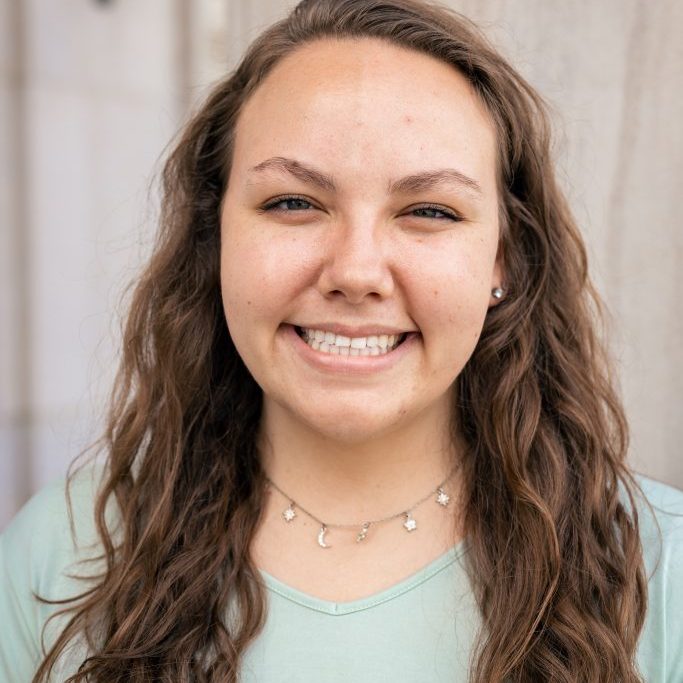 Ashton Fisher is the 2022 recipient of the Zachary David Dodson Memorial Endowed Scholarship. Fisher is a junior majoring in criminal justice, with minors in psychology and cyber criminology. She has a 4.0 GPA and is equally dedicated to the many organizations of which she is a member. Fisher began working in the Center for Community-Based Partnerships as a freshman assisting with Global Café. She continues to be involved with the Center's other programs, most notably with Vision Days. Her other leadership roles on campus are vice president of UA's western equestrian team and a mentor of Al's Pals, an after-school program that serves elementary schools. She also volunteers with the Tuscaloosa SAFE Center, which is a 24/7 sexual assault crisis center for sexual assault victims. Grateful for the opportunities she received at UA, Fisher is applying for the accelerated master's program for fall 2022. Her goal after graduation is to work with at-risk youth from low-income or troubled backgrounds and help them stay away from crime.
Distinguished Community-Engaged Scholar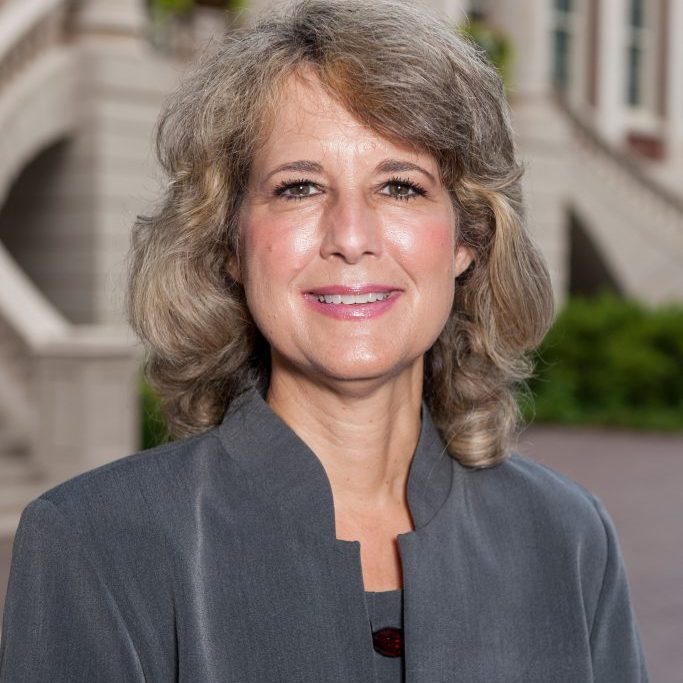 Dr. Elizabeth K. "Liza" Wilson is professor and senior associate dean in the College of Education at The University of Alabama. She received her PhD in curriculum and instruction from Louisiana State University and both her master's and bachelor's degrees in secondary education from UA. She is also a certified social studies teacher in secondary education. Wilson's career of teaching, research and service has focused on collaborations between the university and K–12 schools. She believes that successful education requires the support of the community. In recent years, she has worked with K–12 schools and communities to bolster educational programs and opportunities. Wilson has published articles and book chapters, co-edited a book, serves on editorial boards and as a reviewer and section editor for research journals. Wilson, along with her co-authors, has been awarded with the Best Paper Award from divisions of the America Educational Research Association and the International Society for Technology Education. Additionally, she has received numerous grants that have provided more than $3 million to support K–12 schools. As a faculty member, she continues to lend her expertise to students, having served on more than 150 doctoral committees and having chaired/co-chaired 27 dissertation committees. Wilson has presented her research at top educational conferences and is a member of many leading educational associations, including the American Educational Research Association, National Council for the Social Studies and American Association of Colleges of Teacher Education. She is also a member of the executive board of the Alabama Association of Colleges of Teacher Education. She is a partner with UA's Parent Teacher Leadership Academy and soon-to-launch BLAST Academy, both initiatives of UA's Center for Community-Based Partnerships.
Distinguished Community-Engaged Scholar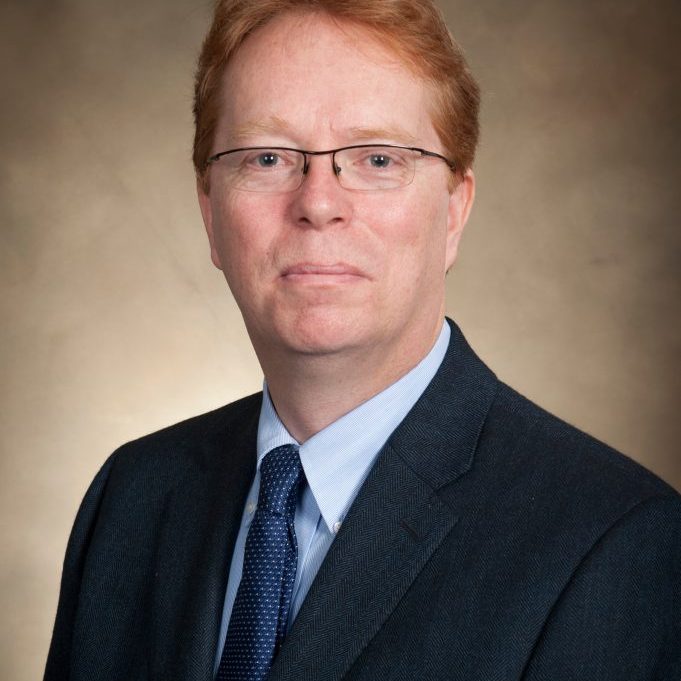 Dr. Goodliffe is an associate professor of geological sciences and an associate dean in the Graduate School. As a geophysicist, he has worked throughout the world on geophysical projects including active volcanoes, continental rifting, seafloor mapping and geological carbon sequestration. Goodliffe has spent extensive time at sea in almost all oceans and is a proud Shellback (a person who has crossed the equator and been initiated in the traditional ceremony). His large research portfolio includes three articles in Nature and his grants exceed $10 million. Goodliffe has taught a weekly geology class to elementary school children and is frequently invited to address local schools. As associate dean of the Graduate School, he is responsible for admission, recruitment, fellowships and student support programs. His interests include science outreach and education advocacy. The past president of the Alabama Geological Society, Goodliffe has participated in the Chamber of Commerce of West Alabama's "Adopt-a-School" program. He is an officer of the National Association of Geoscience Teachers involved in education policy, professional development for geoscience teachers and governmental engagement. His current research projects apply marine geophysical techniques to tectonic problems. Student projects include kinematic rift recon- struction and well-seismic correlation, as well as the application of advanced geophysical processing techniques to terrestrial seismic reflection data, the reprocessing and interpre- tation of vertical seismic profiling data, and reservoir characterization. Among the scientif- ic problems he is interested in are active continental rifting and the transition to seafloor spreading (primarily in the Woodlark Basin, Papua New Guinea) and application of geophysical techniques to geological carbon sequestration. Goodliffe serves as chair of the Academic Conference and Presentation Committee of the Council on Community-Based Partnerships.
Distinguished Community-Engaged Scholar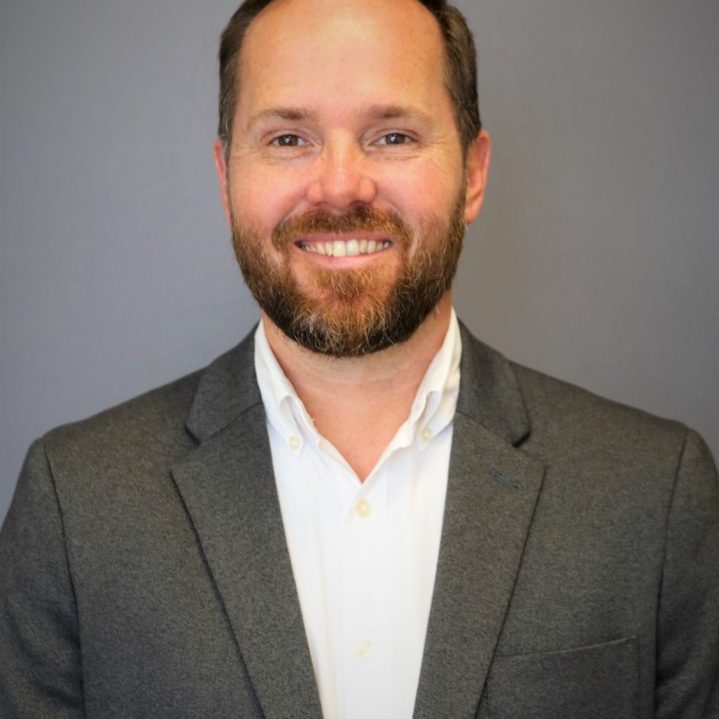 Chris Gill is a doctoral student in the College of Education's educational psychology program. His research is focused on military transition initiatives involving identity-based approaches that help veterans achieve overall well-being and prevent the crises that lead to suicidal behaviors. His doctoral dissertation will focus on identity statuses of student veterans in higher education. He has dedicated his life to helping those who have served in the military to find their purpose and who they are in life after service. Gill was a graduate assistant on "Operation Deep Dive," a community-based participatory research study seeking to find community connections to veteran suicide. This study concluded in spring 2022 and forthcoming publications will highlight the need to explore upstream factors for suicide that address well-being and identity. As a veteran of the U.S. Marine Corps, Gill brought his lived experience and veteran perspective to the research. Gill has presented at international and national conferences. He continues to engage in the veteran and veteran research communities to seek ways to improve the military to civilian transition through community partnerships. He earned his BA in sociology, with honors, from the University of Alabama at Birmingham and is husband and father of four daughters with another on the way.
Distinguished Community-Engaged Scholar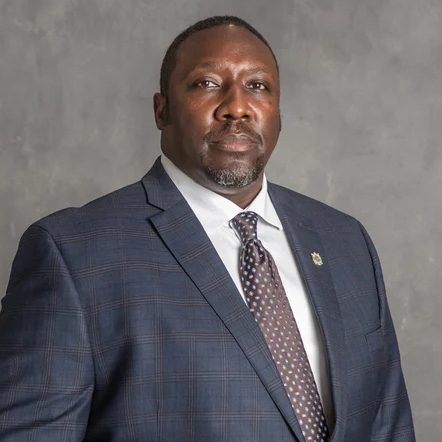 Through his nonprofit, Academics in Motion, Northport City Councilman Woodrow Washington purchased the Robert Hasson Community Center from the city of Northport in 2018 to keep the facility a go-to place for families. The center offers after-school tutoring, learning through sports, computer literacy, senior citizen outreach programs and community partnerships. Washington, who earned his bachelor's degree in business administration from Stillman College, has devoted his career to public service, having served as a fire captain with Tuscaloosa Fire and Rescue Service and as a master sergeant of the US Air Force Reserve. As a councilman, Washington's goal is to bridge the gap between City Hall and the community. Equally important to his commitment to his constituents and community is his family. Washington is married to Marie J. Washington. They have two sons, Kerry Matthew Jr., and Woodrow Washington IV, and five grandchildren. Woodrow Washington is also the owner of New Life CRF (state contractor for the Department of Intellectual Disability), Archibald's BBQ and Archibald & Woodrow's BBQ.
Outstanding Community Partner-Initiated Engagement Effort
Housing Authority of Greene County
Executive Director, Housing Authority of Greene County, Alabama
Since 2019, Anita Lewis, executive director of the Housing Authority of Greene County, Alabama, has been a committed community partner to the UA HomeFirst Program. Lewis has identified homeowner education as an urgent need in the Greene County community and a necessity for the sustainability of residents of Greene County. She believes that smaller communities are often overlooked for potential homebuyers. The Housing Authority of Greene County gives residents an opportunity to buy the unit they are currently renting; however, it does not have a homebuyer education program. In 2021, Lewis partnered with the UA HomeFirst program to apply for the U.S. Department of Agriculture's Rural Community Development Initiative grant program, which provides funding to help nonprofit housing and community development organizations, low-income rural communities and federally recognized tribes support housing, community facilities and community and economic development projects in rural areas. The grant was successful, and over the next three years The University of Alabama will provide financial and technical assistance to improve the Housing Authority of Greene County's capacity to deliver homebuyer and financial education. Lewis is receiving this award because of her leadership and the contribution that partnering with the Housing Authority of Greene County will make among the University, its students and the residents of Greene County.
Outstanding Student-Initiated Engagement Effort
Daniel Community Scholars Program
Alexus Cumbie, Olivia Davis, Amelia Pugh, Sam Robson, Seth Self
Through the Blackburn Institute's Daniel Community Scholars Program, The Daniel Foundation of Alabama funds Blackburn student projects to address the needs of Alabama communities. This year's selected research project focused on voter restoration and voter disenfranchisement for previously incarcerated individuals. The project focused on training members of the University and Tuscaloosa community on how to restore the right to vote for previously incarcerated individuals in Alabama. First, the student group hosted an educational summit where attendees were trained on how to use ALA Court, a digital database that grants access to state trial court records. Then, they hosted a series of community voting restoration clinic programs at local Tuscaloosa libraries and parole offices to directly work with previously incarcerated individuals and those with prior convictions who are unsure of their voting rights and statuses, to provide a personalized, step-by-step process on how to restore their right to vote. The project leaned on the support and partnership of several voting rights experts throughout the state, including Greater Birmingham Ministries, Campaign Legal Center, Southern Poverty Law Center, Vote Everywhere UA and the League of Women Voters. Ultimately, the group hopes to sustain this project by working with UA professors to potentially convert this training model into an official honors or special topics course.
UA Society of American Archivists Student Chapter Podcast Team
Valeria Dávila Gronros, Nick Wantsala, Laura Daly, Kandi Massey, Aria Skyler, Bryan Bednarek, Curtis Forte, Matthew Hamilton
All recipients of this award are master's students in the School of Library and Information Studies (MLIS).
During spring 2021, these students conceptualized, developed and began production on a community- focused podcast, "Archives & Communities." To date eight episodes have been published, with the mission of centering the work of community-based memory professionals and with an emphasis on projects that amplify the work of historically underrepresented communities. Episodes featured the Latino Digital Archive (Richard Chabran), the Invisible Histories Project (Josh Burford), the Black Joy Archive (Zoe Pulley), the Asian American Community Archive (Ayshea Khan), the Jewish Women's Archive (Gail Reimer), and Pasifika Transmissions (Micki Davis). Students adopted the podcast as a methodology for developing an archival engagement strategy, with the resulting interviews functioning as valuable documentary records of the projects investigated. Members of the podcast team presented at the Society of American Archivists Annual Meeting, the Society of Alabama Archivists Annual Meeting and the Society of Mississippi Archivists Annual Meeting. These valuable case studies demonstrated how podcasting can be adopted as an engagement tool by archival organizations. They are currently reformatting these presentations into a podcasting guide for archival institutions and are preparing an article for submission to Archival Outlook, the magazine of the Society of American Archivists.
Outstanding Faculty/Staff-Initiated Engagement Effort
Assistant Professor, Department of Anthropology
As it became clear that COVID-19 disproportionally affected communities of color, Dr. Stephanie McClure, assistant professor of anthropology, led a group of five UA faculty members that helped the vaccine hesitant get their shots. Researchers on the local team and on the larger project were committed to community partnership in health promotion, said McClure, the principal investigator of CommuniVax Alabama, an ethnographic research project examining facilitators and barriers to vaccination in historically underserved communities. Working with McClure were Dr. Kathryn Oths, professor emeritus of anthropology; Dr. Levi Ross, associate professor of health sciences; Dr. Pamela Payne-Foster, physician and professor of community medicine and population health; and Dr. Bronwen Lichtenstein, medical sociologist and professor of criminology and criminal justice. CommuniVax teams also mobilized in San Diego, Southeastern Idaho, and Prince George's County, Maryland. Emily Brunson, associate professor of anthropology at Texas State University, said the project represents a timely opportunity to support community alignment around COVID-19 vaccination. McClure says public health in Alabama needs people who can have conversations with locals and answer their questions. McClure warned early in the pandemic that what was happening was costing lives and livelihoods in Alabama. Her work is being recognized for its importance in Alabama's rural communities of color. Her study also found a key factor in combating misinformation appears to be in providing multiple opportunities for one-on-one chats with trusted individuals.
Professor and Chair, Department of Political Science
Return My Vote (RMV) is a partnership between faculty and students at The University of Alabama and Greater Birmingham Ministries (GBM). Other partners represented on the RMV Advisory Board include voting rights experts from the Alabama League of Women Voters, Alabama Appleseed, The Campaign Legal Center, and Restorative Strategies, LLC, among others. RMV is dedicated to helping restore the voting rights of the estimated 300,000+ Alabamians who have lost their voting rights due to a felony conviction. Beginning May 15, 2022, RMV will begin offering free virtual and in-person counseling services to address every question one may have about voting rights restoration in Alabama, at every single stage of the restoration process. The day-to-day operations of the project will be managed by student volunteers, under the supervision of UA faculty and GBM voting rights experts. Student managers will help train and supervise our voting rights consultants, many of whom will be UA student volunteers who will be doing this work as part of a service-learning course on voting rights offered through the Political Science Department.
Federation of Southern Cooperative Community Archive
Federation of Southern Cooperative Community Archive
Dr. Julia Brock
Assistant Professor, Department of History
Community Partner
Briar Blakely
Federation of Southern Cooperatives
Dr. Robert B. Riter,
School of Library and Information Studies
Amount Funded
$3,019.55
---
The Federation of Southern Cooperatives Community Archive project will join faculty and students in the School of Library and Information Studies and the Department of History with staff from the Federation of Southern Cooperatives (FSC) to inventory, research and preserve valuable FSC archival records and photographs. The records, housed in the former print shop of the Rural Training Research Center in Epes, Alabama, document FSC's role since the 1960s as a critical supporter of economic justice for Black farmers and Black-owned cooperatives. The project will employ methods of community-based archives, a grassroots practice in which marginalized communities document their own history. The project is informed by principles of co-stewardship and co-creatorship, which differ from traditional archiving methodologies in that a priority is placed on keeping collections within their communities of creation and custody. This project is the first phase in creating an FSC community archive. FSC staff hope to use the records housed in Epes as the basis for an onsite archive. Funds will be used to purchase materials needed to rehouse and protect historic documents and photographs, supporting access and use of records by FSC staff and future interns.
Theatrical Engagement Intervention and Critical Thinking
Spoons, Stoppers, and Spiles: Do Mothers Favor Familiar Objects for Playtime?
Spoons, Stoppers, and Spiles: Do Mothers Favor Familiar Objects for Playtime?
Catanya Stager
Doctoral Student, Educational Psychology
Dr. Jason Scofield
Assistant Professor, Department of Human Development and Family Studies
Community Partner
Alabama Women's Commission, Tuscaloosa-area Preschools, YWCA of Birmingham
Attending
Biennial Meeting of the Cognitive Development Society
April 2022 in Madison, Wisconsin
Amount Funded
$700
---
The overall purpose of this project was to examine how mother-child factors (parent play type, parent language and child knowledge) affect parent-toddler interactions and associated child development outcomes (e.g., self-control, language and behavior). Findings indicate mothers spend more time with familiar objects during functional play than with parent-known objects and novel objects, and that mothers are more likely to functionally use objects familiar to both mother and child, compared to objects known only to mothers, even though mothers are familiar with both kinds of objects. Mothers, therefore, seem to monitor and modify how they interact with their toddlers based on the mother's own knowledge. Catanya Stager, lab manager for the study, was responsible for all day-to-day operations. Two graduate students and seven undergraduates served as lab students. This project was supported financially ($15,000) by the Alabama Women's Commission (2019–2021). Private preschools and public HeadStart programs in Tuscaloosa, as well as the YWCA of Birmingham, assisted with recruitment.
Partnering for Student Success: Academic and Student Affairs Working Together on Community Engagement Programs
Young Authors Program for Improved Writing Achievement and Community Engagement
Young Authors Program for Improved Writing Achievement and Community Engagement
Dr. Carol Donovan
Professor, Department of Special Education and Multiple Abilities
Research Partners
Dr. Tracey Hodges
Assistant Professor, Department of Curriculum and Instruction
Dr. Julianne Coleman
Professor of Literacy P-6, Department of Curriculum and Instruction
---
The Young Authors Program and Writing Extravaganza's purpose was to develop a community of writers within elementary schools and across Tuscaloosa. The collaboration included the leaders of the UA Belser-Parton Literacy Center and administrators and teachers at Woodland Forrest, Arcadia and Holt elementary schools. The focus was on developing communities of writers within classrooms, schools and families of the child authors. Preservice teachers in each school participated in the workshop sessions with their mentor teachers. Family writing night became a virtual event involving 20 UA students who led activities for families. With an emphasis on collaborating with families through writing, the community benefited from the additional focus on writing instruction in the schools. Teachers learned more about providing high quality writing instruction, and children developed skills and confidence in writing.
Physical Education Teacher Education (PETE) Students' Perceptions of Nontraditional Teaching Experiences in Community Partnerships
UA Vision Days Legacy Program: Using University Resources to Help High School Students See the Benefits of Postsecondary Education
Increasing Teacher Self-Efficacy for Writing Instruction Thorugh a Professional Development Focused on Equity-Based Writing Instructional Practices
Vision Days: Using University Resources to Help High School Students See the Benefits of Postsecondary Education
Graduate Student Fellowship
Nutrition Education through Gaming
Teairra Evans
Doctoral Student, Department of Psychology
Project
Nutrition Education through Gaming
Principal Investigator
Dr. Sheila R. Black
Associate Professor, Department of Psychology
Community Partners
Dr. Carmella Anderson, retired physician; Juanita Jemison, Tuscaloosa Veterans Association; Dr. Letrell Peoples, Diabetes Coalition of Tuscaloosa
---
The cognitive intervention proposed is nutrition education through gaming. The project is based on research that shows positive outcomes from educating through gaming because gaming allows individuals to learn skills and associations implicitly. The current study will examine the extent to which older adults can learn associations between foods and their nutritional values by playing a fun card game. Data will determine if the game helps African American diabetics learn the nutritional values of common foods in the African American culture. Evans is the ideal graduate student to oversee the data collection phase of this project. Community partners helped with all aspects of developing the game and will continue to guide the researchers in recruitment. The nutrition cards were developed for African American older adults who may have low literacy and who are living in rural areas of Alabama. The stimuli for the cards were based on feedback from a focus group of African Americans over 55 who attended a local church. Evans will reach out to community partners who have access to potential participants. Findings will be submitted for publication by March 2024.
Assessing the Potential Impacts of Proposed Interstate 14 on the Communities of Interest in Selma, Alabama